Are you seeking for the top activities in Dubai's global village to quench your wanderlust? If so, you will be happy to learn that Global Village is hosting a sizable celebration of the world's stunning variety. It is the biggest tourist attraction in the globe, offering the finest entertainment and shopping opportunities. Try mouthwatering food from around the globe, see action-packed Harbor Force performance that will have you on the edge of your seat, or take in some Emirati art. You may go to the global village, a multiethnic festival park, for the evening cultural performance, the amusement rides, or the local shopping.
Timings 
The Global Village opening hour is as follows:
4 PM to 12 AM- Sunday-Wednesday
4 PM to 1 AM-Thursday-Saturday
Except for national holidays, Tuesdays are exclusively for families and ladies.
On their official website, you may check any time updates related information.
Ticket Price 
When it comes to Global Village tickets, visitors can choose between two ticket choices. A value ticket that is good from Sunday through Thursday (except public holidays) & a day ticket that is good for a single visit at any time are both offered. Each individual must pay Dhs20 for the value ticket and Dhs25 for the any-day ticket. All children under three, seniors, and hard-working individuals are admitted free. Access to the park, 27 national pavilions, an actual Emirati historical area, and the Road of Asia are all included with the purchase of any ticket to Global Village. Not only that, admission to the children's theatre and live performances is also included.
Ideal Time to Visit 
The ideal months to visit Dubai's Global Village are from October and April, when the area enjoys relatively cool and nice weather. Additionally, you need to organize your trip around the events you want to attend while you are here. The best days to visit Global Village are Fridays and Saturdays for the breathtaking fireworks displays, while Mondays are ideal if you want to bring your family.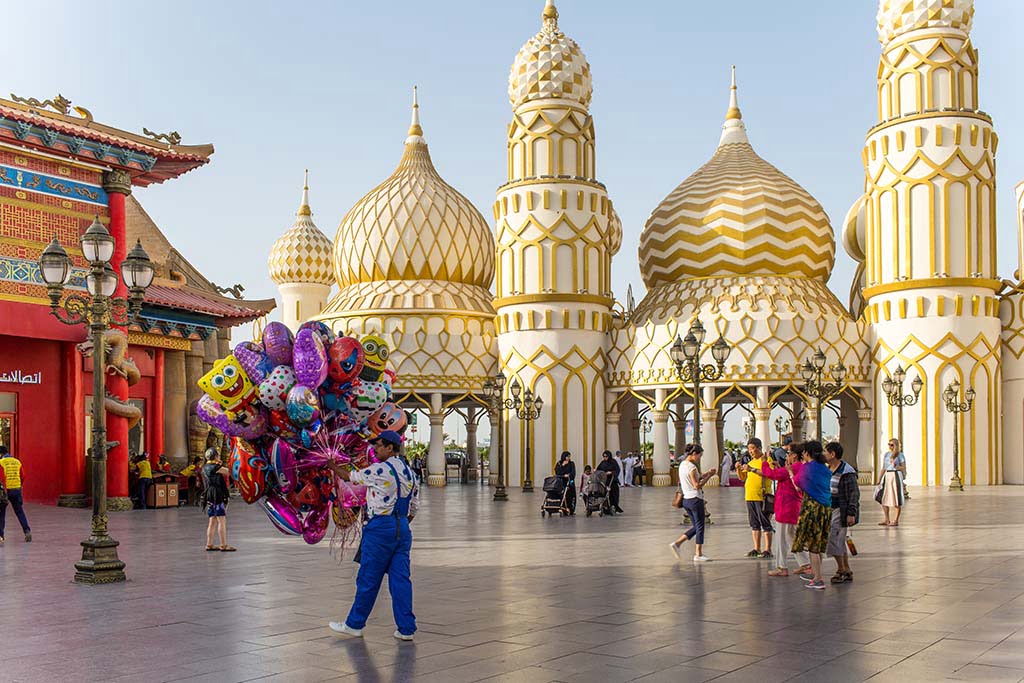 Must-See Attractions 
Take a close look at some of the must-see Global Village Dubai attractions,
Musical Concerts and Shows- More than 20,000 musicals, concerts, and street plays are scheduled for tourists in the Global Village, which must come as a shock. In the global village, it ranks among the finest activities. You may see performances by well-known performers. A concert must be experienced live to be properly appreciated. Right in front of you, you could watch some of the most well-known artists from Asia, Middle East, & other parts of the world in action. Dance along while the music pulses quickly in your heart to make it beat with life.
Traverse the World in 24 Hours- The only location in Dubai where people may explore the globe without actually visiting each country is Global Village. India, Japan, Turkey, Egypt, and 90 more nations have pavilions at Global Village Dubai. The global village is a fantastic place to encounter the traditions and practices of many different countries. The lovely pavilions display the modest architecture of different nations. The diversity of pavilions that will help you increase your awareness of ethnic customs each year, will never cease to astonish you. Visitors have the chance to purchase well-known items from several countries at the Global Village.
Enjoy Circus- At the Global Village Circus, you can watch heart-racing and nerve-wracking athletic performances by accomplished and brilliant performers from all over the world. Take full advantage of the Colombian Clowns' outstanding performances, marvel at the daredevil antics of Venezuelan Daredevils, & hold your breath during Wheel of Death. This location's opening hour coincides with Global Village's. The Colombian clowns will make sure you have a wonderful time and are amused during the whole show, and the tent which houses the circus will easily seat up to 500 spectators for each performance.
Do Not Miss the Emirati Art- The distinctive aesthetic expression known as Emirati art has been handed down through the ages. It has been used for generations to communicate feelings, thoughts, and beliefs and is a reflection of United Arab Emirates culture and heritage. Emirati artwork reflects the beauty and intricacy of this region's heritage via elaborate patterns and vivid hues. Emirati art captivates spectators with its capacity to communicate stories from the past and present via the use of color, symbolism, and texture.
Savor Multiple Cuisines- What else is there to anticipate from the global village, which has made it a goal to introduce the flavors of every nation together with their cultures? You get the opportunity to experience mouthwatering dishes from many international cuisines. More than 200 restaurants, cafés, and street food vendors can be found under one roof in the global village, where you may salivate over international cuisines that you may not have ever known existed. Aside from sampling regional specialties like Manousheh, date syrup, kanufa, and others, be sure to leave room on your plate for international cuisines. Lebanese sweets, American specialties, Indian chaat, Chow mein, golgappa, and Thai seafood are among the specialties.
For The Fans of Fragrances-Visit Global Village if you wish to indulge your sense of smell with an affordable yet respectable fragrance. It is the perfect place to buy perfumes from all around the world. You may discover a large selection of fragrances in the pavilions for the UAE, KSA, Kuwait, & Lebanon to suit everyone's tastes.
Revel in a Firework Display- Enjoy the one-of-a-kind light show and fireworks show at Global Village. Twice a week, there is a wonderfully magnificent and mesmerizing fireworks display. In addition to these, you may catch a glimpse of this exceptional show on holidays like New Year's and the UAE National Day. Bright flashes of colorful light illuminate the Global Village from all sides as they fall upon it. There is a lot of dancing and pleasant music playing while the fireworks are being displayed.
Carnaval- You may take advantage of a trip to Carnaval, one of the Global Village's major attractions, by getting your tickets online. Carnaval is the ideal destination for thrill-seekers and adventurers of all ages, including 31 exciting rides and over 100 arcade games. Numerous other games, including shooting hoops and darts, are available here. You may choose from a variety of themed attractions, such as the Vroom UAE & Miami Surf, the Honolulu-loop, the Jamaica Drum, the Holland Wind Wheel, and more.
Visit Ripley's Believe It or Not Museum- Visits to the Ripley's Believe It or Not Museum in Global Village Dubai are another interesting activity. The exhibits at this well-known museum are among the most extraordinary, humorous, and weird. You may expect to find untold tales, fascinating interactive, historical artifacts, and stunning artwork at this museum. Strange displays such as a mirror maze having over 250 LED lights and mirrors may be seen here. The 4D Moving Theatre and incredible Dark Gallery that take you on the sensory adventure unlike any other, are two fascinating additions to this museum.
Checkout Harbor Force- One amid the must-try things to do in Global Village Dubai for thrill-seekers is to witness the action-packed Harbour Force performance, which will have you on the tip of your seat. Experienced performers put on this spine-tingling water stunt performance in the Global Village's harborside section. While viewing this performance, be prepared for some bike backflips, drifting, double fly-board action, and jet-ski acrobatics. You can also watch Here Comes the Boom and many other entertaining shows in addition to this.
Do Not Miss Brand-New Peter Rabbit- The Brand-New Peter RabbitTM Adventure Zone is your best pick if you are looking for one of the top things to explore in Global Village Dubai. The Peter Rabbit & his lovely friends television series served as its inspiration. You may get fresh coffee & organic fruits at Mrs. Rabbit's Fresh Farm Café. You may jump and climb in Squirrel Nut Activity Park, grow and tend flowers in Mr. McGregor's garden, and watch Peter Rabbit on the big screen, among other things.
Visit Fantasy Island- You may visit Fantasy Island, the beautiful amusement park, with your family and children if you are searching for one of the top things to do in Global Village Dubai. The inflatable land, the demolition derby, the pedalos, the high striker, the baby drop tower, the bungee trampolines and the wild water rollers are just a few of the exciting rides available here. Along with more than 30 rides, there is also a bowling alley and the Aquadrome dance floor to keep guests engaged. On Fantasy Island, the Ferris wheel shows a 10-second countdown, and as the bell rings twelve, stunning fireworks are fired from various locations.
Experience Something Exotic and Distinct- For those looking to try something new and adventurous, Global Village has plenty of possibilities. Along with learning about different cultures and cuisines, opt to take part in experiences that will last a lifetime. Among many other activities, consider trying calligraphy, enrolling in a brief pottery class, or getting your caricature image drawn by a talented artist as a special gift for yourself.
Global Village Festival-This festival is truly a genuine sensory extravaganza. This brings the many nations of the world together in one location. The 26 various pavilions at this festival, which combines entertainment, dining, shopping, and cultural activities, will give you a glimpse into the many heritages and civilizations of the world.
Bottom Line 
One amid the countable places within the world with the most diverse cultures is Dubai's Global Village where you may see attractions from many different nations across the world in addition to the greatest retail, recreational, & entertainment attractions in the whole United Arab Emirates. At the Global Village, you may take in a variety of live performances, concerts, and other events in addition to attractions and activities that are appropriate for kids and families.