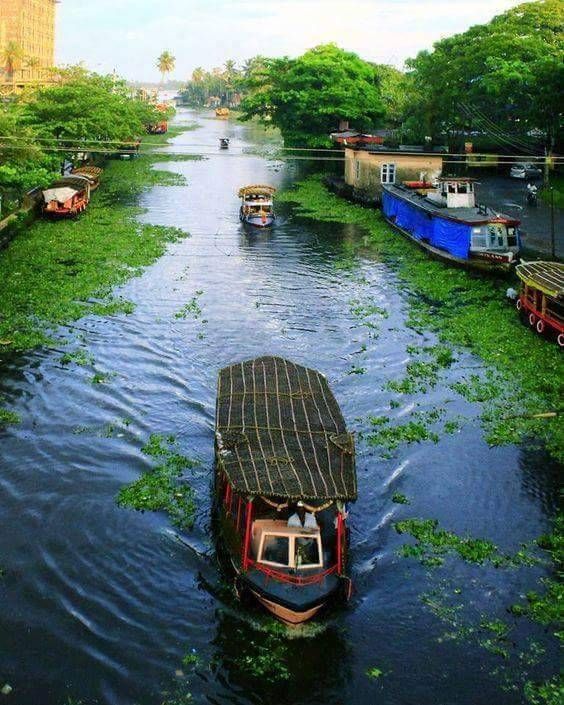 Kerala has emerged as a popular tourist destination in the country. The natural beauty, simple climate, clean environment, friendly people with a friendly spirit who are very tolerant of cultural diversity and have the ability to create a unique environment. Beaches, warm weather, sea lakes, hill stations, waterfalls, wildlife, Ayurveda, year-round festivals and varied tree plants make Kerala a unique destination for tourists. So, let's know about the famous place of Kerala. See this below…
Famous Place Of Kerala:
Kerala is one of the best and beautiful tourist destinations in India which attracts tourists especially. The natural beauty, beaches, and temples of this place attract people. Kerala is also the first choice of people for the honeymoon. So let us introduce you to the beauty of Kerala today and know about the famous place of Kerala.
Alleppey:
Alleppey is known for being on a Kerala houseboat and touring on the water. It is one of the best places to see in Kerala. Lord Curzon called Alleppey as 'Venice of the East'. Apart from the beach, Alleppey also has some other tourist spots like Ambalapuksha Sri Krishna Temple, Krishnapuram Palace, Marari Beach, Arathunkal Church, etc. This is another famous place of Kerala.
Munnar:
Munnar is one of the most popular hill stations in Kerala. It has a very beautiful view from the mountain slopes which are spread over 80,000 miles from the green tea farms. This is another famous place of Kerala. Munnar usually has a cold which will provide comfort in this season and there is a distinct feeling here that fills you with joy.
Thekkady:
Periyar wildlife in Thekkady is a popular place for the conservation of various species of animals including elephant, tiger, and gaur. Along with its wildlife, Thekkady attracts tourists and visitors from all over the world for its scenic beauty. To see Kerala's best wildlife, one should enjoy a boat trip to Thekkady Lake.
Kovalam:
These places are very famous for Kovalam Beach, The Lighthouse Beach and Hawah Beach. People here enjoy sunbathing, swimming, cruising and the famous Ayurvedic body massage of Kerala. People come from far and wide to see the unique sight of Sunset here.
Kumarakom:
Kumarakom is a small and beautiful city in Kerala, situated on the quiet banks of the Vembanad Lake. This is another famous place of Kerala. Earlier this place was identified for rubber plantation. Now this place has developed into a bird sanctuary. Kumarakom is also an ideal place for people doing research on birds.
More Recommended Articles :-
Wayanad:
Wayanad is one of the twelve districts of Kerala that lies between Kannur and Kozhikode districts. It is also a famous tourist destination due to its geographical location. Situated amidst the lush green mountains of its Western Ghats, the natural beauty of Wayanad still exists in its ancient form.
Vagamon:
Vagamon on the Idukki-Kottayam border is a hill station in Kerala. This place is famous for its grasslands, gardens, dales, tea gardens and valleys, is an ideal holiday destination. Here a series of hills remain, of which Thangal Hill, Murugan Hill, and Kurusamula are very special.
Bekal:
In Kasargod district of Kerala, Bakel is one of the most beautiful places. The fort of Bekal fort built on the banks of Arabian Sea makes it even more special. Many films of the South have been shot in this fort. It is the most preserved fort in Kerala. If this fort shaped like a giant keyhole was built on the beach, it would add beauty to its beauty, besides the Anjaneya temple located at the entrance is another attraction.
Kozhikode:
Known as Calicut- 9- Kozhikode is famous for its historical, cultural and educational excellence. Calicut was the main trade center between eastern Kerala and the rest of the world. Calicut came first in search of Vasco di Gama spices and other tradable goods. After this, there was a special reason for the British and Dutch empire to come here. Even today it is one of the most important business cities of Kerala. Malabar Food of Calicut is famous all over the world. Some dishes like Dum Biryani, Kalamakaya, and Chatti Pathari are the most popular food here.
Varkala:
Varkala is one of the best beaches in Kerala. Located 51 miles from Thiruvananthapuram, Varkala attracts tourists from all over the world with its natural charm and high rocks. There are interesting activities on the sea such as sunbath, boat ride, surfing, and Ayurvedic massage, etc.