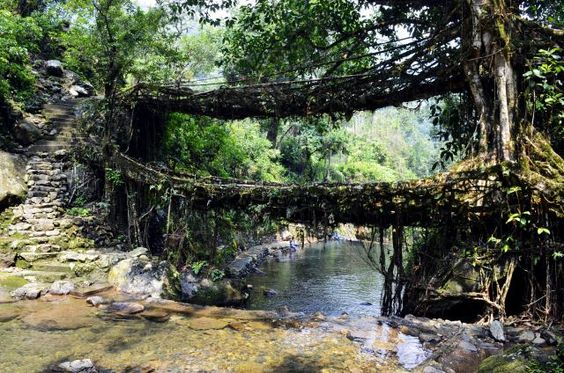 India is a country which is full of many dense forests, many of which have some natural attractions hidden in the forest that can surprise everyone. One such natural attraction is hidden in Cherrapunji, Meghalaya which attracts a large number of tourists. We are talking about Umsiang Double Decker Living Root Bridge which is also known as "Living Root Bridge". So, let's know more about the Living Root Bridge…
Although the region is famous for its root bridges made of rubber trees, but the Double Decker Bridge is the largest and most famous of them all. Let me tell you that this bridge is about 50 meters long and 1.5 meters wide. The Umshiang River flows under the Double Decker Living Root Bridge and is an outstanding example of nature and engineering. If you want other information about the double decker living root bridge, then surely read this article, here we are giving you complete information about this attractive bridge.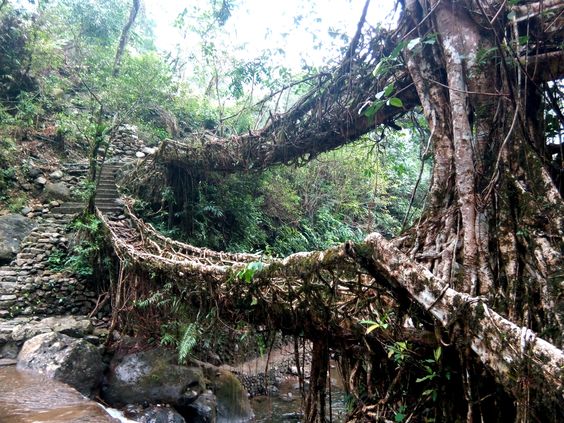 History Of Living Root Bridge:
After seeing the double decker living root bridge, it comes to everyone's mind that how such a big bridge would have been constructed? Let us tell you that the credit of helping the creation of this might of nature is given to the local tribe of Khasis. When the people of this tribe saw that the strong roots of this Indian Rubber Tree were growing near their village Litkinesse, they gave it the right shape. Let us tell you that this type of ancient rubber tree grows only in the northeastern region of India, and this is the biggest reason why the root bridge here is so famous. Local villagers here shape the tree as a bridge.
They give the right direction by pulling the tree roots and twisting them. But let us know that the tree is not used immediately after shaping the bridge. It should be noted that the bridge of this tree takes at least 15 years to strengthen its roots to withstand the weight of people. The double decker living root bridge is also said to be over 200 years old. This natural bridge can only be used by 50 people at a time.
Why This Bridge Is Called Double Decker Bridge?
As you have seen, its bridge is named Double Decker Living Root Bridge because it is a double decker bridge. This means that the bridge has 2 decks or layers, which are formed due to entanglement of the roots. If no one is physically fit then it can be very difficult to climb this bridge.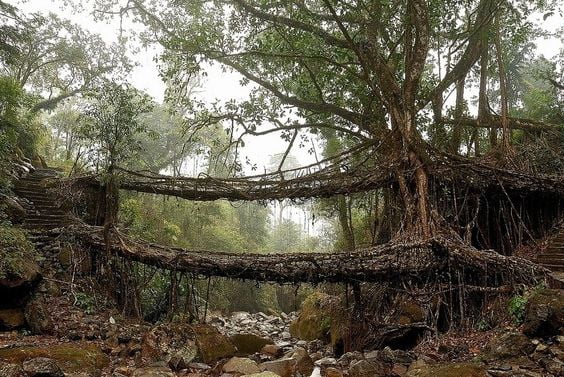 Village Tyrna Starting Point Of Double Decker Living Root Bridge:
This Living Route Bridge starts at village Tyrna and passes over the Umshiang River. To get to this bridge, tourists have to descend 3500-3600 staircases from the hill which can take 3-4 hours. If you are trekking on this bridge, you can see many other small bridges along the way of the bridge, which are not completely natural. These small bridges are structurally strengthened using metal wire because the roots of these trees used like bridges are not as strong as those of other trees.
Important Tip For Visiting Double Decker Living Bridge:
If you are going to visit this bridge, do not carry too much luggage with you in your backpacks.
As we have already told you that there is a shop for snacks and water on the way. So do not worry about carrying these items with you.
Traveling the Double Decker Living Root Bridge can be a nightmare for a new trekker as the trek here can be daunting for some people, but taking a tour of this bridge can prove to be the most memorable moment of your life.
Whenever you go for a walk on this bridge, you have to go through the hill here. You can wear shoes on your walk and drink plenty of water to stay hydrated.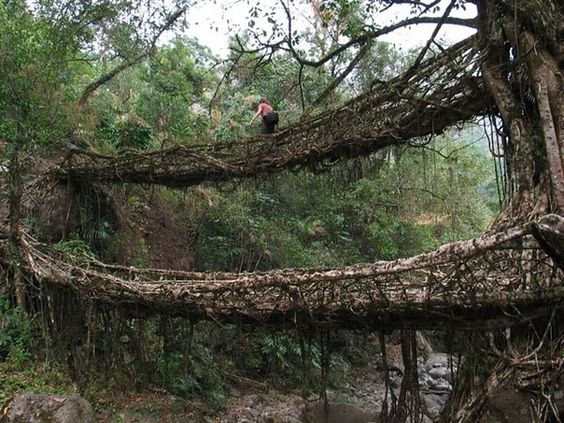 Best Time To Visit Double Decker Living Bridge Meghalaya:
If you want to visit the Double Decker Living Root Bridge located in Meghalaya, then let us know that the area around Cherrapunji usually receives rains throughout the year, but the monsoon season is very heavy from May to September. Being a slippery area, it is advisable not to visit the bridge between May and September in this season. But if you have experience of traveling in this season, then the monsoon season is indeed a beautiful time to visit Cherrapunji. But do not forget to carry an umbrella and a raincoat with you when you go to visit this area.
Accommodation Near Living Root Bridge:
There is also a guest house at the site of the bridge where tourists can stay at a very low charge. But the only drawback here is that the facilities here are quite low. But here you can see a small shop that sells drinks, biscuits, and chips, which can serve the appetite after your tiring journey.
How To Reach Mawlynnong Living Root Bridge:
The Double Decker Living Root Bridge is located very close to Cherrapunji. Hence you can travel to Cherrapunji to go here. The nearest airport is Shillong Airport. After reaching Shillong you can also travel by taxi. If you plan to go by train, Guwahati station is the nearest. Helicopter services are available from Guwahati to Shillong – giving you a thrilling experience. The bus service between Shillong and Cherrapunji is quite good. The best way to travel to any place in Cherrapunji is to hire a taxi.
Related Articles:-
# Top Cities In Tamilnadu To Visit In Holiday