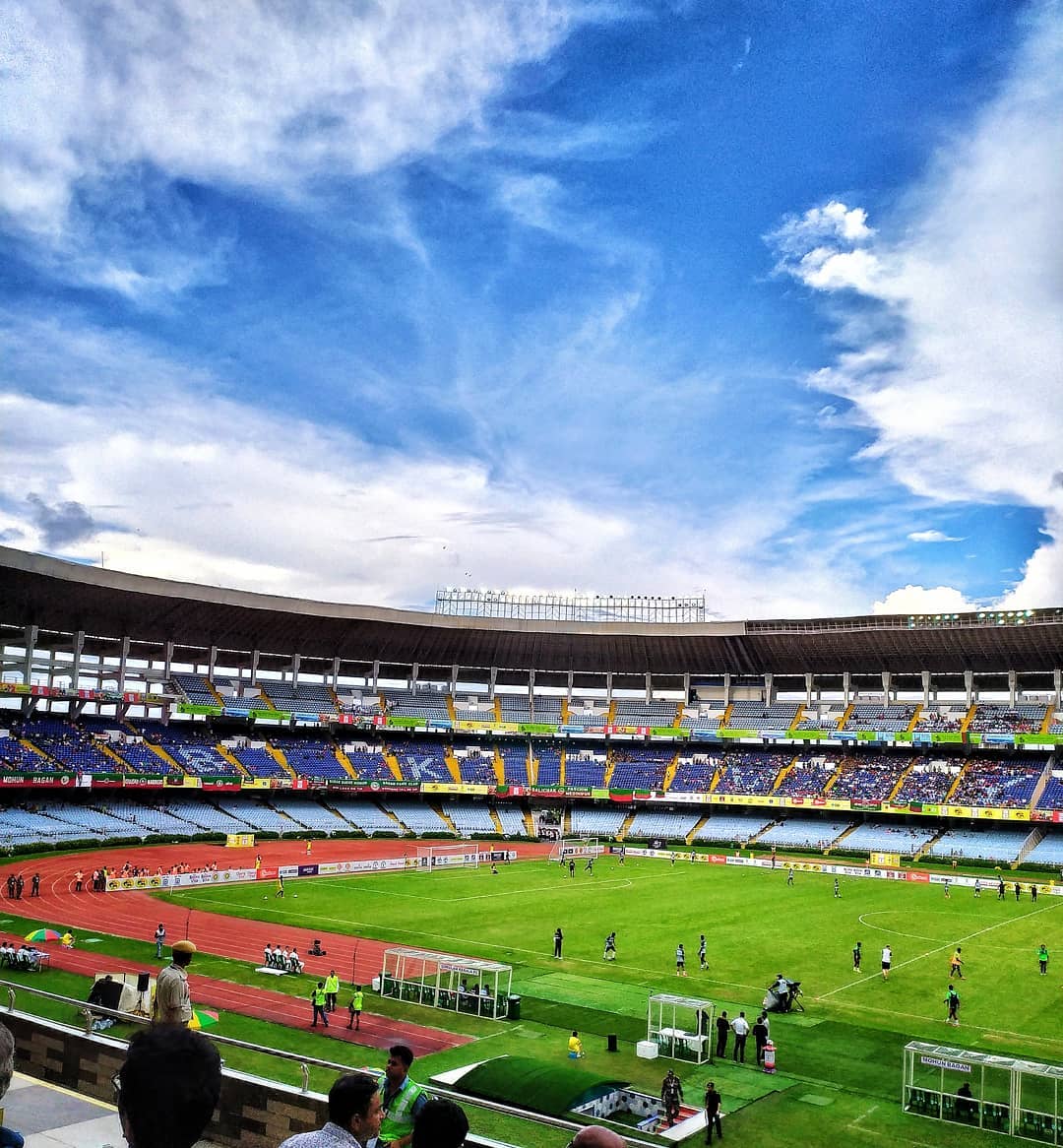 The biggest stadium in India Salt Lake Stadium in Kolkata is the world's second-largest stadium. As the name suggests Salt Lake Stadium is located in Salt Lake City which is situated about 10 kilometers from the city of Kolkata. In the year 1984, this stadium was opened. So, let's know more about the biggest stadium in India.
Information:
City: Kolkata
Capacity: 66000
Clubs: East Bengal FC, Mohun Bagan AC, Prayag United SC, Pailan Arrows
Inauguration: 01.1984
Renovations: 2011, 2014
Design: M/S. Ballardie, Thompson & Matthews Pvt. Ltd. and M/S. H.K. Sen & Associates
Record Attendance: 131,000 (East Bengal – Mohun Bagan, 13.07.1997)
Description:
Salt Lake Stadium was first known as Yuva Bharti Krirangan. This is most likely the largest football stadium in the world, to our knowledge. Due to capacity restrictions in Pyongyang (North Korea), this mammoth's 120,000 places (of course vast majority standing) has no math in global football.
Since opening back in early 1984 it didn't go through any major renovation works, which can be painfully seen both inside and out. It wasn't until early years of the twenty-first century that the ground was able to meet minimum requirements of FIFA with a small portion of seats, a few skyboxes, new giant screens, artificial turf, and improved lighting. But this still falls far from the term 'modernn'.
Because of its low standard and no divisions between different sections of the stands, some sections tend to get overcrowded (particularly behind goals). This is the case very often during India's – and in fact the world's largest derby – between Kolkata's East Bengal and Mohun Bagan clubs. Both sides are able to fill the stadium to capacity when fighting one another, but despite quite a feverous atmosphere and lack of safety installations, violence doesn't seem to be a major problem.
In 2008 it was the site of Oliver Kahn farewell when Bayern faced Mohun Bagan in a friendly. But that's hardly among important events at a ground that has hosted over a dozen large international tournaments and numerous concerts.
In 2013 decision was made to reduce capacity heavily from 120,000 to 68,000. This came as an attempt to make it a more comfortable stadium. Bucket seats were installed across parts of the vast stands. Toilets, skyboxes (24), concession stands and toilets were thoroughly renovated, followed by a revamp of all player facilities.
To Know More About Places To Visit Click The Links:-
# Top Cities In Tamilnadu To Visit In Holiday
Which Are The Most Important Rivers Of Karnataka?
Most Beautiful And Famous Cities In Rajasthan
Artificial Lake In India | List Of Artificial Lake In India
Waterfalls In Tamilnadu: The Main Attractions For Tourists
Famous And Most Beautiful Cities In Kerala
Most Developed And Prosperous Cities In Maharashtra