Weather of Bhutan
The weather of Bhutan can't be generalized due to its precipitous landscape. The climate in Bhutan entirely depends upon its altitude. Southwards, which is closer to India, the climate is cool in winter and humid and hot in the summer.  In the northern areas of the state where highlands rise up to 7,000-meter, weather circumstances are parallel to the arctic. So, let's know about the best time to visit Bhutan.
The rainy season rains are typically heavy. Wintertime can be decent and considered to be the best time to visit Bhutan's lower parts. But during this time the highest parts are freezing. So, the best times to visit Bhutan are autumn (late September – November) and spring (March-May) when the climate is dry, sunny, and warm but always pack warm clothes into the traveling gear when you travel to Bhutan irrespective of the season.
MONTHS:
BEST TIME TO VISIT BHUTAN
 
THIMPHU
BUMTHANG
PARO
PUNAKHA
TRASHIGANG
MONGAR
TRONGSA
JANUARY
12.3°C – 2.6°C
10.8°C – 5.1°C
9.4°C – 5.8°C
17.0°C – 4.3°C
20.4°C – 10.5°C
15.5°C – 8.2°C
10.8°C – 5.1°C
FEBRUARY
14.4°C – 0.6°C
10.0°C – 1.4°C
13.0°C – 1.5°C
19.0°C – 7.8°C
21.7°C – 11.5°C
15.9°C – 8.3°C
10.0°C – 1.4°C
MARCH
16.4°C – 3.9°C
16.2°C – 3.5°C
14.5°C – 0.6°C
22.8°C – 10.4°C
24.8°C – 14.4°C
20.0°C – 11.6°C
16.2°C – 3.5°C
APRIL
20.0°C – 7.1°C
18.7°C – 3.9°C
17.6°C – 4.6°C
26.2°C – 12.9°C
28.3°C – 17.0°C
22.8°C – 14.0°C
18.7°C – 3.9°C
MAY
22.5°C – 13.1°C
21.3°C – 9.5°C
23.5°C – 10.6°C
29.1°C – 17.7°C
30°C – 22.6°C
25.1°C – 17.4°C
21.3°C – 9.5°C
JUNE
24.4°C – 15.2°C
22.5°C – 13.5°C
25.4°C – 14.1°C
29.2°C – 20.1°C
30.7°C – 22.6°C
26.1°C – 19.5°C
22.5°C – 13.5°C
JULY
25.9°C – 15.6°C
24.1°C – 13.6°C
26.8°C – 14.9°C
30.4°C – 20.5°C
31.5°C – 23.1°C
27.1°C – 19.8°C
24.1°C – 13.6°C
AUGUST
25.0°C – 15.8°C
23.0°C – 13.7°C
25.3°C – 14.7°C
29.1°C – 20°C
30.2°C – 22.7°C
25.4°C – 19.6°C
23.0°C – 13.7°C
SEPTEMBER
23.1°C – 15°C
21.6°C – 12.1°C
23.4°C – 11.7°C
27.5°C – 19.1°C
30.0°C – 21.9°C
24.7°C – 19.4°C
21.6°C – 12.1°C
OCTOBER
21.9°C- 10.4°C
19.5°C – 5.9°C
18.7°C – 7.4°C
26.1°C – 14.7°C
29.1°C – 17.7°C
22.7°C – 15.8°C
19.5°C – 5.9°C
NOVEMBER
17.9°C – 5.0°C
16.1°C – 0.5°C
13.9°C – 1.4°C
22.6°C – 9.6°C
26.1°C – 13.6°C
19.9°C – 11.2°C
16.1°C – 0.5°C
DECEMBER
14.5°C – 1.1°C
12.3°C – 2.3°C
11.2°C – 1.7°C
19.1°C – 6.3°C
23.0°C – 11.6°C
17.7°C – 9.5°C
12.3°C – 2.3°C
Bhutan has 4 seasons:
Spring – March to May
Summer – June to August,
Autumn – September to November
Winter – December to February
Best Time To Visit Bhutan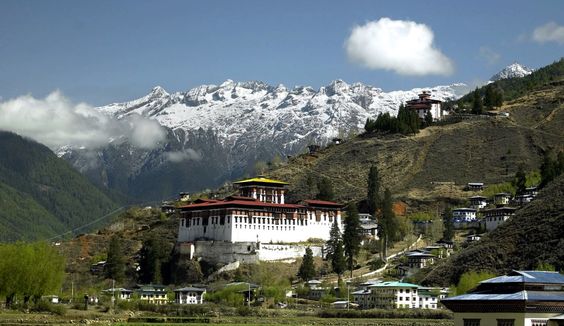 The best time to visit Bhutan is usually measured to be either in the autumn from September-November, or in the spring, between March-May. Throughout these months the climate tends to be pleasingly mild and dry, and its scenery is most beautiful and obviously is at its most magnificent appearance.
It is no astonishment that the greatest popular tourist visits Bhutan, such as the Tashichho Dzong, the Punakha Dzong, and Taktsang Goemba can be packed during autumn and spring… The best time to visit Bhutan
Spring:
Spring (March to May) is viewed as the most excellent season, radiant and burning with a fabulous exhibit of brilliant tones. This is the point at which the valleys are green with new vegetation and organic product trees are blooming – when local people are normally jolly and bright; when guests are generally welcome. So, it is considered to be the best time to visit Bhutan
Autumn:
Autumn (September to November) is exquisite with clear and fresh blue skies, giving an excellent perspective on the absolute tallest unclimbed mountains on the planet. It is the best time to visit Bhutan and an ideal opportunity for journeying and voyaging. The atmosphere is cool and calm and you can get flawless photography chances of willows shedding their brilliant earthy colored leaves, the isolation of parks, and dismal perspectives on dzongs and religious communities. The best time to visit Bhutan
Monsoon:
Monsoon (June to August) During these months, Bhutan gets more precipitation than some other area in the Himalayas. Great sapphire skies and a warm climate is a lovely ideal opportunity to spend visiting spots of social and verifiable interest however this season isn't the best time to visit Bhutan and an ideal opportunity for traveling.
Appreciate some warm, fragrant tea while viewing the precipitation from your lodging window. Or on the other hand in the event that you have a daring soul, get an umbrella/parka while it is pouring and take a diversion through the town! The best time to visit Bhutan
Winter:
Winter (December to February) is radiant, cool, and pleasant most definitely. A large part of the east-west expressway stays snowbound during winter. It is the best time to visit Bhutan and an ideal opportunity to visit the western locale of Paro, Punakha, Wangdue, Haa, and Thimphu. One of the central attractions in winter is the delightful Gangtey (Phobjikha) valley where you can hope to see a wide region of moving plain with bamboo bushes.
Local Festival of Bhutan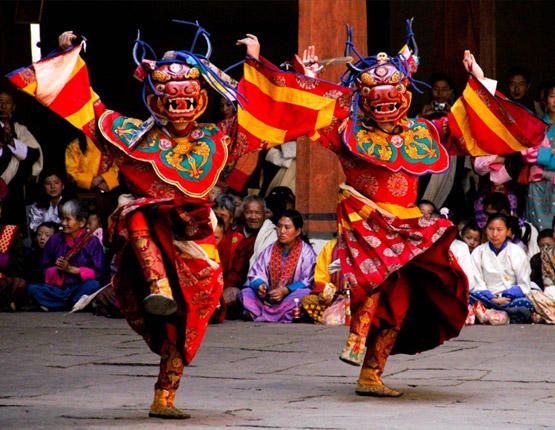 Festivals in Bhutan are known for their wealth, energy, and satisfaction. The old articulations of Buddhist culture and unbelievable triumphs are re-authorized and celebrated around the nation with such grandeur and show that it draws in guests and travelers from around the world. The best time to visit Bhutan
Celebrations in Bhutan are excellent occasions where whole networks meet up to observe strict exhibitions, get endowments, and mingle. Excessive costumed dance acts, flabbergasting fire exhibitions, stories recounted from legends, and expressive veils bring forth vibrance and zest. The best time to visit Bhutan
Nomad Festival
The Nomad Festival is a yearly festival that happens in Bumthang. Nomadic individuals from all pieces of Bhutan meet up to celebrate. This festival presents the way of life, conventions, and way of life of these nomadic individuals. Conspicuous occasions incorporate the stylized imperial parade and lines of slows down including different native specialties, expressions, and culinary delights. The best time to visit Bhutan
Gomphu Kora Festival
A festival like none other in Bhutan, Gomphu Kora Festival is of prime significance to the local people of Trashigang. To comprehend the essentialness of the festival, we need to comprehend the legend behind the festival.
Matsutake Festival
The Matsutake Festival is commended by the local people of Ura Valley during the mushroom season. This festival offers an insider perspective on the nearby way of life of Bhutanese townspeople. Guests in participation can appreciate the mushroom picking journey and lounge in the grand Ura Valley's woods and bumpy territories.
Wangdue Phodrang Tshechu Festival
The area of Wangdue Phodrang is known for elaborate discourses and tunes called Lozeys. The yearly festival was presented after the culmination of a fortification in 1639. 'The Dance of Ox' is the significant fascination where individuals dance to guarantee a serene the great beyond. The festival finishes up after the spreading out of massive compositions known as Guru Tshengye Thongdrol. The best time to visit Bhutan
Thimphu Tshechu Festival
The Thimphu Tshechu Festival likewise called the National Festival of Bhutan, is the biggest and most well-known festival in the nation. The genuine Tshechu is gone before by days and evenings of supplications to conjure the awesome divine beings. The best time to visit Bhutan
Nimalung Festival
Bhutan is celebrated for its vivid festivals. Nimalung Festival is perhaps the main festivals of Bhutan. For the individuals who love the Bhutanese societies and customs and need to appreciate the customary society moves and exhibitions of local people clad in lively outfits, it's absolutely impossible they can miss this festival. During the festival time, you will likewise observe local people clad in their best dresses.
Jambay Lhakhang Drup Festival
Jambay Lhakhang Drup Festival is held at Jambay Lhakhang Temple in Bumthang. It is one of the 108 sanctuaries that was inherent a day by the seventh-century Tibetan King Songsten Gampo. The festival is set apart by different cover moves, which are called chams in the nearby language.
Average Tourist Volume of Bhutan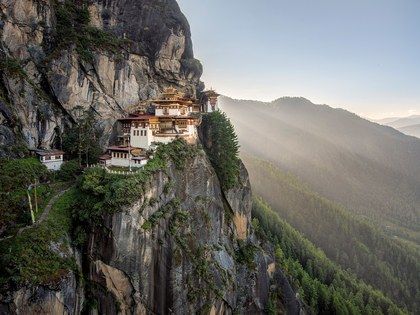 Bhutan's travel industry kept on filling in 2018 contributing essentially towards financial improvement through income and foreign cash age and work creation among others. An aggregate of 274,097 foreign people visited Bhutan in 2018 which is an expansion of 7.61% more than in 2017.
Global relaxation appearances developed by 1.76% to 63,367 more than 2017 while appearances from the local market developed by 10.37%.
Bhutan keeps on picking up impulse in the worldwide travel industry network as a supportable the travel industry objective which is apparent from the developing notoriety bringing about expanding appearances yearly. Bhutan was granted the Earth Award by the Green Destinations in 2018 which was region explicit for the endeavors and responsibility of Bhutan in dealing with our Earth.
Explored Place To visit in Bhutan
Bhutan is full of many tourist attractions. If you are planning to travel to the country of Bhutan, then below we have given a complete list of Bhutan tourist places, with the help of which you can plan your trip to Bhutan.
Thimphu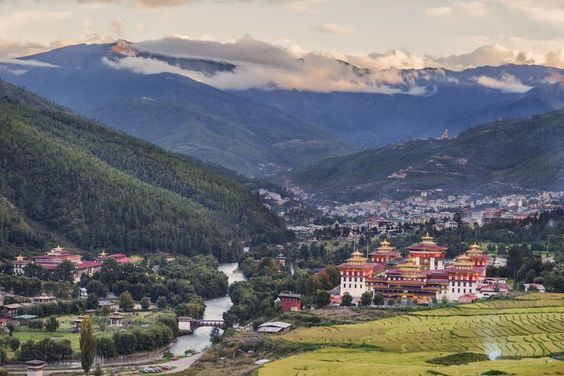 Thimphu is known as the center of Bhutan which is located in the mid-western part of the country. Let us know that Thimphu is also the capital of Bhutan, which was declared capital after Punakha in the year 1961. It is a place in Bhutan that is also known for its nightlife.
It is one such place in the country that still retains Bhutanese traditions as it has various architectural structures such as Buddha Dordenma, which can be seen during the entry into Thimphu. The textile museum, library, art school, and weekend market are the major attractions here.
Thimphu is located about an hour's drive from Paro International Airport which is a mixture of both tradition and modernity. Thimphu is the only capital with no traffic lights.
Bumthang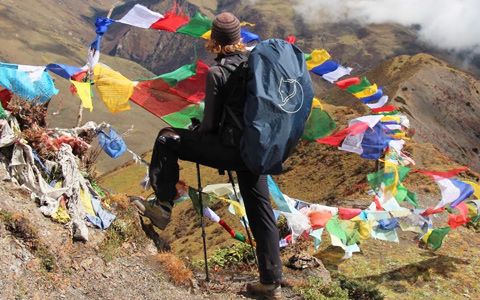 Bumthang is home to four beautiful mountain valleys. Many ancient monasteries and temples are located here. Bumthang is one of the best places to visit in Bhutan, known for its religion, spirituality, and history.
Kurji and Tamshing Lakhang are the major sightseeing places and tourists can also do trekking on the hill. . Every year in February, Bhutanese organize nomadic celebrations in Bumthang.
Paro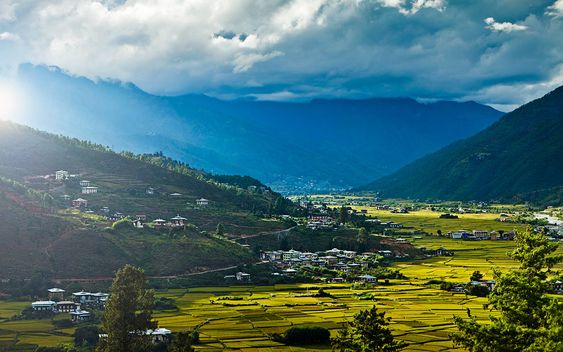 Paro is a small town located in the Paro Valley of Bhutan, home to 155 temples and monasteries. Paro attracts a large number of tourists from all over the world. Paro is located on the banks of the Chu River at an elevation of about 2280 meters, which is spread over an area of ​​1259 sqm. Explain that it is also the only international airport in Paro Bhutan and is considered to be the most challenging airport to land on.
This place is full of many attractions where one must go to visit. One of Bhutan's iconic monasteries is Tiger's Nest or Takhtasang, which is situated on a rock in the city of Paro. Apart from this, there are many places in Paro which are most visited by tourists, including many names from monasteries to many museums. Places to visit in Paro include Rinpung Dzong, Bhutan National Museum, and Paro Weekend Market.
Punakha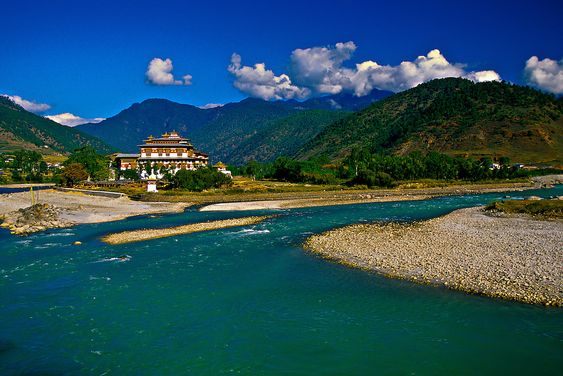 Punakha is one of the 20 districts of Bhutan (Dzongkhags) located at an altitude of 1200 meters above sea level and offers an amazing view of the Himalayas. Punakha was the former capital of Bhutan until 1955 which was later made to Thimphu.
This place is an excellent place for mountain biking and trekking. Apart from this, Bhutan's most popular adventure sports – river rafting is done in Po Choo River. If you are going to travel to Bhutan then you must also go to visit Punakha.
Jakar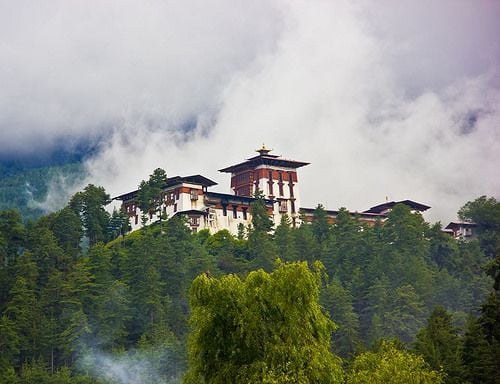 Zakar is the largest and most beautiful valley in Bumthang, situated in the foothills of the Chokhor valley. Let me tell you that Zakar is also known as "Little Switzerland". Zakar is the major administrative city of Bumthang district.
The place is surrounded by tree-mountain ranges dotted with monasteries and Dzongs, making it an ideal destination for both history-lovers and nature-lovers. Zakar is filled with many historical and holy sites.
It is considered the point of origin of Buddhism in Bhutan. If you want to travel to a natural place in Bhutan then you should visit Zakar. Travelers can also enjoy other activities like trekking and mountain biking to visit tourist places.
Wangdue Phodrang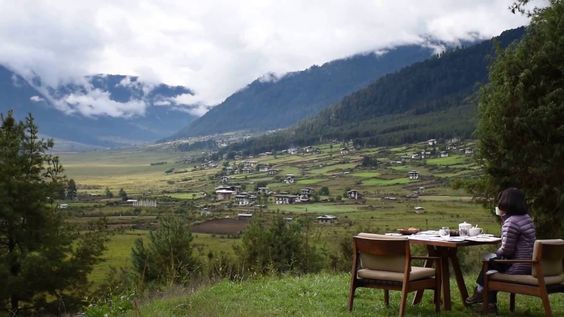 Wangdew Phodrang is one of the largest districts in Bhutan, ranging from monasteries and temples to wildlife and pastoral villages. Wangdew Phodrang is home to many plant and animal species, with Wangchuck Centennial Park in the north and Jigme Dorji National Park in the southeast region.
Tourists can see orchids, rhododendrons, blue poppy, and rare animals like red panda, snow leopard, blue sheep, and black bear. Wangdew Phodrang tourism is a very good place for nature lovers to visit. If you are going to travel to Bhutan then you must come to visit the tourist places of Wangdew Phodrang. The best time to visit Bhutan
Phuentsholing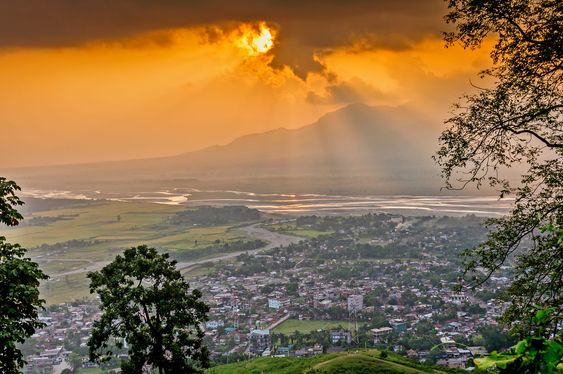 Phuntsholing is the second-largest city in Bhutan which shares its border with the Indian state of West Bengal. It serves as an entry point for travelers from Kolkata and Siliguri and is an important economic center of Bhutan. Phuntsholing is more developed than most of Bhutan's cities and yet it is filled with many natural attractions.
Tourists can visit Zangto Pailari Lakhang, Karabandi Math, Bhutan Gate, and Kharbandi Gomba during their foot showing trip. Zangto Pailari Lakhang is a small temple dedicated to Guru Rinpoche. The Bhutan Gate located here is the main gateway for entry from India, a classic example of traditional Bhutanese architecture.
Unexplored Place To Visit in Bhutan 
Bhutan is a quiet Buddhist state located in the lap of the eastern part of the Himalayas. Maybe you have already visited this beautiful country or maybe Bhutan has caught your attention when you are looking for peaceful places for a quick vacation from the monotony of life. The best time to visit Bhutan
Philatelic Bureau: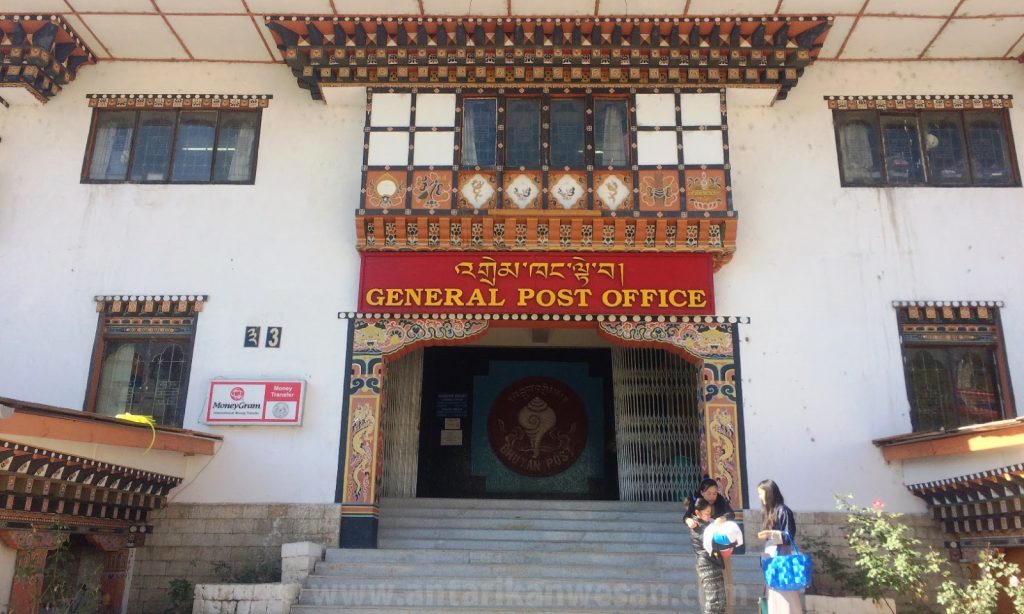 Right now I will refer to this post office, you will say – "Wait, what?" – Yes, it sounds nothing interesting, but wait – wait for it – at this post office you can get personalized post tickets! Just make sure that you are taking a good photo or if you can take an instant photo there, they will print the photo for you on a set of tickets in a few minutes.
Apart from this, you can also buy postcards to take your loved ones back home; If you are a stamp collector, then this place is heaven for you. The best time to visit Bhutan
Haa Valley: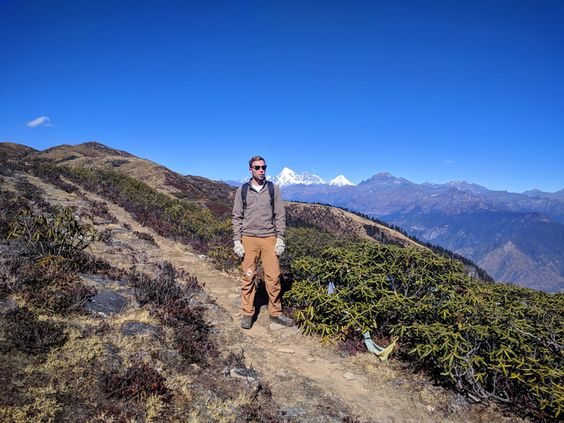 Haa is one of the least populated areas in Bhutan. Its major attraction – Haa Valley – known for its heavy snowfall is one of the protected environmentally friendly areas in the region – Torsa Strict Nature Reserve Once you are there you will be able to see how beautiful this place is. Visit here to get the best experience. It is definitely one of the places to visit in Bhutan. The best time to visit Bhutanhe best time to visit Bhutan
Phobjikha Valley: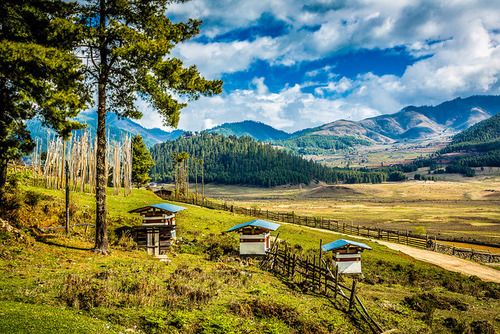 A beautiful icy U-shaped valley, it is an ideal place for real nature lovers who need a climb to reach. During your trip to Bhutan in winter, you will see the beautiful black-necked crane bird. There is also a large proportion of wildlife to see here. This place definitely proves Bhutan tourism very good. The best time to visit Bhutan
Lama Tahering Doraji General Shop, Paro: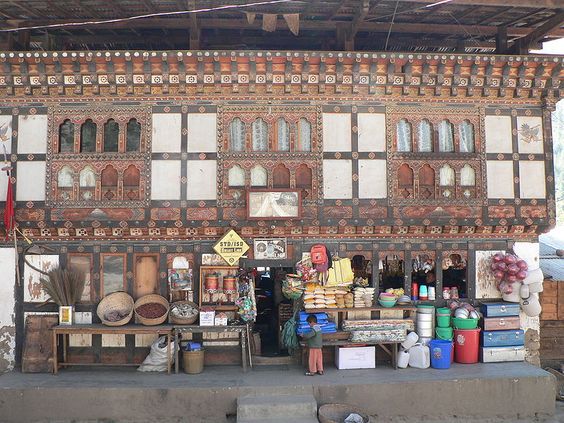 When you are on a trip to Bhutan, whether you are going from Thimpu to Paro or Paro to Thimpu, you should stop at this small shop, which sells a variety of surprising ingredients. Everything you see here has been put into spirituality. There are many souvenirs available here to bring you home. The best time to visit Bhutan
Must-Try Foods And Beverages of Bhutan
Bhutanese food is rural and basic, in view of the restricted fixings that can be filled in the difficult climate of the Himalayas. The center of Bhutanese cooking is rice – Bith red rice and white rice (enu mate), a nutty-seasoned assortment developed for quite a long time in the Bhutanese slopes – yet numerous ranchers likewise raise buckwheat and maize. Bean stew showed up via India and China, and it adds punch to numerous Bhutanese dishes.
Ema Datshi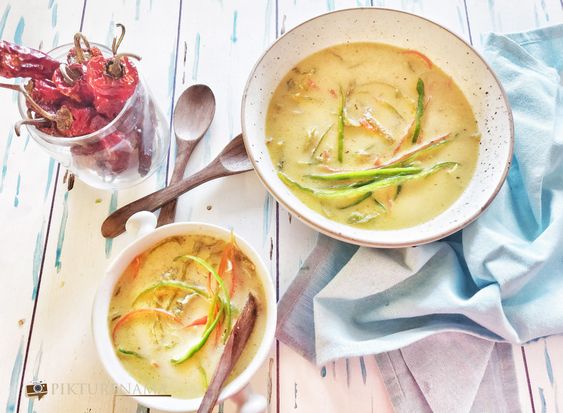 In the Bhutanese language, 'Datshi' means 'cheese', which is the thing that they use in various dishes, the most well known being Ema Datshi which resembles a stew produced using chilies and cheddar ('Ema' signifies chilies) and might end up being excessively hot for a few. The best time to visit Bhutan
Being the public dish of Bhutan, it is unarguably the most well-known dish in the nation, and any conversation about Bhutanese food can't abandon the notice of Ema Datshi. The best time to visit Bhutan
Kewa Datshi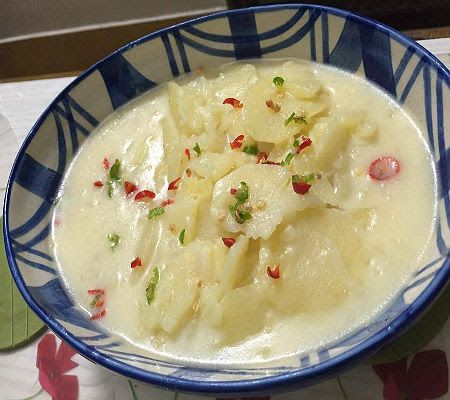 Kewa is potato, so Kewa Datshi is potatoes and Bhutanese cheese. this is a Bhutanese dish that is quite mellow yet centers around potatoes and cheese. The best time to visit Bhutan
Phaksha Paa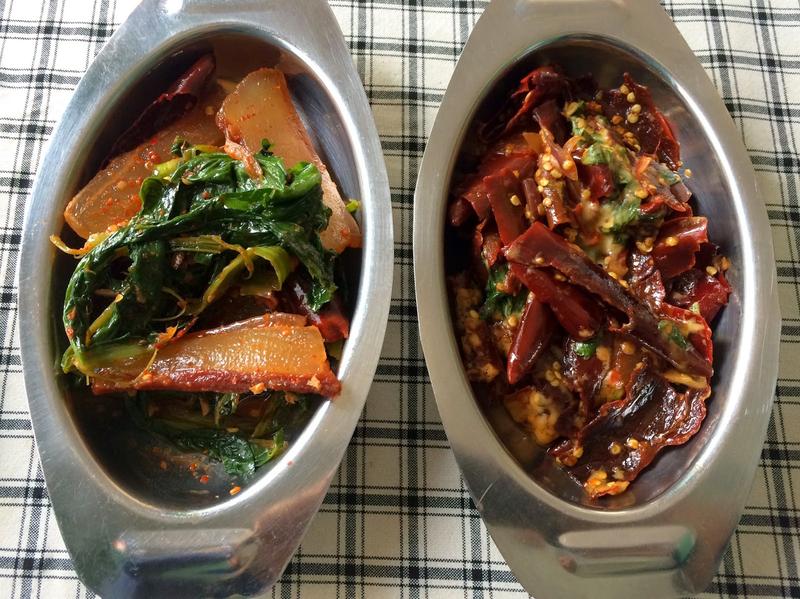 An exemplary Bhutanese stew of portions of boneless pork shoulder stewed gradually until delicate with mooli (daikon radish), ginger, bok choy, and–you got it–stew powder. The best time to visit Bhutan
At the point when completed, the stew is finished off with dried pork and new green bean stew strips and presented with rice. The best time to visit Bhutan
Juma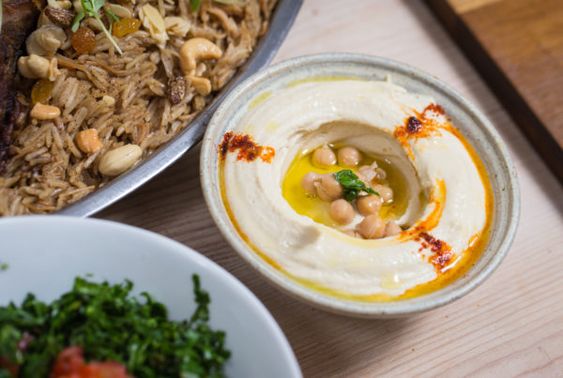 Juma is a kind of basic Bhutanese hotdog made with minced meat, rice, and some light flavors all filled into digestive organs covering. The best time to visit Bhutan
Yaksha Shakam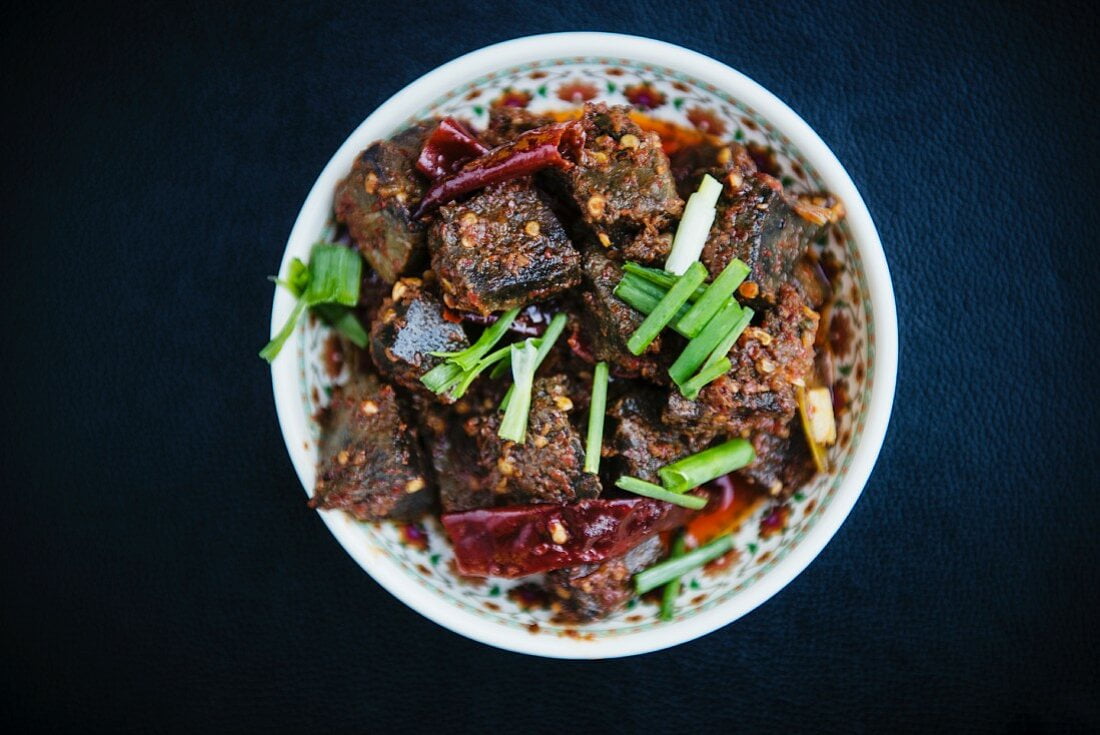 In case there's a meat that can be contended as in a way that is better than dried hamburger, it's dried yak meat. Yak is comparable tasting to meat, yet it has a smidgen of an alternate aroma (without being excessively gamey), and it apparently is very healthful. The best time to visit Bhutan
Sicaam Paa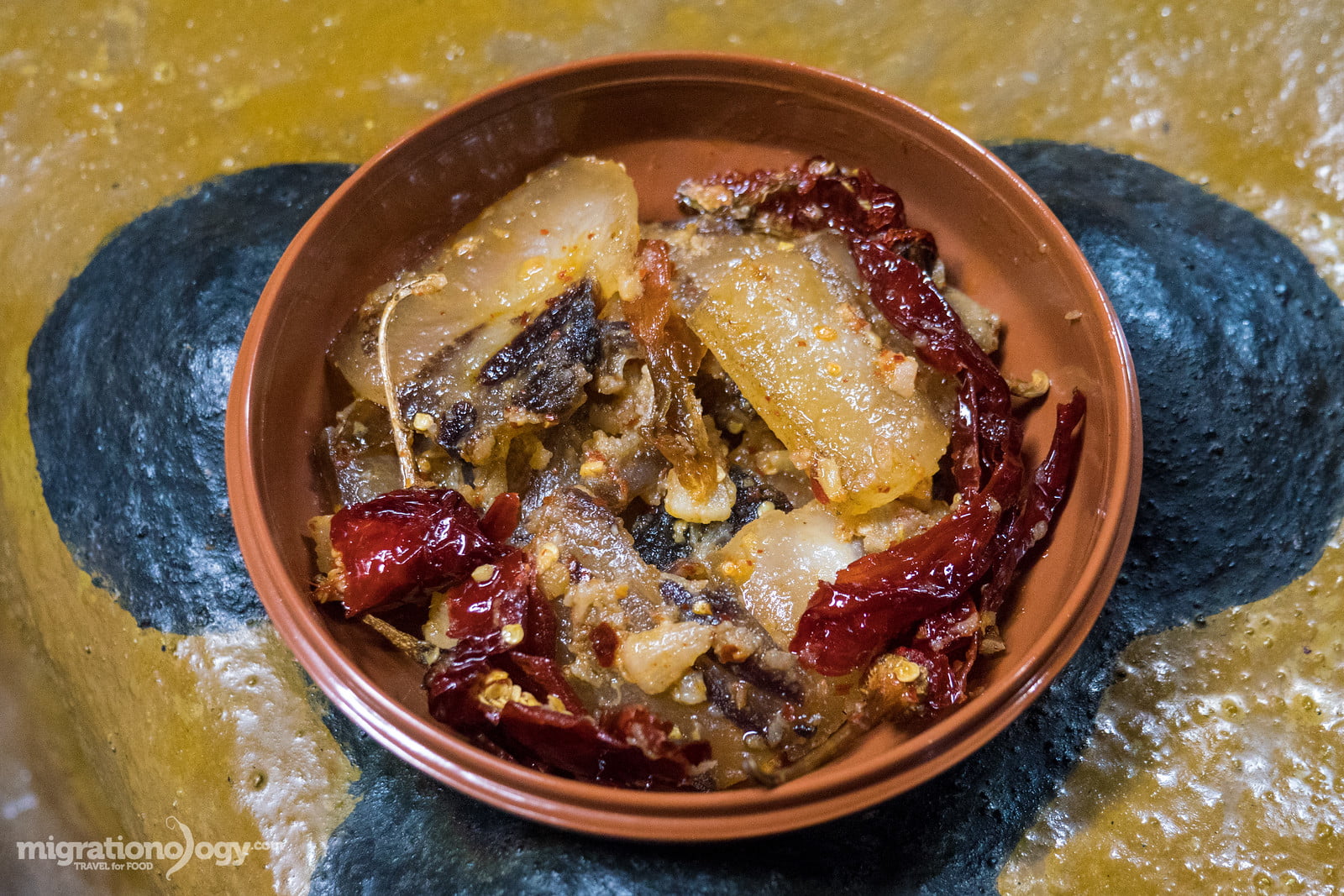 Sicaam Paa is another rendition of this dish that utilizes sun-dried pork stomach which is then seared alongside dry chilies. The best time to visit Bhutan
Shakam Datshi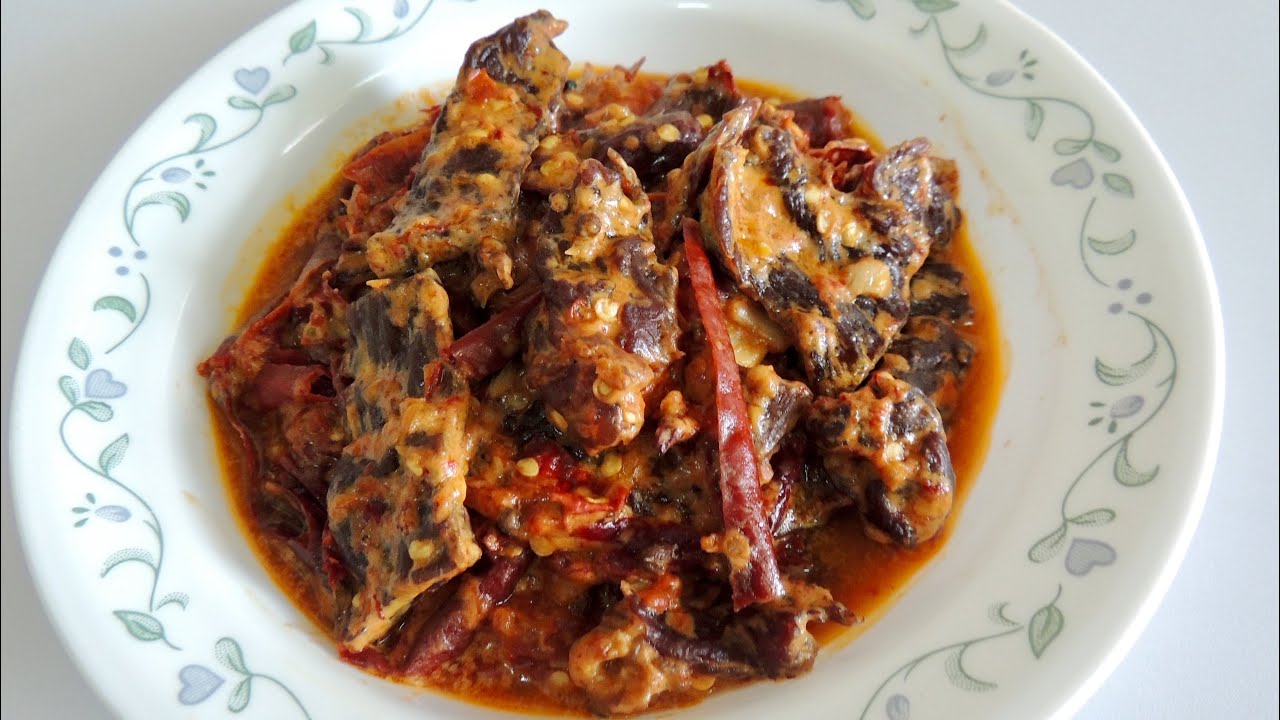 Shakam Datshi is another type of this dish that is produced using dried Bhutanese hamburger which is mainstream meat. The meat is dried and saved yet not totally dried out. This is then stewed in cheese and margarine.
Drink Specialties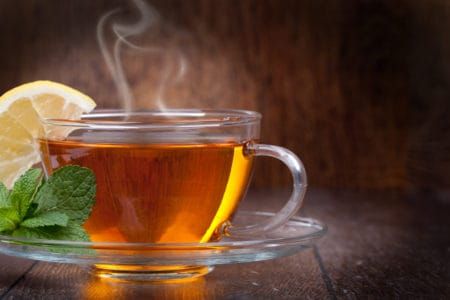 Green tea with your supper, you will be offered an assortment of beverages dark and green tea, brew, and wine. In any case, in case you're extremely fortunate, you might be offered a glass of privately prepared ara (or arag), an aged beverage produced using rice, maize, millet, or wheat. Ara tastes somewhat like incredibly, very solid purpose. Good health!'
Bhutanese Butter Tea – Suja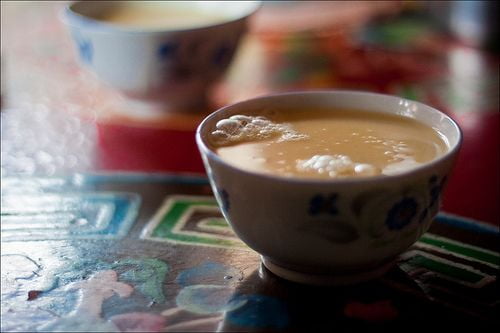 Tea is much of the time devoured in Bhutan however is somewhat extraordinary. What local people generally enjoy is margarine tea, otherwise called Suja or Po Cha or Goor which is normally served after dinners and is discovered to be very consoling in the chilly climate. The best time to visit Bhutan
Things To Do in Bhutan
Due to being in the Himalayas, the spot is a center point for some, experience sports that make certain to blow your mind and cause you to feel excites that you never could even relate with a particularly strict and profound spot. Experience sports in Bhutan incorporate names like boating, traveling, kayaking, rock climbing, and a lot more such good notices. You can even take to visiting the Tiger's Nest, which is a cloister based on a cliffside in Paro at the stature of 10,000ft above ocean level.
Trekking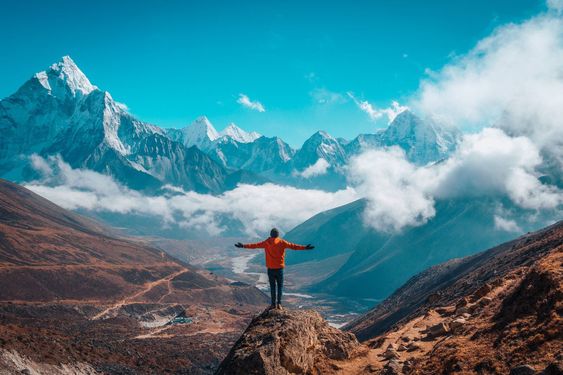 With its staggering common scene, snow-covered mountains, stretches of pastureland, lavish green valleys, thick blended timberlands, and perfectly clear lakes, Bhutan offers an incredible occasion to embrace a traveling experience. The changing scene of Bhutan accommodates simple to horrifying traveling open doors for the two tenderfoots and specialists. The best time to visit Bhutan
Difficulty Level: Moderate to Challenging
Best time: March, April, And May and also in September, October, and November.
Location: Jomolhari Trek, Druk Path Trek, Merak Sakteng Trek, Snowman Trek Nabji Korphu Trek, and many other treks you can perticipate in Bhutan. The best time to visit Bhutan
Attend Festivals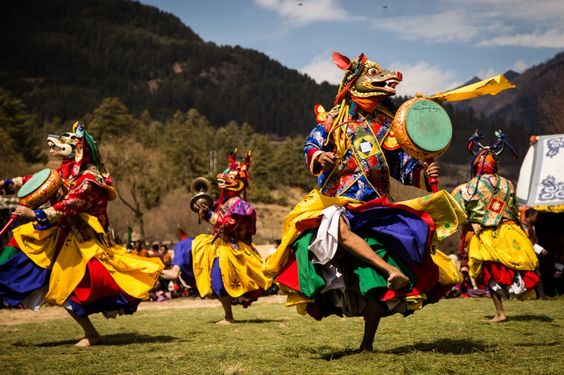 Bhutan was announced as the place that is known for net public joy. The Bhutanese culture is hued with various conventions and celebrations that are praised all through the nation with much thoroughness and energy. Taking a celebration visit to this nation of excellent common landscape and brilliant festivals offers you the occasion to appreciate and encounter the lively nearby customs of the nation.
Location: Throughout Bhutan. The best time to visit Bhutan
Rafting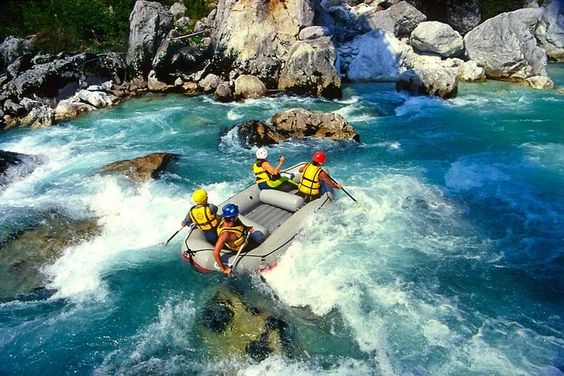 Dissimilar to the pigeonhole picture of boating where you are conflicting with the rapids and solid flows while shouting with delight and rush, boating in Bhutan gives you the joy to tenderly buoy down the stream while absorbing the encompassing magnificence and traveling through some unobtrusive yet elating rapids.
Difficulty Level: Moderate. The best time to visit Bhutan
Best time: March, April, May, and October, November.
Location: Roughly 16 km of boating course of Po Chu River with moderate rapids and 10 km of boating course of Mo Chu River are the most famous boating courses in Bhutan.
Biking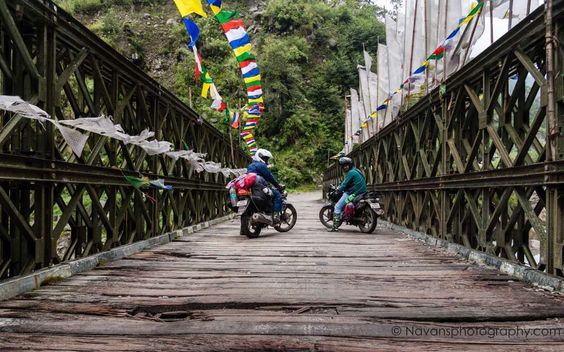 The scene here and the tough mountains make the nation of Bhutan perhaps the best spot to take up trekking. Probably the best activity in Bhutan, one can take up both out and about and rough terrain cycling endeavors according to what coordinates their aptitudes and decision of experience.
Best time- October to December also from March to April
Where- The best biking route is from Thimphu to Dochula Pass, and for individuals searching for moderate and more limited courses, there are numerous around the urban areas of Paro and Thimphu
Camping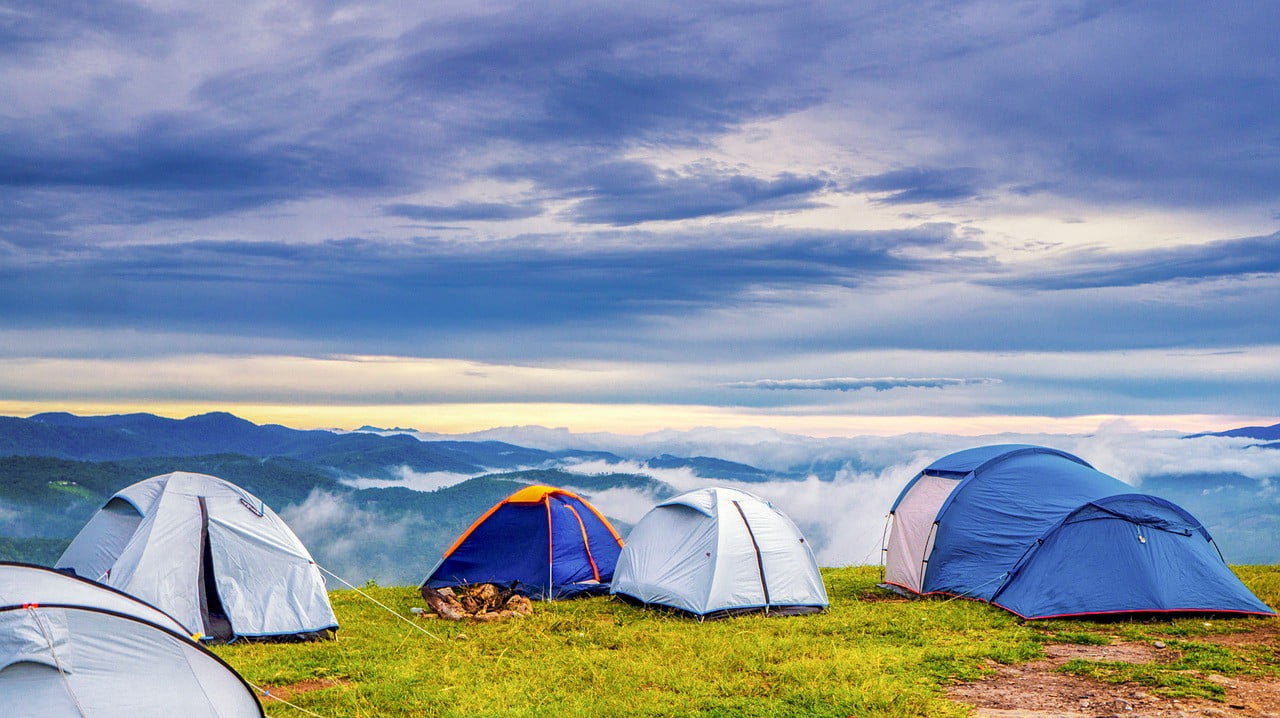 Camping in the outdoors in the lap of the Himalayas and in the midst of the green timberlands of transcending trees is quite possibly the most hypnotizing experience. Furthermore, Bhutan is probably the best spot to encounter what it seems like to camp in the high mountains and wake up to incredible dawn.
Best time- Before & after winters. Monsoon and Summers are normally a little extreme and thus may ruin your tour
Where- There are several trekking trails near Thimphu and Paro where you can go camping with local guides
Things To Avoid in Bhutan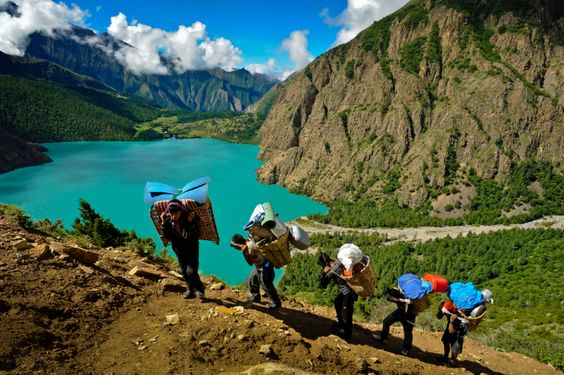 Settled in the Himalayas, the Kingdom of Bhutan is quite possibly the most shocking objection that a couple of voyagers make it to because of its area, cost, or travel coordination. But there are a few things you need to know before going to Bhutan. The best time to visit Bhutan
Try not to smoke in broad daylight places.
Try not to wear shorts when you visiting strict destinations, for example, sanctuaries, religious communities, dzongs, and chortens or you are in open structures. This could be viewed as a lack of regard.
Don't toss trash anyplace aside from assigned spots.
Try not to take any photographs inside sanctuaries, cloisters, dzongs, and chortens.
Don't contact the robe of priests, any canvases, wall paintings, and some other ceremonial articles.
Try not to toss anything into lakes, swim and upset the waters on the grounds that nearly lakes are viewed as heavenly with gods living in their profundities.
Travelers Hack By TravelJunction
♥

 Travelers Hack for Couples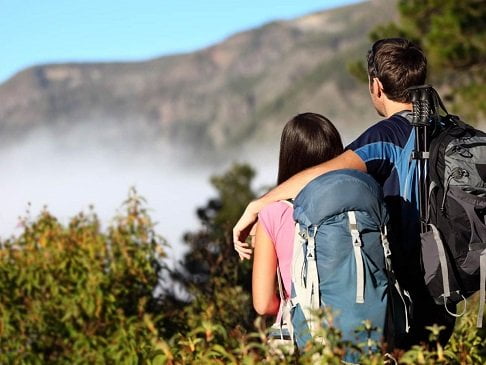 Pick Bhutan for your honeymoon as your sentimental venture and look for joy in the interesting climate. Book an excursion to Bhutan from India for your fantasy occasion that is completely adaptable.
Aside from touring incredible landmarks, Bhutan likewise offers a wide scope of experiences like whitewater boating, rock ascending, kayaking, fishing, journeying, arrow based weaponry, mountain trekking, paragliding, and boiling water springs. These experiences are unquestionably going to make your honeymoon an exciting one.
♥

Travelers Hack for Family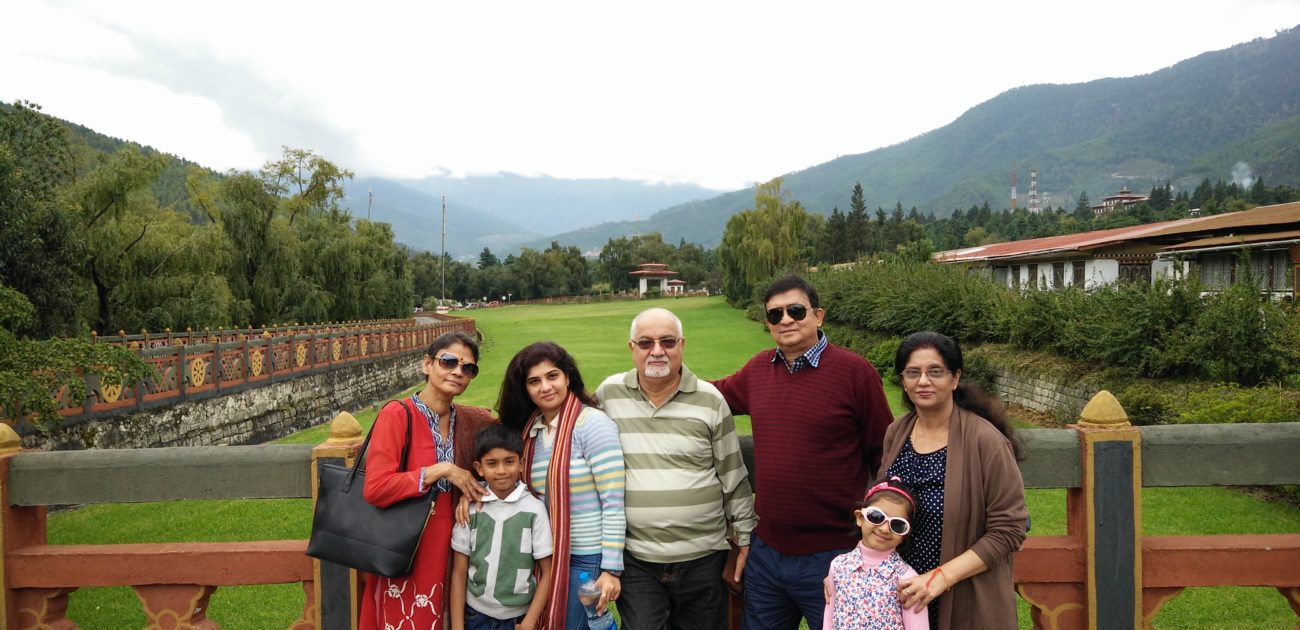 You can't feel all the more simple with Tour My India as we understand what a family needs on a visit and we try to give them simply that! With our wide exhibit of Bhutan family visit bundles, we put on offer quality travel encounters with your loved ones the most. The best time to visit Bhutan
Encircled by the great Himalayas, Bhutan is perhaps the most excellent and different nations in Asia. Exciting picturesque scenes, a lively neighborhood culture, and a charming atmosphere are what travelers can anticipate on Bhutan family visit bundles. The best time to visit Bhutan
Grasp the Buddhist culture on a family excursion to Bhutan where the mix of present-day and conventional leaves sightseers entranced. Bhutan is open by an organization of streets and by various homegrown and worldwide air terminals. The best time to visit Bhutan
♥

Travelers Hack for Friends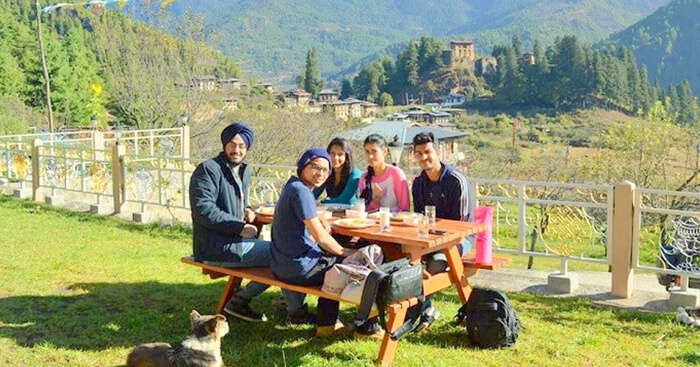 To enter Bhutan, Indian nationals need to convey any of the two travel records – Valid Passport and additionally Voter Identity Card, given by the Election Commission of India for a restricted period passage license. Indian Nationals who are stopping by the street should acquire an Entry Permit gave by the Immigration Office of the Royal Government of Bhutan at Phuentsholing.
Sightseers going via air can get the section grant at the Paro International Airport, just in the event that they have any of the previously mentioned travel archives. The best time to visit Bhutan
To convey a Birth testament and any photograph personality card (School ID card) both in the English language as substantial character confirmations for youngsters (under 18 years old).
Do get them interpreted in English from a Government endorsed interpreter if any of these archives are in a nearby language. The best time to visit Bhutan
Check Related Articles:-