Weather Of Goa:
The weather of Goa does not make much difference throughout the year, but still, you cannot go to Goa in all seasons because it is hot in the summer season, there is scorching heat in the middle of Goa, famous for beach destinations. According to the weather, Goa can be divided into three seasons: summer, monsoon, and winter, the temperature and the atmosphere of Goa are completely different in these three seasons.
| | |
| --- | --- |
| Month | Average Temperature |
| January | 30 ℃ |
| February | 31 ℃ |
| March | 33 ℃ |
| April | 32 ℃ |
| May | 33 ℃ |
| June | 31 ℃ |
| July | 29 ℃ |
| August | 29 ℃ |
| September | 30 ℃ |
| October | 33 ℃ |
| November | 33 ℃ |
| December | 31 ℃ |

Best Time To Visit Goa:
The best time to visit Goa is from October to some time after December. At this time the weather is comfortable and the new year is coming very soon, due to which there is a stir of tourists from all over the world.
March To May:
It is hot from March to May. Daytime temperature is 32 degrees. From 39 degrees. And sometimes at night 28 degrees. The nights are cold due to the temperature below. May is the hottest month of the year and the visitors may have to use suntan lotion at this time.
June To September:
Although it is not possible to visit the beaches of Goa during the monsoon, the visitors can see many waterfalls and streams. In addition, the sea is in the ebb and amazing waves can be seen in the form of poisonous waves and showers. The temperature is 22 degrees during the monsoon. From 28 degrees. Happens between and nights can be cold.
October To February:
The temperature in winter is 16 degrees. From 18 degrees. Goa is very cold due to being between. On the other hand, it is comfortable to go to the beaches. The winters in Goa are not dry at all and you can enjoy the gentle temperatures on the beaches.
Local Festival: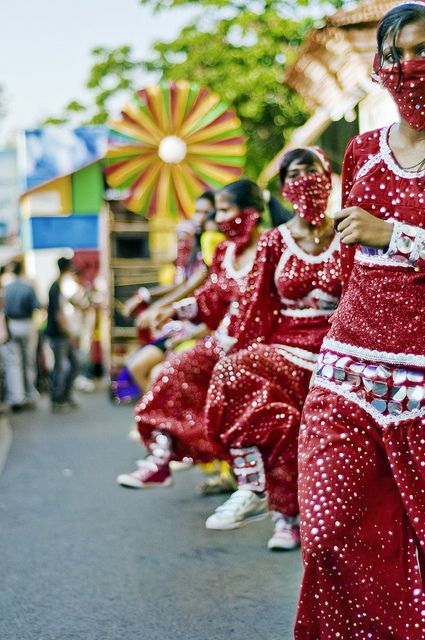 Before independence, this province had been a colony of the Portuguese and the French. Because of this, even today, the full impact of Western culture is seen on the living, language, and food of the place. Although many festivals are celebrated in Goa, Christmas and New Year are celebrated with great pomp in Goa.
The Goa Carnival in Goa is a festive season that falls just before Lent; Main events usually take place during February. Carnival usually involves a public ceremony or parade with circus elements, masks, and public open parties. During the ceremony, people often decorate or become polymorphic, reflecting the rebound of daily life. Carnival is a festival that is traditionally held in Roman Catholic Goa.
There are many festivals that are celebrated only in Goa. Chikkal Kalo is one such festival. This festival is celebrated on the 12th of Ashada month. According to the English diary, it falls in the second or third week of July. According to the season, it falls in the middle of the rainy season, the main season of Goa. It is a very enthusiastic festival of monsoon. In addition to this, the festival of Diwali and Holi is also celebrated with great enthusiasm.
Goa Festivals List:
New Years Day
Three Kings Fest
Goa Carnival
Good Friday
Easter
Goa Memorable Day
Sao Joao Festival
Saint Francis Xavier Festival
Christmas Day
Average Tourist Volume: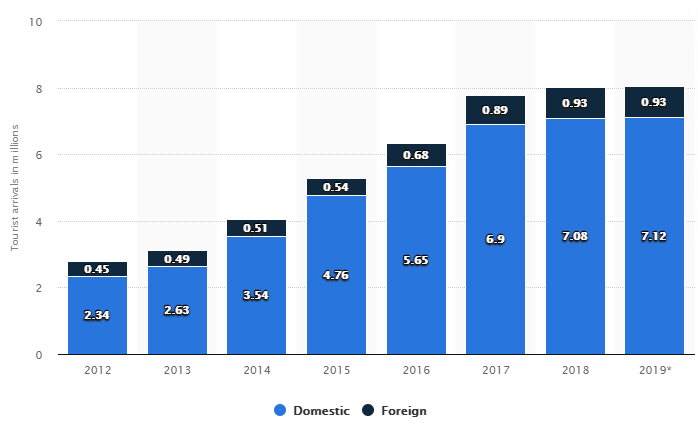 Goa saw an unobtrusive development in 2018. The state invited 8.01 million vacationers (0.93 mn abroad) in 2018 when contrasted with 7.78 million travelers (0.89 mn abroad) in 2017. The objective is set to increment the inbound traffic and contact 1,000,000 out of 2019.
Explored Place To Visit:
Goa is divided into 2 parts, which include North Goa and South Goa. North Goa is a very bustling place where you will find lots of disco casinos, lots of seaside areas and many beaches called Baga Beach. You will find filled places where you will see tourists and tourists coming from outside the country and abroad. So, see below the common places to visit in Goa.
Arvalem Waterfall:
There is a 24 feet high or beautiful waterfall which is situated 24 km away from Panaji, to see this waterfall, the government has also built a park here. Hence, this place is a famous picnic spot in Goa. And if it rains somewhere, the beauty of it goes to the moon.
Pandavas Cave:
Situated at a distance of about 31 km from Panaji, the historical place of Goa, it is said that during the Mahabharata period, the Pandavas had spent their unknown place here and established a Shivalinga which is still present here in this cave. There are many beliefs about Ki and Shivling.
Dona Paula:
This place is a sub-place of Panaji, the capital of Goa, which is one of the famous tourist places of Goa, situated about 10 kilometers from fake, this place is situated in the middle of North Goa and South Goa, this place is named Viceroy of Goa. Was named after his daughter. Dona Paula is also famous for its shopping, here you will find a lot of different things to do shopping.
Reis Magos Fort:
This fort, situated on the banks of the river Mandvi, was built by the Mughal emperor Adil Shah. This place is full of adventure, here you will also find a watchtower from where you will be able to take a wonderful view of the Mandvi river and the city of Panaji.
Doodhsagar Waterfall:
This waterfall is the only waterfall in India that lies on the borders of 2 states of India. The situation is about 60 kilometers from Panaji. It is situated on the Mandvi river passing through the Goa and Karnataka border. The height of the waterfall is about 300 feet. Falling from a height of 300 meters or waterfall also known as Milk of See goes.
Panjim Church:
This church is the most famous church in Goa's capital Panaji. In comparison to the exterior, the central part is quite attractive, this church is also famous for its zigzag staircase, where the annual fair is held on 8 December every year. The view of this church is worth seeing at night.
Basilica Of Bom Jesus:
This church located in Old Goa is about 10 kilometers from Panaji. The famous Church of Goa is also included in the UNESCO World Heritage Site or considered to be about 400 years old. This place is the mausoleum of St. Francis Xavier where some of his paintings Is also shown.
Aguada Fort:
This fort was built for protection from the Dutch and Marathas. Which is divided into two parts, it is a very adventurous place that will be liked by you, so if you have gone to Goa then do not go to this place at all. This place is also very nice.
Mangeshi Temple:
This temple dedicated to Lord Shiva is located in Mangeshi village, about 20 kilometers from Panaji. A grand puja is performed here on Monday and a visit to the statue takes place in the palanquin.
Goa is known all over the world only for its Beach. People from all over the world come to Goa to visit the beaches, some of which are world famous behind where you must go like Palolem Beach, Baga Beach, Benaulim Beach, Miramar Beach, Colva Beach, Kalangut Beach, Majorca Beach, Bogmalo Beach, Vagator Beach, Arambol Beach, Morjim Beach, Sinquerim Beach, Agonda Beach, Putnam Beach, Kakolem Beach, Butterfly Beach, Cabo de Rama Beach, Boglemo Beach, Mobor Beach, Cavelossim Beach, Betalbatim Beach, Galgibagh Beach, Talpona Beach, Betul Beach, Utorda Beach, Majorda Beach, Varca Beach, Cola Beach. There are many other places that must go to.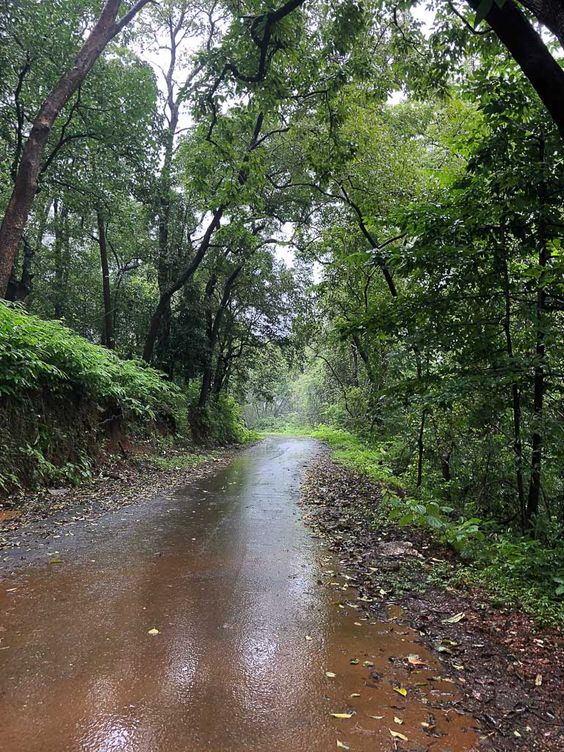 Unexplored Place To Visit In Goa:
In the previous few years, the primary attractions in Goa have gotten excessively swarmed and in the event that you are visiting Goa unexpectedly, you may think that it's somewhat unique in relation to all that you have heard. The buzz is still there from all the vacationers and you may be aching for that hermit and reprieve that you considered when anticipating this excursion.
Rivona Caves:
The most ideal approach to visit these caverns is on a bicycle. Take the public parkway 7 and proceed straight on it for around an hour until you hit the Tilamol-Cardi zone. Soon after 10 minutes, you will discover the Rivona caverns. The cavern is accepted to be a position of reflection of a Buddhist priest and the laterite rock inside is sid to be his contemplation seat. Not simply that, the inner parts of the cavern have been cut with various Buddhist figures, compositions which make the caverns a treat to the eyes. The caverns are situated in Rivona Village in South Goa and the perspective on the ocean from that point is only a clincher. The novel style of these caverns unquestionably makes it an absolute necessity visit.
Cumbarjua Backwater Canal:
Everybody visits Goa for the seashores, be that as it may, a couple knows about the exciting experience action of Kayaking in Goa. Indeed, on the banks of Mandovi stream, in Cambarjua is the Camberjua waterway which streams toss the thick mangrove woodlands. These backwaters are the spot for kayaking for adrenaline junkies, however, are genuinely obscure. In the event that you love immaculate places and have a talent for experience, follow the NH 48 and walk to arrive at the Cambarjua Canal. You can likewise spot crocodiles getting a charge out of the daylight on the bank of the stream. The stream goes through the mangrove and the swamps. This gives probably the best perspectives and exciting experience that relatively few think about.
Netravali:
The Netravali is a fairly puzzling spot in Goa. Situated in the Sanguem locale in South Goa, the Natravali Lake is only 65 km away from the Goa Airport. You can book a rental taxi or a bicycle and go on a delightful excursion to arrive at this lake. Presently, it isn't only a common lake. There are some methane stores beneath the ground which spills from under and makes the water surface to rise out. This makes it interesting and amusing to watch. There is additionally the choice of Fish spas here so plunge your feet in the water and let the small fishes take care of their responsibility. Try not to stop for a second in visiting Goa with your live-in accomplice. There are a lot of hotels for unmarried couples in Goa where you can remain serene.
Pequeno (Bat) Island:
The Pequeno Island, or Bat Island, is only a brief boat ride away from Vasco da Gama's Baina seashore and can be reached through a boat or ship. Because of its hid nature, it is barely noticeable by most and is accordingly quite possibly the most separated and neglected spots to visit in Goa. With a tiny rocky seashore, stretches of green scenes, offices for snorkeling, and day picnics, the island is stacked with shocks for experience fans and couples.
Savoi Spice Plantations:
The dirt and wildernesses of Southern India are loaded with these local fortunes of our own. So for what reason should Goa be abandoned! Savoi Spice Gardens is natural heaven in Goa that takes you through the verdant ranches bearing rare herbs, colorful fruit orchards, curious looking plants, and the Goan urak and feni. Despite the fact that an agreeable piece of Goa touring, it is barely noticeable by those wandering into Goa for its exuberant gatherings and beachy fun.
Chorla Ghats:
Lost in the sparkling rural areas of Goa, maybe one of the odd and secret places in Goa, individuals disregard this pearl settled cozily on the Western Ghats in the Goa-Karnataka-Maharashtra outskirt. With lush valleys and tropical jungles, this slope station in Goa compensates for quite possibly the most strange concealed spots in Goa for a great end of the week escape with loved ones. When here, one can go bird watching, butterfly spotting, trekking, hiking, or basically revel in the bountiful characteristic magnificence.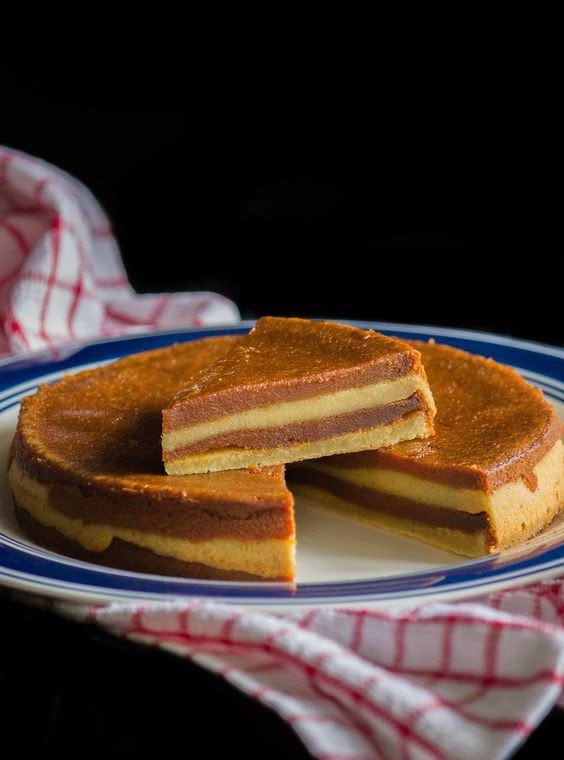 Must Try Foods And Beverages Of Goa:
Goa food is a combination of various influences i.e. Portuguese, Hindu, and Christian for centuries. The main components of typical Goa food are local products such as rice, fish, and coconut. Goa food is rich in spices and other ingredients. Cashew plays an important role in Goan cuisine and is present in almost all cuisines.
Pork Vindaloo:
Basically, this dish is Portuguese, but it is made in pure Indian style. It is prepared with pork meat, ginger, and alcohol. Red chilies and other spices are also added to this.
Crab Curry:
This dish is prepared with crab meat. The broth is slightly thick in which coconut and strong spices are added. It is served with rice and roti. People who are fond of strong spices like this dish very well.
Sannas:
It is made from steamed rice. Many people also know it by the name of Idli. It is usually eaten with Goa curry. It is both salty and sweet. Sweet sannas are made from jaggery or sugar.
Goan Red Rice:
They are also called Ukra Rice. This dish is very popular among those who are fond of different types of mines. Unsweetened rice is made into coconut curry.
Corris Pau:
This pure is Portuguese bread prepared with chili pork sausage.
Kingfish:
If you go to Goa and do not take the kingfisher, then your Goa trip is incomplete. The locals know it as Vaswani. It is baked raw only on fire. Before baking, it is drizzled with spices so that it sinks the Kurmuri from the outside and is juicy and soft from the inside. Its curry is also prepared with the first coconut.
Bebinca:
This is a famous cake of Goa which is prepared by putting several layers of coconut. A story from this cake is Vabasta. It is said that it was prepared by a nun named Bibiona in Old Goa. It takes a long time to prepare it.
Feni:
Feni is a special identity of Goa mines. It is prepared with cashew nuts. Cashew Feni tastes only in Goa. In fact, the Portuguese people ate it with great fervor. In India, the Portuguese were the first to bring cashew with them. He planted cashew plants on a large scale here. This is the reason why cashew nut is produced in Goa. Apart from this, coconut feni is very much liked in South Goa. It is prepared with the help of toddy that grows from the coconut tree.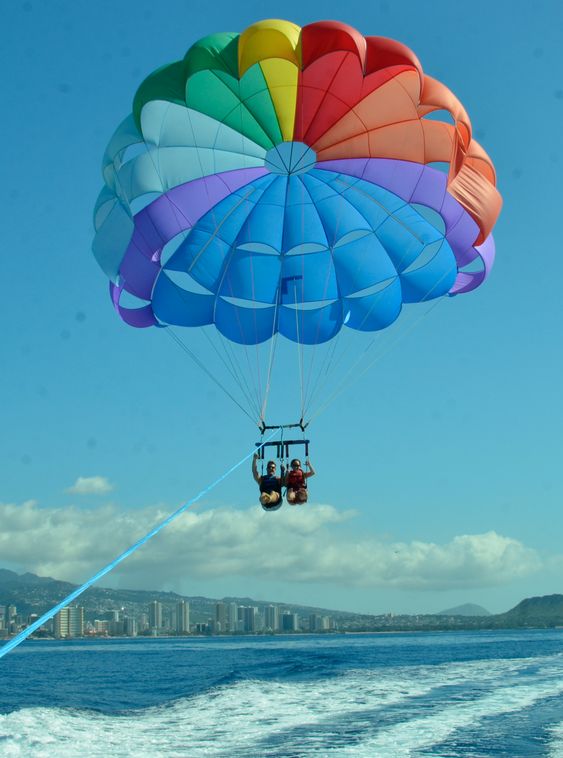 Things To Do In Goa:
Goa is a place that every Indian wants to visit once in life. People come here to spend some time in peace and have fun. There is a different peace here with greenery. This place is also great for the party. There are a lot of options for youngsters here, which is why youngsters rush here after getting a break. Goa is known for its beaches. If you are planning a bachelor's party then Goa is a great option. Here you can explore all these options …
Water Sports:
Goa is famous for its nightlife but the water sports activities here are also tremendous. You can have a lot of fun being a part of these activities with friends. These include scuba diving, kayaking, sailing, jet-skiing, banana rides, windsurfing, etc. Goa is a world-class destination for these sports. Unlimited beers, lunches, and many other packages are available in some of these.
Cruise Party:
Don't miss the chance of a cruise party to make your bachelor's party memorable. You can also have a fun nighttime party with yachts. This party will be remembered by you and your friends for a lifetime. One of the best experiences in Goa is cruising in the water.
Beach Party:
Beach party is the most attraction for people in Goa. You will see some parties happening at the beach here. If you go to Anjuna beach then it is possible to meet youngsters partying there. Arrangement and location on Curlies Beach will win your heart, as well as what to say about music and fun here. The nightlife here is tremendous. Then think of what? Make preparations.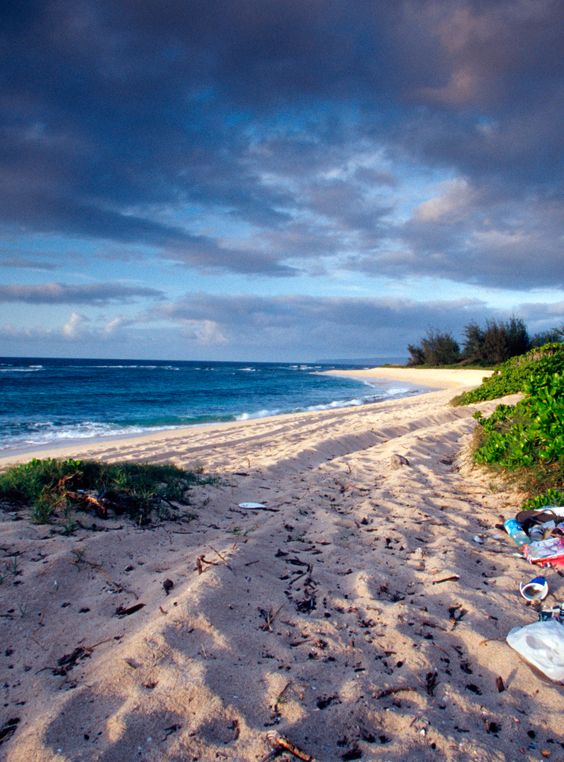 Things To Avoid In Goa:
Goa is a favorite holiday destination not only for Indians but also for foreigners. Here you can go in any season, you will see thousands of tourists. Some tourists come here to play with the waves of the sea just like in the Andaman & Nicobar Island, some to have fun with friends, as well as to enjoy the cool colorful world of Goa.
Avoid Taking Taxi:
Avoiding taking an airport or railway station taxi, these taxis are prepaid taxis, which neither follow the meter nor tariff cards and forcibly charge more money from tourists than they charge. It is better to hire a motorbike or scooter to go to Goa, if you do not know how to ride a bike, then you can take a bike taxi.
Do Not Spread Garbage:
Goa is known for its white sea rate. So it is better that you do not spread garbage around the sea. Do not spit around, nor throw bottles of alcohol use dustbin to throw away the trash.
Do Not Click Photos From An Unknown:
Just like you see many photographers in the Taj Mahal, in the same way, many photographers on the beach in Goa are eager to get your photos taken. but it is better that you get the photos only from acquaintances.
Do Not Stare:
We Indians have a very bad habit, to stare at people… So if you are in Goa, please avoid staring at any tourist.
Do Not Visit Topless Beach:
Topless roaming is not prohibited in foreign countries, but topless roaming is prohibited in India. You can roam in Goa wearing a bikini or shorts.
Avoid Guides:
As soon as you enter Goa, the guides start walking around you. informing you about the cheapest party places. it would be better to avoid them, if you get caught in these, then you can also be a victim of looting. Huh.
Avoid Doing Stunts:
Goa is known for a lot of exciting water sports like rafting and adventure sports. Such as para-sailing, surfing, hot air balloon, etc. Before doing all of these, do meet the professional instructor. Do not try to be a superhero by mistake.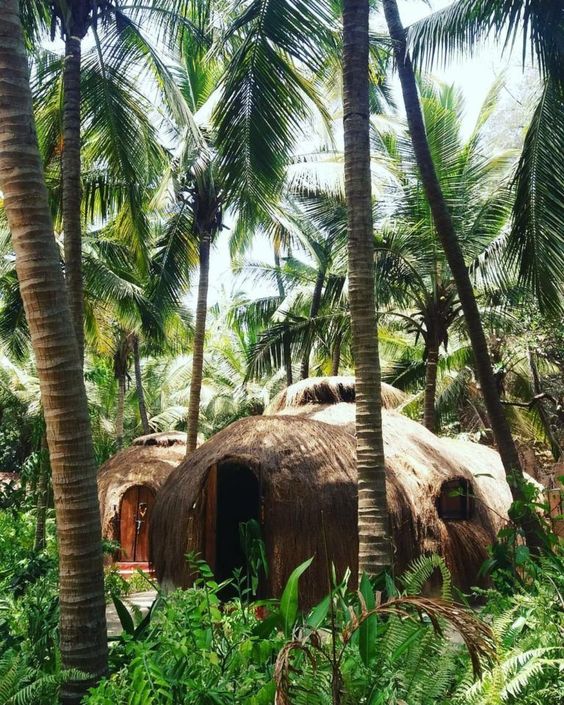 Travelers Hack By TravelJunction:
♥

Travelers Hack For Couples:
If you are going to Goa with a girlfriend or wife, then night clubs, beach, nightlife are waiting for you. There are many nightclubs where girls have free entry and drinks are also free for them. There are some such clubs in Tito's Lane. You can enjoy it here.
♥

Travelers Hack For Couples Family:
If you have planned a Goa trip with the family, then Boat Right from Marival Beach, Dola Pola Beach, Aguda Fort, Chapora Fort, Cocoa Beach where you can see dolphins in the sea, enjoy cruise rides, etc. It is wonderful to see dolphins in the sea. Children enjoy it very much. Old Goa Church will be the best for everyone.
♥

Travelers Hack Girls:
There is a lot of talk about the dress of girls in any city in the country, but girls keep in mind that Goa is a city to fulfill their aspirations. Here you can roam freely at night wearing anything. I saw group tours from college girls to office going girls. There is no issue with girls' dress here. You can enjoy your trip by wearing sleeveless, shorts, a bikini, anything.