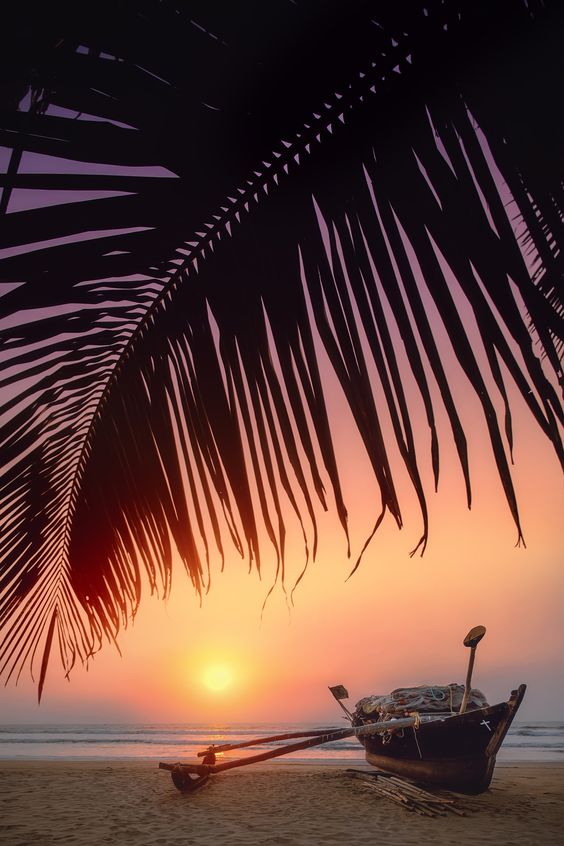 Goa beaches, unlike other beautiful beaches in the world, have a long and broad coastline, attracting a large section of tourists from all over the world. The southern part of Goa is known for its white silver-like sand. This is what makes it unique and special. Various activities are taking place around most of Goa's beaches. Water sports Activities, Retreat Resorts, Massage Centers, Beach Shakes, Beach Hut, Restaurants, Boat Rides, Jet-Ski Scooter Rides, Night Markets, Disco Clubs, Shopping Stalls, Sightseeing, etc. So, here let's know about some best beaches in South Goa.
Best Beaches In South Goa:
Although it is one of the smallest states in India, Goa offers an abundance of beautiful beaches. Strolling along the Arabian Sea on the western side of India, south of Mumbai, Goa offers various beaches to suit any holiday style. Whether experiencing priority relaxation, favoritism or culture, Goa has beaches to satisfy all visitors. Some beaches in Goa are more famous among tourists, while others are more secluded. It will all depend on what you are looking for. Therefore, we have prepared a complete list of Goa beaches from North Goa to South Goa so that you can choose which ones you want to visit. Look and have fun!
One thing that distinguishes the beaches in South Goa from the people of North Goa is the fact the sand is white. This is a plus because it provides a more picturesque view that will make you feel like you are in the right place to relax and enjoy the sun. Also, South Goa beaches are more peaceful, although you can still find some party life here. So, See the best beaches in South Goa.
Palolem Beach:
It is one of the most popular and best beaches in South Goa. With a wide expanse of beautiful sand and a large number of palm trees, it symbolizes a tropical destination.
If you are looking for a peaceful time on this Goa beach, then you should visit the northern part of Palolem. However, if you are more into the party scene, then you want to go towards the central and southern regions.
Neptune Point is the place to visit on Saturday nights. This is when the headphone party takes place. While everything will be silent when you arrive, you will be provided with headphones, which have the best music for you.
Agonda Beach:
A Goa beach which is perfect for a peaceful encounter with nature is Agonda Beach. Tourists often do not visit this beach, which makes it much quieter than alternatives like Palolem. Keep in mind that if you enjoy water sports, this is not the right beach for you.
High tide is considered dangerous, and it is best to only appreciate the view. Also, there are not many shucks on this beach as the local community wants to preserve it as much as possible. This is one of the best beaches in South Goa.
If you want to try amazing seafood, then towards Fatima Corner. It is a bit far from the beach but worth it. Visitors are always satisfied with this local dish.
Colva Beach:
A beach in Goa, the best of both worlds, showcases Colva Beach. It is very popular because of how lively it is. During the day, you can find a cozy veneer, and enjoy delicious food on a shake. You should know that some huts also provide accommodation. This can be useful if you want to stay for the night and enjoy the nightlife. Also, if you are into water sports then you will have many options here.
Magzika Beach is one of the many great options in Shack Colva Beach. People love this place because of how refreshing the ingredients are. When available, they will also provide you with free beach towels and beach beds. This is one of the best beaches in South Goa.
Putnam Beach:
Putnam beach is one of the best beaches in South Goa which is how Nirmal stands. If you are looking for a relaxing atmosphere enjoying the white sand and the spectacular view, then look no further.
It is perfect for beachgoers who are more into reading a book than practicing water sports. One of the things I love about Paytm is that there are a variety of food options available to you. From delicious dishes with fresh seafood to international dishes like Italian cuisine.
Kakolem Beach:
Looking for another secluded spot? Then Kalolem beach maybe your best option. A unique feature of this Goa beach is the fact that it is situated in the middle rocks.
Kakolem is the most adventurous for the beach, as access to the beach is not easy. You have to get down a small rock to make it. However, once you arrive and feel at peace that this place comes out, it will be worth it. It is nothing that this beach is considered one of the hidden gems in Goa.
If you are going alone, tell someone where you will be. Also, avoid swimming if the tide is high, as there are no lifeguards. This is is one of the best beaches in South Goa.
Butterfly Beach:
It is one of the most special beaches in South Goa. It has the shape of a butterfly, and these animals are often attracted to the region because of the trees present. Apart from this, you have to either go through the jungle or take a boat from Palolem to get here.
The seclusion of this beach means practically untouched. Therefore, you have to enjoy nature in its purest condition. Make sure that there is no hut or vendor. Therefore, you should be prepared for your time with food and beverages.
If you board the boat early in the morning, it is very likely that you will see dolphins on the way. This is is one of the best beaches in South Goa.
Cabo de Rama Beach:
The name of this beach comes from the Portuguese Fort, which is located right in front of it. You should know that this is a bit of a journey to get there. However, if your goal is to avoid tourists, then this is the right place to do so. The fact that it is not close to other beaches discourages many from visiting.
When you are here, you will find a delightful view, with a soothing sound of fine sand and waves. It is a good place to have a picnic if you want, and you can just consider nature. You can visit the Cabo de Rama Fort, and from there, you will get one of the most amazing views of the beach. This is one of the best beaches in South Goa.
Boglemo Beach:
It is one of the cleanest beaches in Goa. This is also an undiscovered gem not many tourists know about. There is a large resort, so you might see some people going towards the beach. However, it is never crowded. Bogmalo Beach, like most beaches in South Goa, is lined by coconut trees. This gives it a very picturesque appearance.
Since it is very secluded, you may find that some local restaurants charge a high cost for their food. Therefore, if you are on a budget, it may be appropriate that you bring your own food or eat elsewhere. This is one of the best beaches in South Goa.
Benaulim Beach:
It can be considered as Goa beach which unites South Goa with South Goa. With its large stretch of sand, Benaulim beach offers you a peaceful getaway with all the comforts of comfort. Although it is less visited by tourists, there are plenty of shucks for you to choose from.
For those interested in history and architecture, the Banulim beach is an ideal place to witness Portuguese influence in Goa. You can also see it in homes that are near the beach.
There are two European churches here that may be worth a visit to feel more about this part of Goan history. This is one of the best beaches in South Goa.
More Recommended Articles :-
Mobor Beach:
If you are more into the party scene, Mobor Beach is a place you should consider. It is one of the most luxurious beaches in South Goa, as it has a very expensive hotel. This beach has got a reputation that you can appreciate.
You can also practice different types of water sports here. It even has the option to bike to the beach, which many people enjoy. This is one of the best beaches in South Goa.
Something you can't miss: The Sal River is part of this beautiful region, and you can take a cruise to find it. You will be amazed when you see biodiversity.
Cavelossim Beach:
Although Cavelossim is the neighbor of Mobor, the vibe here is completely different. Cavelosim is famous for being a peaceful destination. You can see the Arabian Sea but also the Sala River. If you are more relaxed than adventurous, you can lie down here and enjoy the sun.
If you are more interested in water sports, you will get various options including a banana boat ride and parasailing. In addition, there are many types of shake, where you can get some local delicious food. Cavelosim is a bit of everything on the beach.
When you arrive at Cavelossim there will be many shops. This can be a good place to find a souvenir to take home. This is one of the best beaches in South Goa.
Betalbatim Beach:
Famous for its beautiful sunsets, Betalbeam is a duality in itself. While the beach is very quiet, there are many tremors in its northern and southern end. There are also hotels and spas nearby. However, it does not affect the feeling of tranquility this beautiful landscape of peace has.
If you are interested in water sports then it is not advisable to come here, because there are no options for it. The opposite is that you get an unobstructed view of the sea. Also, if you manage to ride a boat with one of the fishermen, you are very likely to spot dolphins. This is one of the best beaches in South Goa.
Galgibagh Beach:
There are many wonderful things to admire at Galgibagh beach. This Goa beach is a nesting site for the Olive Ridley Turtles. Like the two other beaches where this incident occurs, the state protects this beach. Therefore, you will not get any shocks, and you will actually be able to commune with nature.
Apart from this, you can see the exact location where the Galgabaga River meets the Arabian Sea. It is a breathtaking view that is worth a visit to this beach.
If you plan your trip to Galgbag at night, it is very likely that you will be able to see turtles coming out of the sea to lay their eggs. This is one of the best beaches in South Goa.
Palolem Beach:
If you reach Polem beach then you are in the southern most part of Goa. If you want to avoid the crowd, then the distance is far from the others. Many tourists do not go there and the beach is practically fine. In consequence, there are not many shacks either.
It is the perfect place for a relaxing day. You can swim and, if you are ready, have an unforgettable picnic. The beach is very quiet, and it is usually very clean. If you don't bring anything to eat, you can go to the Kamaxi Beach Resort, where they serve great seafood. This is one of the best beaches in South Goa.
Talpona Beach:
Talpona Beach opened to tourists only two years ago. Therefore, not very well known yet. It offers a beautiful landscape as there are trees everywhere, a true feeling of being surrounded by nature.
Also, if you go to the northern part of the beach, you will get to see something spectacular. You can see where the Talpona River meets the Arabian Sea. The contrast is truly delightful.
Since it is not a very popular beach, there are not many shacks. You can find some options, which have delicious food or you can bring your own food if you want. This is one of the best beaches in South Goa.
Betul Beach:
On Betul Beach, you will have many interesting options. It is not a crowded beach, and it does not have too many setbacks. Therefore, you can just relax with your book and bring yourself on a picnic.
Lanci, you can also go on a quest adventure. There on a lagoon beach, which is something worth seeing. Apart from this, you can also see the lighthouse, and enjoy your natural surroundings during your walk there.
Betul village is very close to the beach. If you want to see local life up close, this can be your opportunity. Residents are very accommodating and helpful. This is one of the best beaches in South Goa.
Utorda Beach:
This beach can be called a middle ground between active Goan beaches and more relaxed and calm people. Utorda offers many water sports for active tourists. However, you can also hang out on the beach beds and enjoy yourself.
In Utorda, you can swim very safely, as there is no dangerous high tide. Also, keep in mind that there are many setbacks. Many people love the food given in Utorda. Some of the best Goan food shakes are Xarticar's and Peter's. This is one of the best beaches in South Goa.
Majorda Beach:
Majorda Beach is one of the best beaches in South Goa. It offers a variety of activities that you can do directly on the beach or are very close to it. At the beach, you can do water sports or get some souvenirs. However, it becomes even more interesting as you keep searching.
You can find many Portuguese churches and buildings, which will allow you to learn a little more about Goan history. If you move towards the highway, you will find places where you can get a paintball or a gokart.
When you visit Majorda Beach, Martin's Corner is one of the most recommended places to eat.
Varca Beach:
Varka Beach is a very quiet expanse of sand and water where you can relax and appreciate the beauty the world has to offer. There is an interesting phenomenon in relation to sand. While its part is white, there are areas where it takes a red tone. This is due to the presence of lava rocks.
You can see many fishermen, as there is a small village nearby and this is their main occupation. Despite being a quiet beach, for the most part, water sports are offered for your entertainment. This is one of the best beaches in South Goa.
Here are some shacks where you can get some great local dishes. You can also enter one of the neighboring resorts for more boozy food.
Cola Beach:
This Goa beach is not so easy to reach many others. However, it is one of the things that makes it so special. There is also a blue lagoon, which is one of the hidden wonders of the cola-sea, known as Cola Beach. This is one of the best beaches in South Goa.
The thing you will like about Kola beach is that you will get to see many animals. Like you, they enjoy nature, and you can see monkeys, dolphins and more.
Due to the lack of shake, your options are limited to resorts near the beach. However, there is also a restaurant called The Casa Dia, where you can get a simple meal.