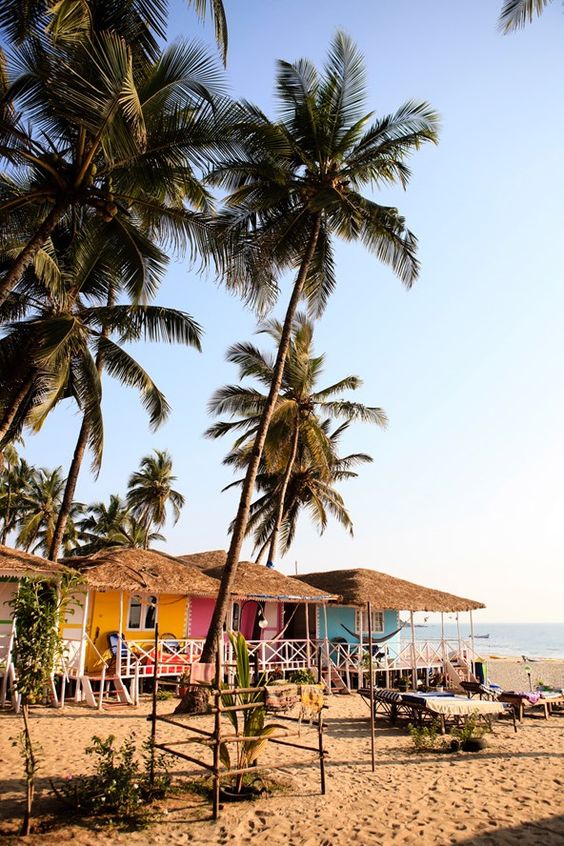 Goa has a long and wide coastline and beach, which attracts a large part of tourists from around the world. The southern part of Goa is known for its white silver sand. This makes it the same unique and special. With 105 km of beautiful beaches and endless seaside, Goa is an Ideal Holiday Destination. The quiet and picturesque beach atmosphere here attracts all, and in fact, before you go on holiday in Goa, you have to plan on which one you want to roam. So, here I am giving some most famous beaches in Goa. See this below…
Famous Beaches In Goa:
Various activities are taking place around most of Goa's beaches. Water sports Activities, Retreat Resorts, Massage Centers, Beach Shacks, Beach Huts, Restaurants, Boat Rides, Jet Ski Scooters Rides, Night Markets, Disco Clubs, Shopping Stalls, Tourist Spots, etc. So, see the most famous beaches in North and South Goa. See the beaches in goa below …
Palolem Beach:
A quiet and beautiful beach "Palolem" on the southern edge of South Goa. These beautiful beaches are equipped with rocks. You can, enjoy water sports activity can be enjoyed.
Palolem beach is making its mark among foreign tourists and is gathering a lot of people due to access to the Internet, but still, there is less crowd in comparison to other popular beaches. Many people say that I have become accustomed to this place but I would say that I started loving it.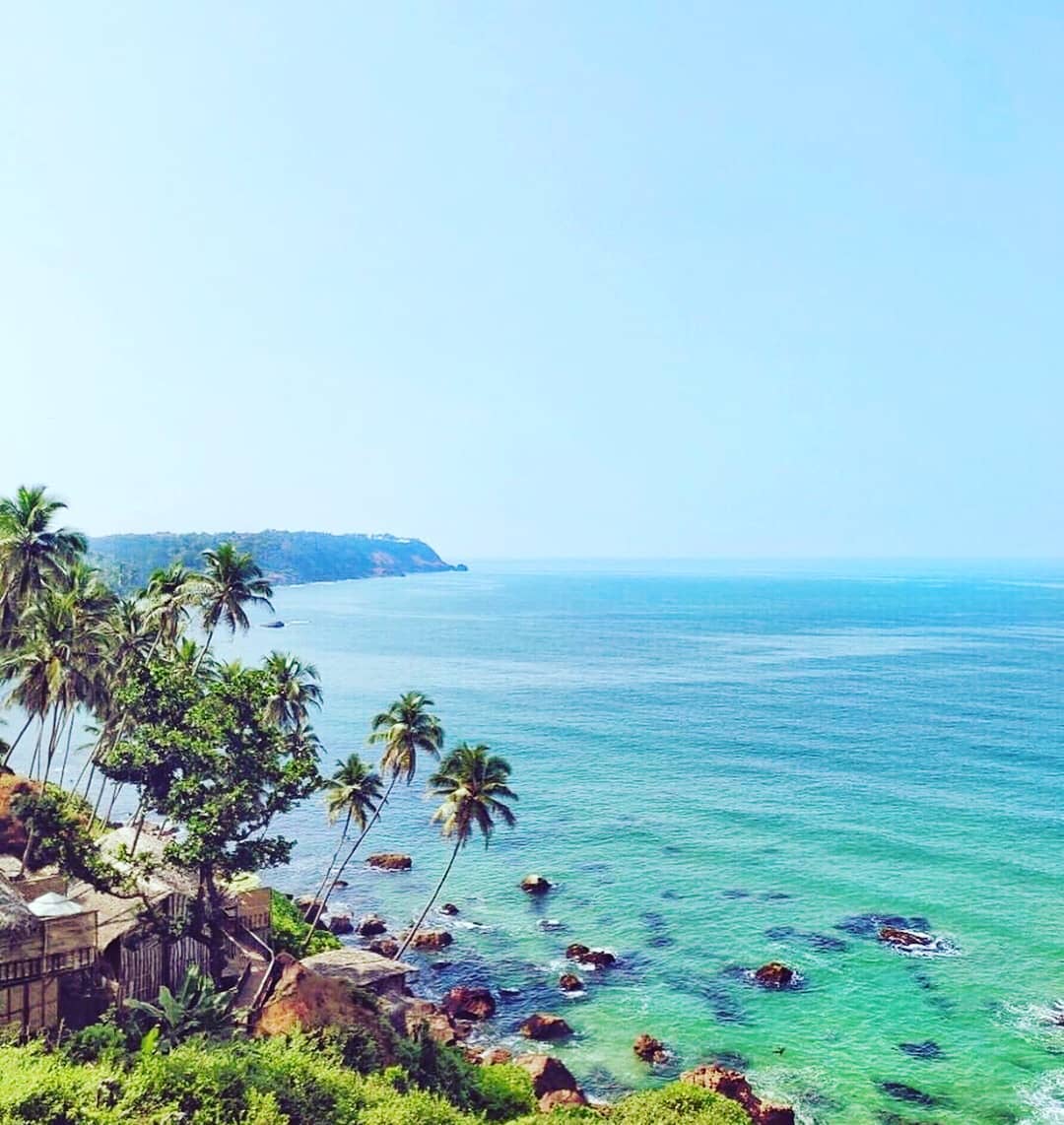 Baga Beach:
This Baga Beach seems like it has come out of a direct painting. The peace of this wild "headland" is a great attraction of Baga Beach with its beautiful beauty. This is one of the pristine beaches in Goa.
The tourists are more here to spoil the activities of water sports such as jet skis, speedboats, and banana boat rides, besides there are plenty of nightclubs and disco clubs, in which Tito is very popular, the name of this beach is named "Baga Creek", which ends in the Arabian Sea at the north end of the beach. It is definitely, the number on my list because this is just the best of the facilities around it.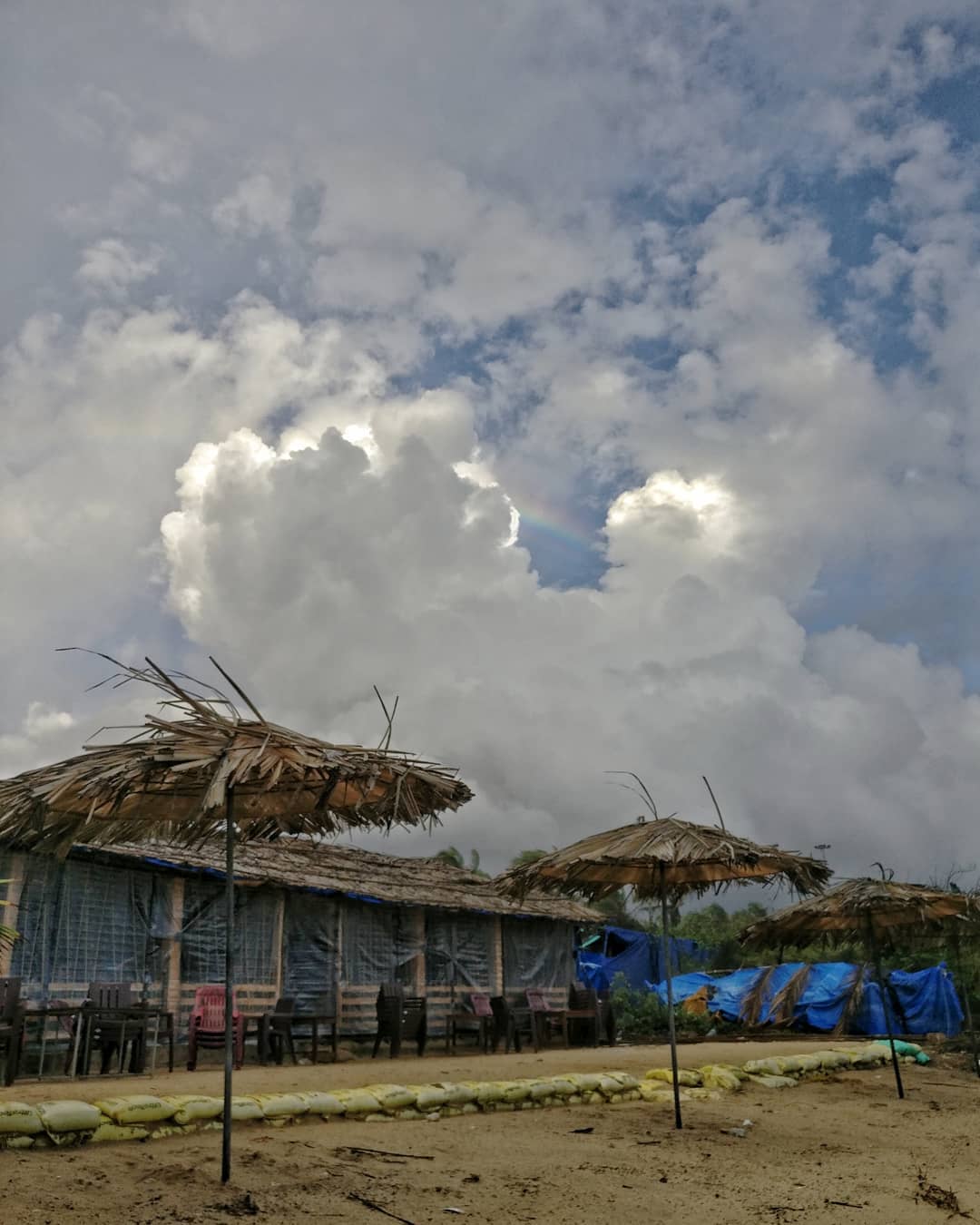 Benaulim Beach:
Benaulim Beach is the coast when you just want to relax. This gives you the joy and satisfaction of being in Goa. The best part about Benaulim beach is that it is still overlooked by domestic tourists, even if it is a famous beach for fishing. A candlelight dinner between settings is a great add-on for a perfect holiday. This is one of the best beaches in Goa.
Miramar Beach:
A 2 km long coastline with a fine, silver soft sand bed, and a giant shiny beach in front of it, Miramar Beach is a beautiful extension of palm trees in front of the Arabian Sea, as well as beautiful golden sand. Miramar beach is like the beach where you sit and watch the sunset in full glory. This is one of the best beaches in Goa.
Colva Beach:
The length of this coast is about 2.4 km; There is white sand like a fine powder on the beach and its shape is like a coconut leaf. It is one of Goa's famous beaches and is good for those who want beautiful sunshine and a relaxing moment.
Colva beach is a view of the scrubbed sand dunes and sky, which is the perfect combination of attractive natural harmony, which makes it magic for tourists. This is one of the best beaches in Goa.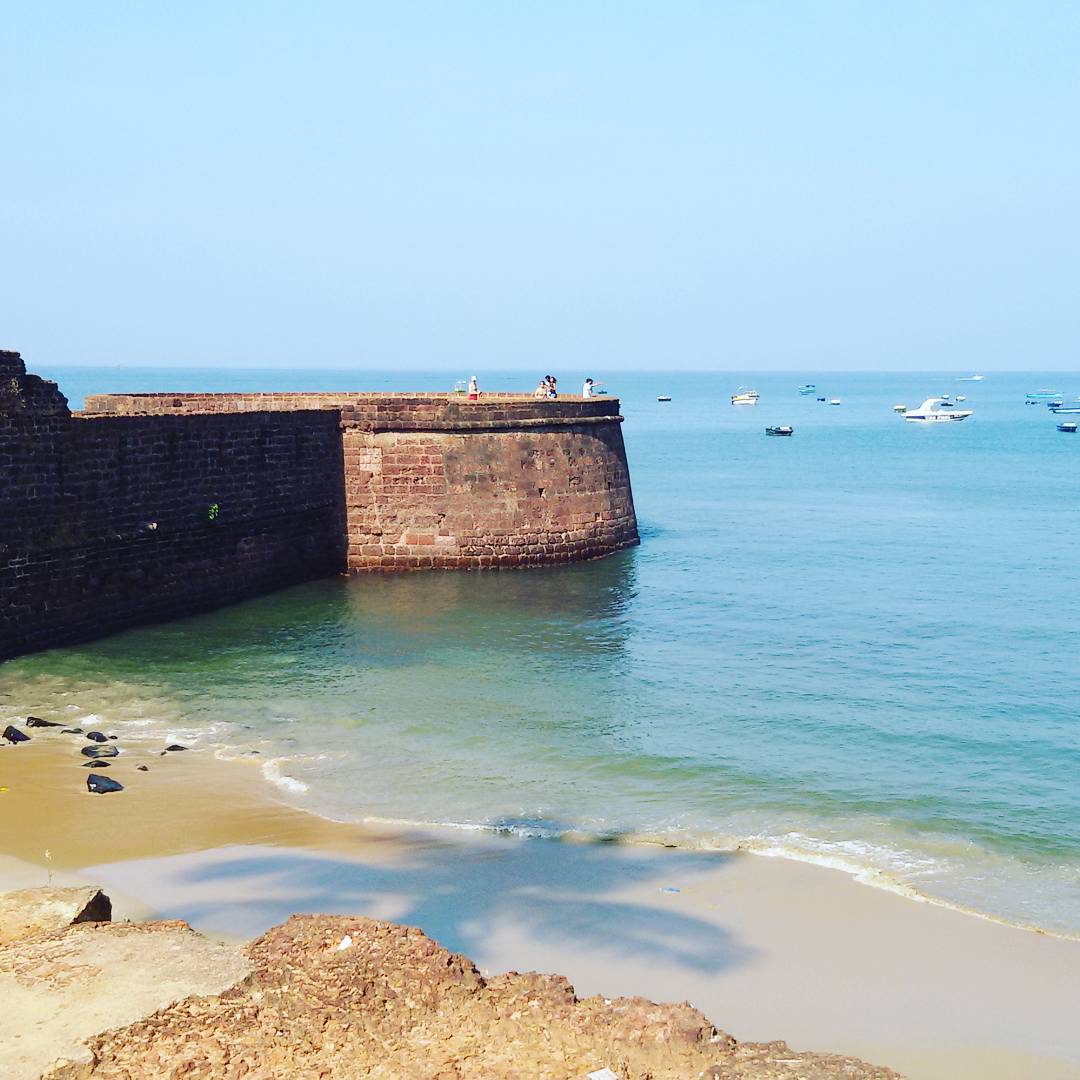 Calangute Beach:
Any Indian tourist thinks about Goa's beaches (middle), firstly it is named Calangute in his mind, Calangute is the center of attraction for tourists and backpackers with low-budget tourists as well. This is one of the most beautiful beaches in Goa.
Located on the western coast of Goa, Calangute is the most famous beach in India as a tourist destination. Popular in the 60s with hippies, which included the Beatles, who enjoyed resting in Calangute and enjoying beach life in the sixties.
Calangute Beach is the longest beach in North Goa, stretching from Candolim to Baga, located 15 km from Panjim. Due to its sheer size and popularity, it is an attraction for tourists from all over the world.
Calangute Beach is popular for its water sports activities such as parasailing, water surfing, and jet-skiing. Calangute Beach is famous for its exuberant nightlife, which offers you plenty of entertainment even at night.
Calangute is also a popular place to stay in Goa as it keeps you well connected to other beaches in the north like Baga, Anjuna, Candolim, and Aguada. Calangute beach is famous as the "Queen of Beaches".
Majorca Beach:
Located in the south of Goa, Majorca Beach is a beach that will eradicate your entire fatigue with its beautiful trees, soft white sand, and clear water. The peaceful environment of this beach is one of Goa's most amazing places to visit.
The Majorca beach can be regarded as the most secretive secret of Goa, which is relatively unknown and gives visitors to Goa the experience of surrounding environments such as Paradise. This is one of the best beaches in Goa.
Bogmalo Beach:
The most attractive thing about this beach is its sunset. Yellow color with pink, and orange on the horizon, it is an experience you can not forget in this lifetime. Bogmalo was originally a small fishing village, but now it is a growing tourist center.
Many local people in the village rely on fishing for their livelihood. Quality time can be spent with family, friends, and loved ones. Certainly, the Bogmalo beach tour will be held in your memory for a very long time. This is one of the best beaches in Goa.
Vagator Beach:
Vagator beach meets Chapora River. This is one of the cleanest beaches in Goa. There is white sand on this beach, which is beautifully contrasted with black rocks.
The surrounding beautiful greenery, curved palm trees, and marine waters of the Arabian Sea of ​​Vagator beach give you a wonderful feeling. and yes!
The very famous Sunburn Festival has been moved to this beautiful place. Spend some time on the rocks to see a spectacular view from the beach.
The sunset on Vagator is very beautiful, to go to Vagator, there are beautiful paths going from Asangaon to Mapusa. In the middle, you will also find a house made in Portuguese style. This is one of the best beaches in Goa.
Arambol Beach:
This beach is one of the famous beaches of northern Goa. Compared to Calangute and Baga beaches, this beach is less crowded, which is a plus point.
This beach is very clean and due to its low crowd, you can see here many foreign tourists who enjoy the sunshine on the beach. This place is easily accessible, we went by bike here. You can easily get here via Google navigation.
Here are some rocks and there are big rocks on the beach which is a unique and unique feature of this beach.
This is good for beach photography. Do not miss the sunset here, it's worth seeing. Also note that swimming is prohibited in some areas of this beach, so make sure that you are in a safe area.
When I was at this place, there was no lifeguard, so I do not believe whether lifeguards are available or not, so it is better to enjoy the beach. The beach sand is white and clear. There are many living facilities near the beach.
Morjim Beach:
Located in Morjim Beach in the north of Panaji, this beach is becoming increasingly popular in tourism. This is one of the famous beaches in Goa.
Morjim Beach Bird Watching and the endangered Olive Ridley Sea Turtle's nest house. If you are interested in the protection of Olive Ridley Sea Turtles, then you can go even further to Galijbaga Beach. This is also known as turtle beach.
You can also have fun in the sea sand in the middle of Goa's Morjim. The beach bars and few beach shacks of this beach or small wood and bamboo huts make it an attractive tourist spot and in Morjim, Goa is the favorite beach destination for foreigners.
Sinquerim Beach:
One of the less crowded beaches of northern Goa, the white sands in the Sinquarium Beach are very close to the famous Aguada fort.
There are many luxurious hotels around it, if you want to celebrate a special occasion, there are many luxury packages available here.
Apart from this, Sinquerim Beach is a charming beach for fun and beach parties. In the meantime, there are many decorations, such as sand curves, apart Palm trees, etc., which create a perfect holiday destination.
Chapora Beach:
Chapora Beach is a quiet beach and it is one of the most beloved beaches of Goa, along with its water sports, beachside, and fresh seafood.
The white sand with black lava rock and the view of the Chapora fort on the sea gives a spectacular view of here. You can also visit nearby Chapora village. Here was the shooting of Dil Chahta Hai on Chapora Fort.
Cola Beach:
Known as one of the famous beaches of Goa and one of the best beaches, Cola Beach proves to be one of the most relaxing and peaceful amidst nature. Because here your vacation time can pass very easily.
You can get fun with the nightlife in this place. Here you can also spend the night in a safari tent comfortably on the sand. This beach is also known by another name Cola beach. It offers the most serene and relaxing experience on all the beaches of Goa.
People come here for a quiet holiday. Because this place is a very peaceful beach. Cola Beach is very different and far away from city life. It is a very quiet place and very clean.
Patneem Beach:
Just a 10-minute walk from the busy Paliom beach, Patneem is the ideal place for relaxation in an idyllic setting.
The isolated position between the two cliffs creates a distinct sense of a calm beach arena, but at the same time, it is not far from the charm and lively nightlife in the more touristy Paliol. This is the perfect beach for a peaceful shoreline stroll.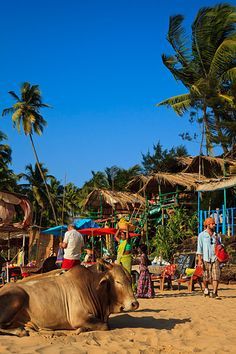 Anjuna Beach:
Anjuna Beach is the most popular beach in North Goa, located at a distance of 21 km near Panjim and 11 km from Mapusa. If you are planning to go to the Anjuna sea then some of the most popular adventure activities on the Anjuna Coast include jet-skiing, parasailing, bumping rides, water scooters, and paragliding.
The Anjuna Beach Flea Market, held here every Wednesday and Saturday, attracts all the tourists. Here you can shop for intricate sculptures, boho jewelry, tote bags, colored sheets, and authentic spices.
One can take the Mapusa bus or taxi to reach Anjuna Beach. The most popular means of transportation are mopeds which can be hired by many vendors in the area.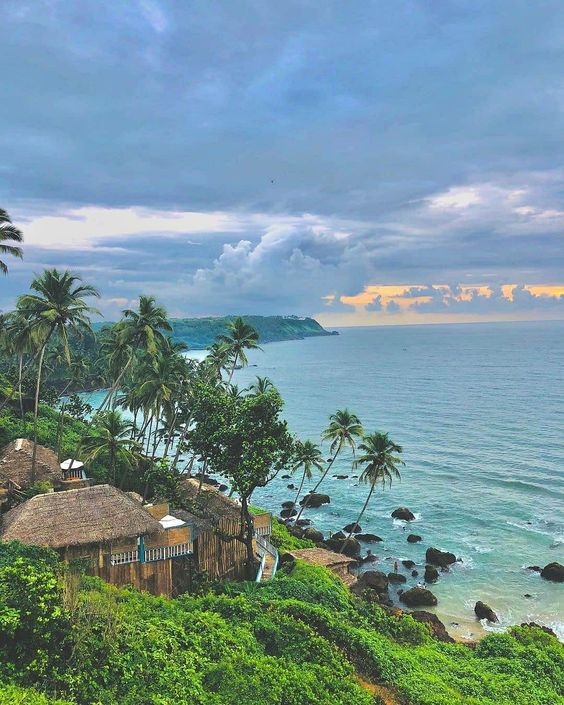 Agonda Beach:
Agonda beach with clear blue water and coconut groves is a perfect destination for nature lovers. Agonda beach is not as popular with tourists and therefore is not as crowded as it is less touristy.
If you are looking for a secluded and serene beach, then Agonda Beach is the perfect place for you.
With very few tourists here, it is one of the best beaches for sunbathing and relaxing. It is located at a distance of about 9.2 kilometers from Palolem Beach. You can reach this beach by hiring a taxi. Or you can hire a two-wheeler which will be the easiest way to reach the meanwhile.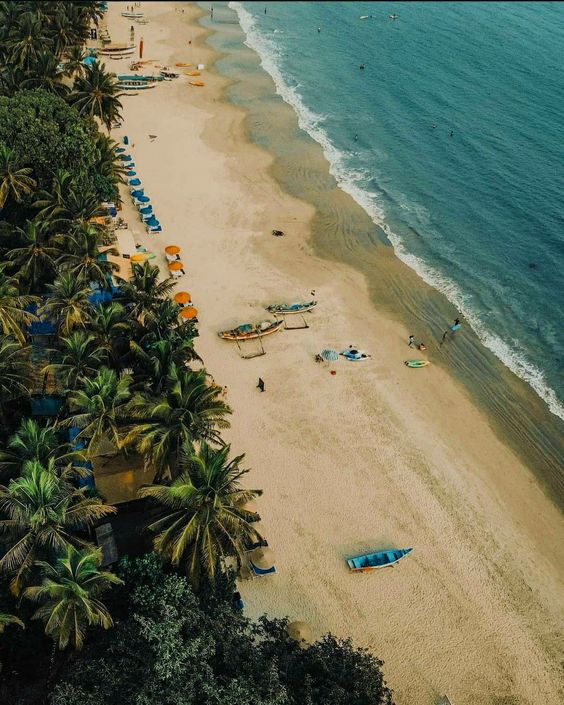 Mobor Beach:
Mobor Beach is a charming hangout beach in South Goa, which is the perfect destination for tourists looking for a Goa vacation. There is especially a magnificent plain of soft white sand that attracts you throughout your tour.
Mobor Beach is Situated next to Cavelossim Beach If you want to head to South Goa and enjoy parties, water sports, and other beaches activities, then Mobor Beach can be your favorite destination.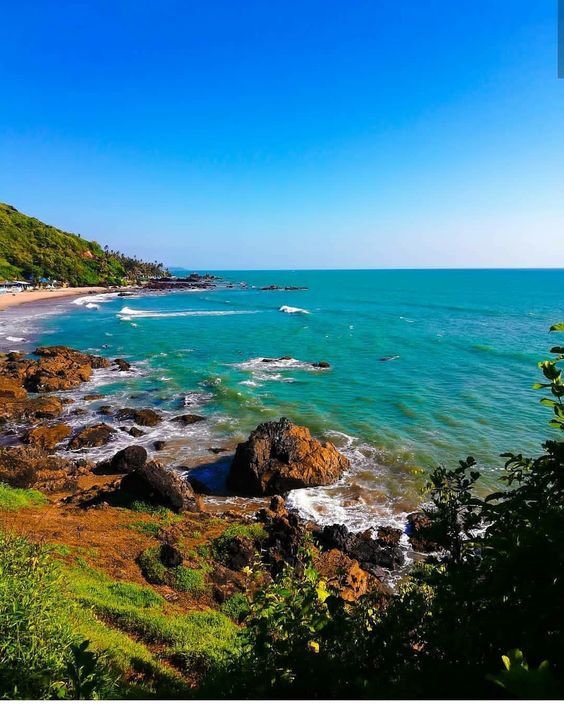 Butterfly Beach:
There is a hidden beauty in Butterfly Beach in Goa, which is slowly taking the form of a famous place. It is located north of Palolem Beach and is a quiet beach away from the crowds.
The reason behind its naming is that this beach is home to many species of butterflies. The breathtaking sunsets and dolphin watching have always been a plus point of this place.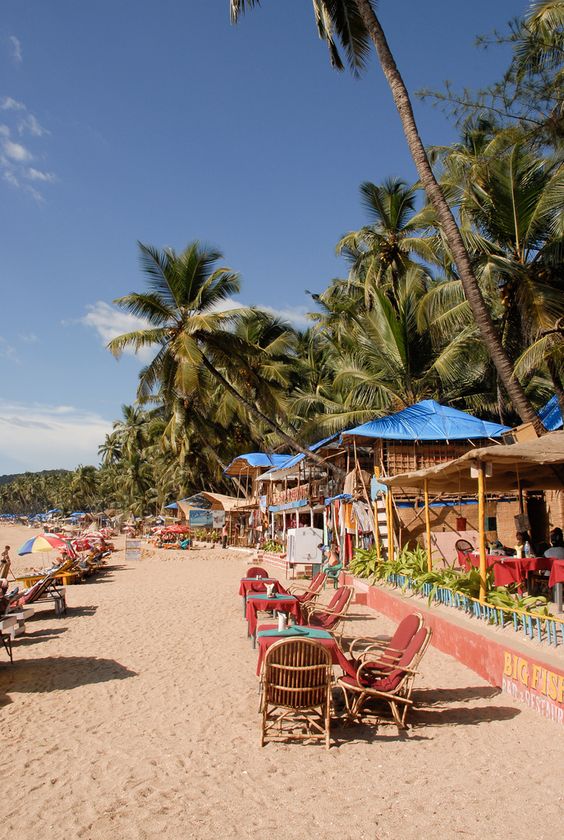 Kakolem Beach:
Looking for more secluded spots? Then Kalolem Beach can be your best option. A unique feature of this Goa beaches is the fact that it is situated in the cliffs in between.
Kakolem beach is the most adventurous of all, as access to the beach is not easy. You have to climb down a small cliff to make it.
However, once you come and feel the peace that this place leaves, it will be worth it. It is not for nothing that this beach is considered one of the hidden gems in Goa.
If you are going alone, tell someone where you will be. Also, avoid swimming if the tide is high, as there are no lifeguards.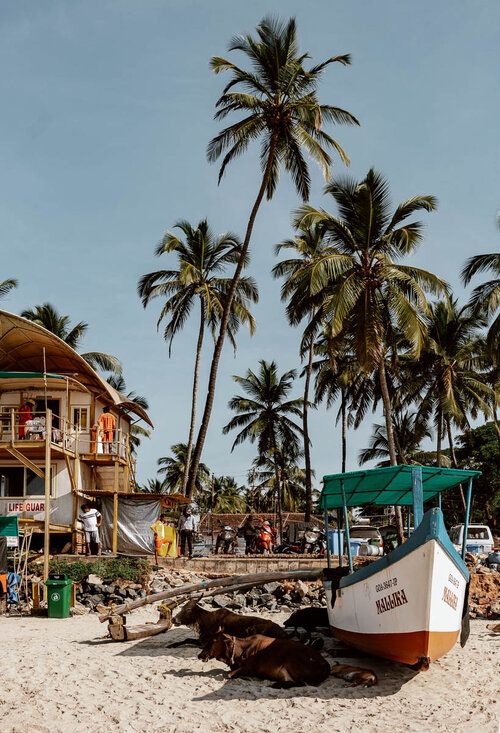 Cabo de Rama Beach:
The name of this beach comes from the Portuguese fort, which is situated right in front of it. You should know that it is a bit of a journey to get there.
However, if your goal is to avoid tourists, this is the perfect place to do so. The fact that it is not close to other Goa beaches discourages many from visiting.
When you are here, you will find an idyllic view, with fine sand and the relaxing sound of the waves. It's a nice place to have a picnic if you want, and you can just take in nature.
You can visit the Cabo de Rama Fort, and from there, you will get one of the most amazing views of the beach.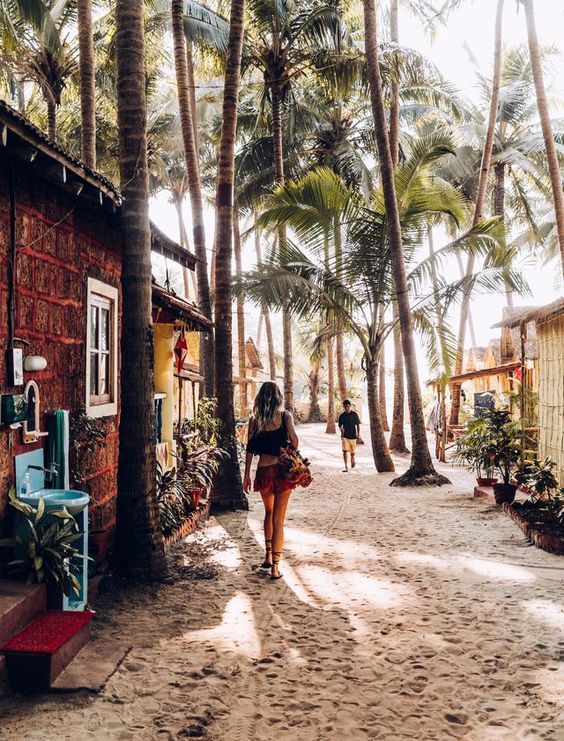 Benaulim Beach:
It can be considered as the Goa beach which unites North Goa with South Goa. With its large stretch of sand, Benaulim beach offers you a peaceful getaway with all the amenities of comfort. Although it is less visited by tourists, there are plenty of beach shacks for you to choose from.
For those interested in history and architecture, Benaulim beach is the perfect place to witness the Portuguese influence in Goa. You can also see it in homes that are near the beach.
Here are two European churches that might be worth a visit to get a feel for more of this part of Goan history.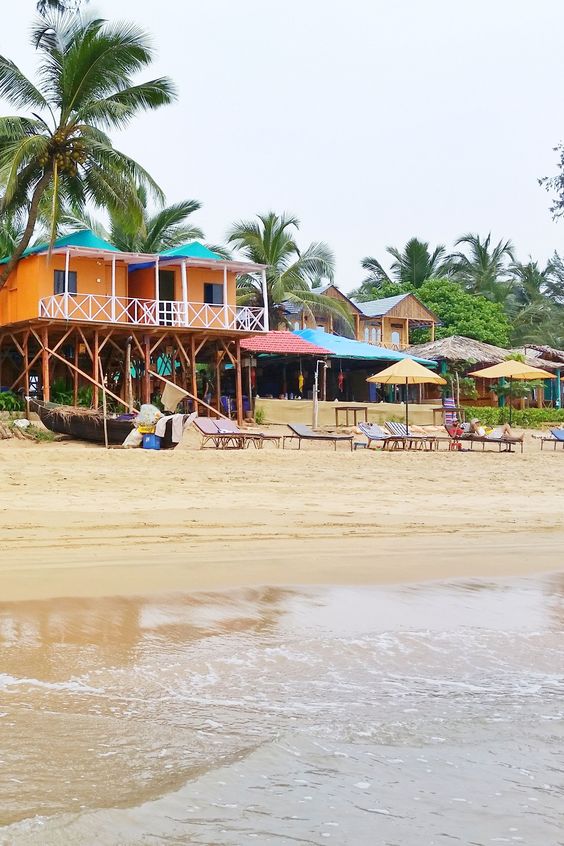 Mandrem Beach:
Mandrem Beach is one of the most beautiful beaches in North Goa. Here you can go on white sand beaches and dolphin spotting trips.
During high tide, the water moves over Mandrem Creek which runs parallel to the shoreline. There are many bamboo bridges across this creek and you can spend a romantic evening dipping your feet in the water.
Apart from this, you can also see animals such as white-bellied fish eagles that live in the casuarina trees and the olive ridley turtles of the ocean that come here.
Good places to eat include fish at End of the World Cafe and North Indian Food at Oasis. Mandrem is located 32 km north of Panaji.
Conclusion:
These are the most beautiful and picturesque beaches in North and South Goa. Goa attracts tourists from all over the world, especially during the winter months when people want to escape the cold and relax. So, when you visit Goa do not forget to visit these beaches in Goa.
FAQ:
Q. Which is the most famous beach in Goa?
A. Arambol Beach is one of the top beaches in Goa for international tourists, which is located in North Goa ie North Goa.
This beach is known for its sandy beaches, coconut groves, and serene atmosphere. Foreigners are also at the forefront to spend some good time in such quiet places.
Q. What fun happens by the sea in Goa?
A. At these beaches of Goa, you can enjoy water surfing, parasailing, water skiing, scuba diving, water scooter, etc. on the sea waves. Panaji, Margao, Vasco, Mapusa, and Ponda are the major cities of the state.
Panaji is the capital of the state of Goa, situated on the banks of the Mandvi River. Here the bridge built over the Mandvi river is worth seeing.
Q. Which is the longest beach in Goa?
A. Calangute beach is the longest beach in North Goa, starting from Candolim beach and extending to Baga beach. For this reason, it is also called the "Queen of Beaches".
Being one of the busiest and most commercial beaches of Goa, there is a very friendly atmosphere everywhere.
Q. What is the coast of Goa called?
A. The coast between Mangaluru to Kanyakumari is called the Malabar Coast, while the coast between Goa and Mangaluru is called Kannada.
Q. How many beaches are there in Goa?
A. Goa has 48 beaches.
Q. Which beach is famous for nightlife in Goa?
A. Baga Beach is located in North Goa. This beach is famous for its nightlife in Goa.
Q. Which places offer the best beaches in Goa for kids and families?
A. These are the best places for kids and family beaches in Goa:
Agonda Beach
Arambol Beach
Vagator Beach
Morjim Beach
Mobor Beach
More Recommended Articles:-