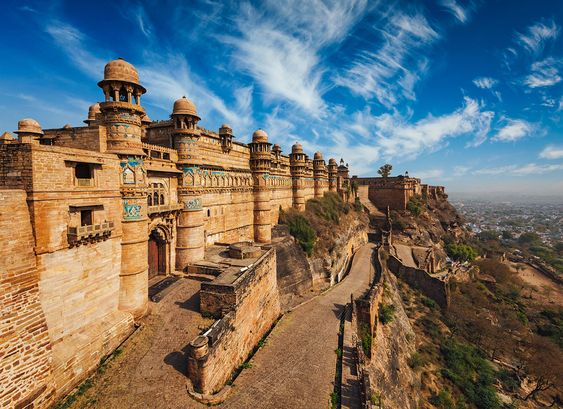 Traveling to Madhya Pradesh cities bring the visitors to India with its natural splendor, rich artistic and cultural heritage. Madhya Pradesh is in the central region of India and it is like having a dream come true for travel lovers. There are many beautiful cities in Madhya Pradesh and magnificent wildlife sanctuaries in which there are rare species and the most commonly found flora and fauna in the Indian peninsula.
In the state of Madhya Pradesh, there is a delightful Khajuraho temple and many historical cities in Madhya Pradesh. A wide range of handicrafts made by tribal give a new experience in shopping in the cities in Madhya Pradesh
History of Madhya Pradesh:
Location: Central part of India
Capital: Bhopal
Border States: Uttar Pradesh, Maharashtra, Chhattisgarh, Rajasthan, and Gujarat
Locality: 308000 sq. Km
Climate: slight cold in winter, hot in summer
Minimum Temperature: 10°C
Maximum Temperature: 37°C
Annual Average Rainfall: 118cm
Best Time to Travel: Sept to Feb
The state of Madhya Pradesh is situated in the central part of India and it is also called the heart of India. By the end of 2000, when Chhattisgarh did not form a separate state, Madhya Pradesh was the largest state in India.
The rich history of Madhya Pradesh has continued till the period of the Maurya dynasty. But before that even in the prehistoric times, the Bhimbetka caves were portrayed by people of the Stone Age.
Ujjain City, the capital of Gupta, touched the glorious peak at its time and its fame spread all over the world.
There was a rule of many communities in this area who left many fortresses, temples, and palaces throughout the cities in Madhya Pradesh as a sign of their pride and wealth.
As you roam the cities in Madhya Pradesh, you will be lost in its archaeological glory. You will love the passion and bravery of the skilled craftsmen on the stones.
Sanchi's Stupa was built by Maurya Emperor Ashoka. Located in Chhatarpur district, Khajuraho is famous for its unique temples. These temples were constructed by Chandela rulers from 950 to 1050 AD.
There are several important pilgrim centers in the state of Madhya Pradesh. Ujjain and Omkareshwar have special significance due to two of the 12 Jyotir lingas present here.
One meaning of tourism in Madhya Pradesh is wildlife tourism. Bandhavgarh is also a small National Park in Vindhya, famous for its growing population of tigers.
Most Beautiful Cities In Madhya Pradesh
Tourism in Madhya Pradesh brings the state's unique natural beauty in its open form. The topography of this beautiful earth is primarily a plateau and the plateau has dense forests spread over attractive mountain ranges, flowing waterfalls, slow-flowing rivers, and miles.
It has rich folk culture and tribal traditions in cities in Madhya Pradesh. The expression of this culture is seen in the vibrant and exuberant festivals celebrated by its people. Tourism in Madhya Pradesh also offers tourists visiting here to experience ancient Indian history.
Bhopal
State Capital This city is full of archaeological property. Old castles and mosques and crowded markets are worth a visit. This place reminds you of the world's biggest industrial tragedy.
Bhopal is a beautiful blend of antique and innovative. The old markets, mosques, and palaces in the old city are still a reminder of the grand past of the rulers of that era. Modern Bhopal is also very impressive due to the beautiful parks and gardens, long fourteen roads, modern buildings.
Scenic Spots of Bhopal are Taj al-Masjid, Moti Masjid, Jama Masjid, Sadar Manzil, Shaukat Mahal, Bharat Bhawan, Gauhar Mahal, Gandhi Bhawan, State Museum, Lakshmi Narayan Temple and Van Vihar etc.
Recommended Articles:-  
Khajuraho
This place is the largest tourist attraction in Madhya Pradesh. Erotic fantasies have been fabricated in the stone stones. The colors of these idols change with the changing light of the day.
The Khajuraho temples are precious gifts of artistry, the past of our liberal culture has given us a glimpse. These temples are famous all over the world and are the pride of India.
Chitrakoot
It is 195 km away from Khajuraho, located in the lap of wonderful architecture surrounded by windstorms and continuous flowing rivers and picturesque forests. It is also considered a holy place. Lord Rama and Sita Ji and Lakshman ji had spent eleven years here in their fourteen years of exile. The temples, ghat, etc. are here to see.
Here the pilgrims visit the place throughout the year. There are notable places here in Ramghat, Kamadagiri, Sita Kund, Sati Anusuya Temple, Rhinestone Rock, Gupta Godavari River, Hanuman Section, and Bharat Kupa.
Gwalior
The glorious chapter of Indian history gets alive in the forts and palaces of Gwalior. This city has been witness to many battles, blood, and deaths. This city has been the ancient capital of Rajputs for centuries, whether it is Antahkarana or Kachwaha or Tomar. In this city, the ancient symbols left by them will be found in the form of monuments, forts, palaces.
In Gwalior, you can visit Fort of Gwalior, Man Mandir Mahal, Jayvilas Mahal and Museum, Tansen Memorial, Rani Lakshmibai Memorial, Vivaswan Sun Temple, etc.
Orchha
Orchha or Urchha is basically a town in the Niwari district of Madhya Pradesh, India. It was the capital of Bundles and was famous for Orchha fort, which is a wonder of architecture. Here you can also visit Raja Mahal, Ram Raja Temple, Purana Mandir, and Royal Chhatris, etc.
FAQ:
Q. How Many Cities Are There In Madhya Pradesh?
A. For the aggregate of its history, the capital has been Bhopal. Madhya Pradesh has four other significant urban communities notwithstanding Bhopal which is Indore, Gwalior, Jabalpur, and Ujjain. It is partitioned into numerous divisions, fifty locales, and 200 squares.
Q. Which Is The Best City In Madhya Pradesh?
A. Both Indore and Bhopal with amazing open spaces and solid instructive centers and proactive urban bodies have sacked the best two positions as the cleanest urban areas in India for as long as two years sequentially.
Q. What Are The Important Cities Of Madhya Pradesh?
A. Bhopal is the capital of Madhya Pradesh which is a combination of the old and the new. Other significant urban communities incorporate, Gwalior, Orchha, Khajuraho, Omkareshwar, Chitrakoot, Mandu, Jabalpur, Sanchi, Kanha, Ujjain, Panchmarhi, and Amarkantak.
Q. Which Is The Smallest City In Madhya Pradesh?
A. Bhopal District is the littlest locale in Madhya Pradesh by region. Niwari is the littlest region in Madhya Pradesh as for the Area.
Q. Which City Is The Heart Of Madhya Pradesh?
A. Gwalior is one of the astounding spots in India (Madhya Pradesh). There are different spots to visit in gwalior.