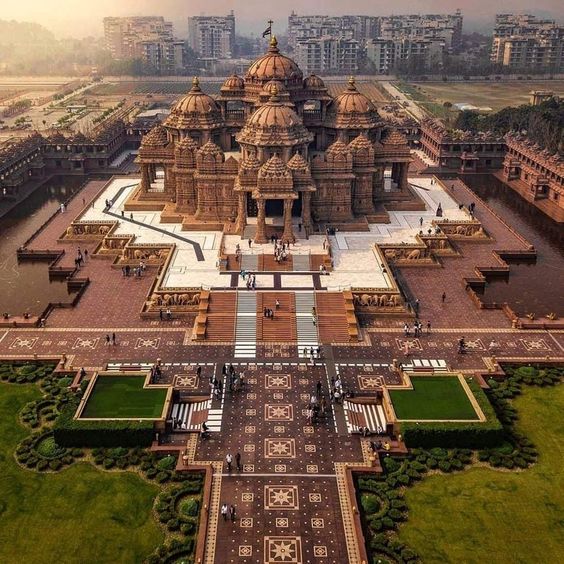 Delhi is the capital of the country and the largest city in India by area. People from all around the world come to visit and celebrate holidays here. From luxurious malls to historical sites, there are lots of sights in Delhi. Delhi NCR is the place for more than 100 walks in the city.
What is The Best Time To Visit Delhi?
October to March is the best time to visit New Delhi. The heat in Delhi is very high; the temperature goes up to 42 degrees, so it is not right to come here right now.
During the monsoon, the temperature decreases slightly, but rain can hinder your sightseeing plan. Therefore, the winter / spring season is the best month to go to Delhi the largest city in India.
Places To Visit In Delhi, The Largest City In India
You need a lot of time to roam around so many places but if you do not have much time then we are going to tell you about the sights of Delhi, the largest city in India where you must walk around. Let's know about Delhi's sightseeing.
India Gate
The India Gate is actually a Historical place and also a Tourist place, it was basically built in 1931. The length of the India Gate is 43m. Here you will meet 7-8 fencing of 24 * 7 Indian Army crews, of course, doing their duty.
In case you want to visit this place, then I will suggest you visit this place at night time, this India gate in the light also looks beautiful. In case you go there in the day time, then you can sit in the gardens and thus you can admire the beauty of the India Gate and can also burn the sun in the cold.
India Gate was built in memory of the first World War and 90,000 Indian soldiers killed in the Afghan war. This gate, 42 meters long, is a reputed monument that was built in 1931. The names of all those martyred soldiers are carved on this building. Under the gate, you can see a flame which is constantly burning in honor of the soldiers. The nearest metro station is the central secretariat to reach here.
Lotus Temple
Since childhood, we have heard a lot about Lotus and Golden Temple; Lotus Temple is located near Badarpur city of Delhi, the largest city in India. These temples built in the shape of lotus flowers are devoted to Bahai Faith. It is also a place of worship for people of all faiths. Followers of any religion can come here and meditate.
Before going to the temple, you will be given a brief 2-minute briefing by a volunteer. To reach here, Kalkaji Temple Metro Station is a good choice, from which the entrance is about 10 minutes' walk away. You can go from Tuesday to Sunday from 9 am to 7 pm, this temple is closed on Monday.
If you're searching for a decent place for photo-shoot then the Lotus Temple will certainly be a great option. In case you go visit the Lotus Temple, you can also visit the Ishkon Temple and Kalka Ji temple. There is no entry fee so you can go there absolutely free of cost.
Akshardham Temple
The Akshardham Temple has two different places in India, Gandhinagar (Gujarat) and Delhi. Akshardham Mandir is included in the major tourist destinations of Delhi and Gujarat. Akshardham Temple – Akshardham Temple has been built in memory of Lord Swaminarayan. The temple is also known as Swaminarayan Akshardham Temple.
'Akshardham' means God's divine residence. It is distinguished as the eternal place of peace, devotion, and purity. Swaminarayan Akshardham is actually a temple in New Delhi and Gandhinagar – a Hindu home of worship, a Hindu house of the worship, as well as a cultural and spiritual complex dedicated to the devotion, harmony, and learning.
Qutub Minar
One of the historic buildings in Delhi (the largest city in India), Qutub Minar was built about 1,000 years ago. This tower, 73 meters high, looks like a Leaning Tower of Pisa. Qutub Minar, built by Red Sandstone, is also India's tallest tower. However, it is no longer allowed inside of it.
Qutub Minar is actually located in the part of the South Delhi called Mehrauli, it's the highest tower in this world made of only bricks. Its altitude is 72.5m i.e. 237.86ft. and this tower has a total of 379 staircases.
In case you are an outsider, then you'll have to purchase INR 250/- per ticket. Do not miss friends, you can't go to visit that tower on Monday, as the tower is closed on Monday.
To get here, you have to get down the Qutub Minar Metro Station. It is open daily from 10 a.m. to 6 p.m. every day. For Indians, 30 rupees for foreigners and foreigners have to take a ticket of 500 rupees.
NOTE:

If you are an Indian and your age is below 15 years then your entry will be free but if you have more you will have to buy a 10 rupee ticket.
Indraprastha Park
This Park is located on the outer ring road in Delhi (the largest city in India). It is also known as Millennium Indraprastha Park. Equipped with Children Park and an Amphitheater, Food Court and Peace Stupa, Park has a similar hangout place among romantic couples, children and adults.
Jama Masjid
The Jama Masjid is basically the biggest Islamic mosque located in the center of old Delhi (the largest city in India). Shah Jahan had built this mosque in the year 1650. This mosque had built of white marble and sandstone. You can enter this mosque from south and north gates. However, the eastern gate of this mosque only opens on Friday.
After departing from Gate Number 3 of the Chavdi Bazar Metro Station, after 10 to 15 minutes walk you can get here.
Humayun's Tomb
In Humayun's Tomb, Humayun's body is buried at two different places. Humayun's tomb has many small monuments as well. Along with Humayun, there are also some other Mughal rulers' tombs which can be seen. A small museum located at its entrance is also worth seeing. It is very close to Khan Market and JLN Stadium Metro Station. For Indians, there is a ticket of 30 rupees and foreign tourist Rs 500.
Hauz Khas
One of the most beautiful and finest places in Delhi (the largest city in India) is Hauz Khas! Here you can see the whole thing in just one place, which means that this Hauz Khas Fort, Park, disc, and Garden to play for children.
The entry here is absolutely free, however, I have never been able to do the hawk at night, but I have heard that in the night, the medulla in the house is doubled, so friends, you must definitely go to the hawk once.
Red Fort
Located in old Delhi area, this fort is spread over 250 acres. The architecture of the Red Fort is so attractive that it continues to be a prominent monument. There are two gates to enter the Red Fort, Delhi Gate, and Lahore Gate. Here, every evening they organize a sound and water show. You can also visit the freedom struggle museum located in the fort.
Often you have seen Red Fort in the photo or video of the Prime Minister on Independence Day. In case you are an inhabitant of Delhi (the largest city in India), you must have seen the Red Fort many times coming from there. But because of lack of time, maybe you couldn't go there.
From the Chandni Chowk Metro Station to the Red Fort you can walk in 20 minutes or take a ride on the auto rickshaw. Apart from Monday, it is open all day of the week. For Indians, there is a ticket of Rs 35 and for foreign tourists Rs 500. Light and sound show tickets are at 80 rupees and 60 days for the rest of the week.
Mughal Garden
Popular as the President of the palace "soul", Mughal Gardens is situated inside the Rashtrapati Bhavan complex. Designed for the Lady Ending in 1917 by the Sir Edwin Lutyens, this garden covers a huge area of ​​total 13 acres as well as this is amazing incorporation of the Mughal architecture with British style.
Many types of seasonal flowers bloom in the gardens and offer an exquisitely enthusiastic picture. In the Mughal Gardens, there are endangered and rare varieties of 159 flower species, including Asiatic lilies, daffodils, hyacinth, tulips, etc.
Shopping in Delhi
Here I have listed few markets from where you can shop in Delhi the largest city in India.
Local market and shopping in Delhi:
Shopping in Delhi is different from the same. You will find everything here. From attractive clothes, copper utensils, wooden workmanship, jewelry, leather and metal creations to aromatic oils. In Delhi, you will find all the posh, high-level shopping malls and local markets located in the heart of the city.
Government and Emporium of the States:
Baba Khadak Singh Marg (near Connaught Place) is Emporium of the States, where you will find authorized handicrafts from those states. But there is no negotiation as this market has a fixed price on the products.
Hauz Khas Village:
Go here for designer furniture shops, art galleries, and boutiques.
Connaught Place:
Buyers will find there heaven here. There is no shortage of people who sell jewelry, leather goods, clothes, shoes and other gourmet and colorful items on shops and pavement.
Palika Bazar:
It is an underground market in Connaught Place. A large number of locals are here to buy consumer goods. There are plenty of things to do. Foreign tourists are often told to raise the price, so negotiation is necessary.
Ansal Plaza:
This is a modern shopping mall where you will also find popular clothing brands from popular cosmetics and perfume brands.
Khan Market:
One of the popular shopping areas in Delhi – Khan Market. Generally, foreign diplomats and foreign only come here. There are many popular bookshops and coffee shops. Such as Full Circle and Cafe Turtle
Delhi Haat:
It is an open-air food and craft market near the INA market. Famous for traditional handicrafts, jewelry, and home furnishings. Here you can taste food all over the country at an affordable rate.
To Know More About Cities Click The Links below:-
List of Cities In Andhra Pradesh & Places to Visit
Which Are The Biggest Cities In India?
Which Is The Richest State In India?