Weather Of Sikkim
Sikkim is a very beautiful and small state of India which is known for its plants, animals, rivers, mountains, lakes, and waterfalls. But knowing the best time to visit Sikkim will help you make your trip epic. The best time to visit Sikkim is from May to September.
Sikkim is one of the few states in India that receives regular snowfall every year. The weather here changes from the tundra of the northern region to the north and the subtropical climate in the eastern region.
The northern region, where the tundra season is found, is covered with snow for four months every year and the temperature drops below 0°C. The weather remains here because the temperature here does not increase more than 28°C and does not freeze to 0°C in the cold.
The monsoon season is a bit dangerous as heavy rains occur during this time, causing the risk of landslides, and tourists are advised to avoid coming here at this time.
Months:
BEST TIME TO VISIT OOTY

 
Precipitation / Rainfall (mm)
Max. Temperature (°C)       
Min. Temperature (°C)
Avg. Temperature (°C)
Max. Temperature (°F)        
Min. Temperature (°F)
Avg. Temperature (°F)
JANUARY
17
14.3
5.5
9.9
57.7
41.9
49.8
FEBRUARY
18
15.6
6.8
11.2
60.1
44.2
52.2
MARCH
52
19.3
10.1
14.7
66.7
50.2
58.5
APRIL
94
22.1
12.9
17.5
71.8
55.2
63.5
MAY
169
23.2
15.2
19.2
73.8
59.4
66.6
JUNE
473
23.7
17.2
20.4
74.7
63.0
68.7
JULY
696
23.7
17.8
20.7
74.7
64.0
69.3
AUGUST
553
23.7
17.7
20.7
74.7
63.9
69.3
SEPTEMBER
388
23.5
17.1
20.3
74.3
62.8
68.5
OCTOBER
99
22.4
13.8
18.1
72.3
56.8
64.6
NOVEMBER
14
19
9.3
14.1
66.2
48.7
57.4
DECEMBER
5
16
6.5
11.2
60.8
43.7
52.2
Best Time To Visit Sikkim: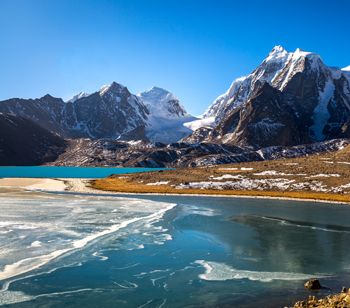 If you are a nature lover and full of aesthetic sense then this state is a very good place to visit. ou want to travel to Sikkim then definitely read it. Sikkim is the most attractive state of India, which is full of excellent natural beauty, magnificent mountains, beautiful waterfalls, and some amazing landscapes.
In case you want to travel to Sikkim then definitely read it. Sikkim is the most attractive state of India, which is full of excellent natural beauty, magnificent mountains, beautiful waterfalls, and some amazing landscapes. So, let's now know the best time to visit Sikkim
Summer (April to June)
It would be good to visit Sikkim in the summer season. During this time the temperature ranges from 5°C to 25°C. The day may be hot, but the summer nights in Sikkim are very cold, so go with warm clothes to wear at night. In summer, you can visit Gurudongmar Lake, Yamthang Valley, and Rumtek Monastery, and other places in Sikkim.
Monsoon (July to September)
Sikkim receives a lot of rain. This causes a significant drop in temperature. During this time, the temperature is 4–15°C. There is a risk of landslides during this time. But you can get room cheaply at this time and there will be less congestion at tourist places.
Winter (October to March)
The winter season is also very good for visiting Sikkim. If you want to enjoy snowfall then you should visit Sikkim in winter. Temperatures range from -5°C to 7°C in this season.
NOTE:

The best time to visit Sikkim is from May to September. The maximum temperature during these months is between 28°C-30°C. The weather of North Sikkim remains cool during these months. The months of July and September receive light rains.
Local Festival Of Sikkim
Sikkim is one such state of India where people celebrate local festivals with great fervor and gaiety. Let us give you information about some special festivals in Sikkim.
Lhabab Dheuchen Festival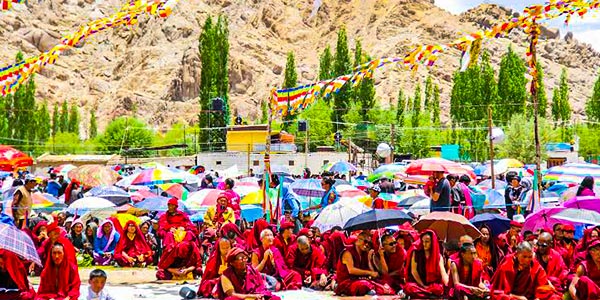 The Lhabab Dheuchen Festival represents the descendants of Lord Buddha about the teachings of the departed mother. People of Buddhism celebrate this festival with great joy and gaiety in Sikkim.
Pang Lhabsol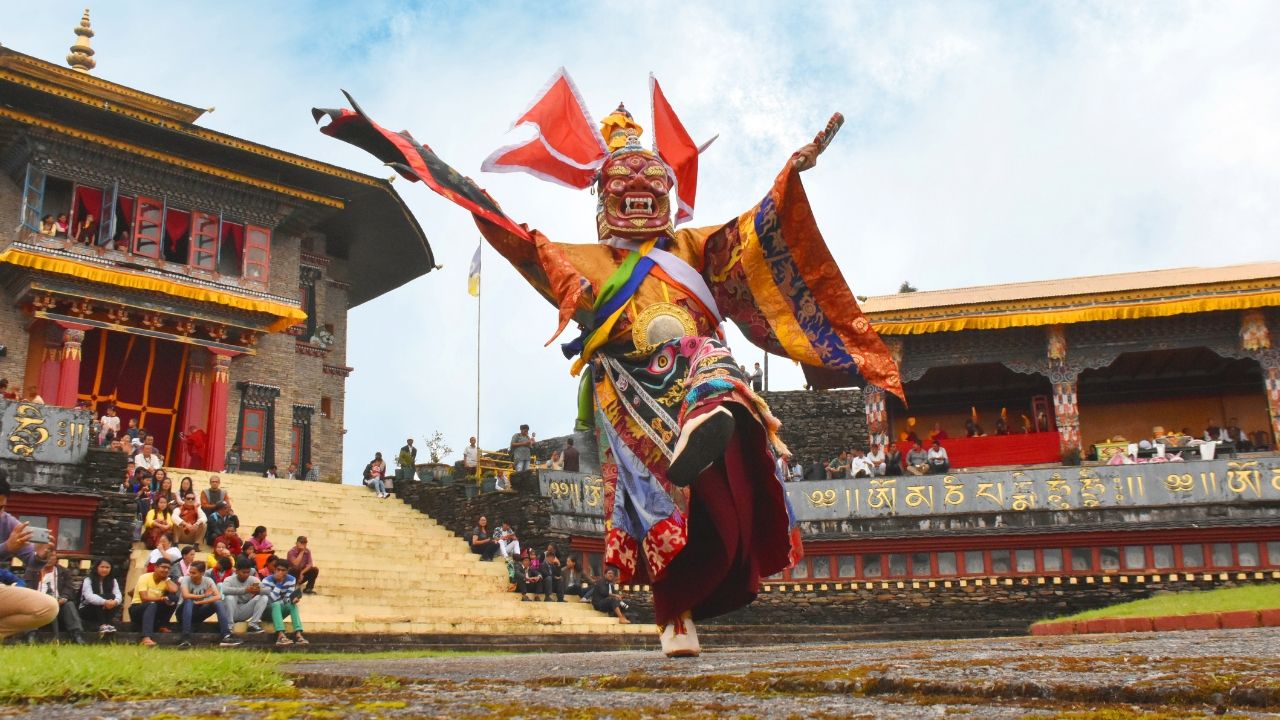 Pang Lhabsol is a very popular festival of Sikkim which is considered India's Independence Day. At this festival, people pray to God for the country and Sikkim. Pang Lhabsol Festivals is one of the special festivals in Sikkim which is celebrated in the month of December.
The dance performed by the monks during this festival portrays the destruction of evil forces. They also wish for peace and prosperity in Sikkim during this festival.
Losoong Festival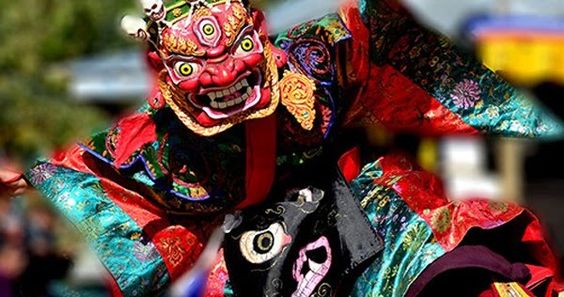 The Losoong Festival is a major festival of Sikkim celebrated at the end of the harvest and the tenth month of the year according to the Tibetan calendar. During this festival, people pray for a good harvest and good prospects in the coming year.
Losar Festival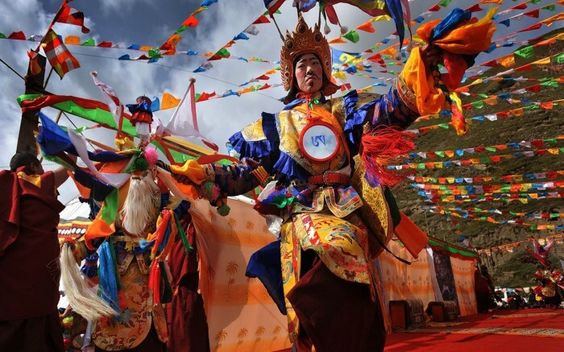 Losar Festival is celebrated in the month of February as the Tibetan New Year. Yak dance is very popular in this festival and processions are also taken out in it.
Average Tourist Volume Of Sikkim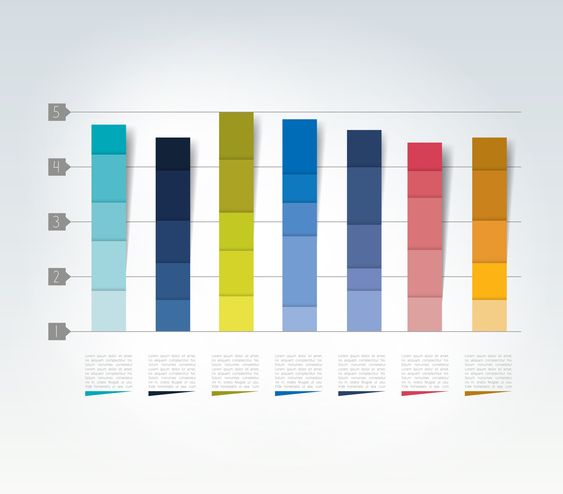 The beautiful state of India, Sikkim, is located in the eastern Himalayas, sharing its borders with Bhutan in the east, Nepal in the west, Tibet in the north and West Bengal in the south. The world's third-highest Kanchenjunga is located on the Nepal-Sikkim border. The month to month tourist footfall declined by right around 90% with just 15,350 guests in July followed by 17,723 in August a year ago, the authority brought up.
When the strike was canceled in late September a year ago, the tourist inflow in Sikkim expanded forcefully, he said. In any case, it was the initial half-year of 2017 that cheered different partners of the travel industry with a record 11.44 lakh homegrown tourists and 30,740 unfamiliar tourists visiting the immaculate Himalayan state.
Explored Place To Visit In Sikkim
Sikkim is a state that offers a variety of thrilling adventures with its natural beauty and unique cultural scenes. People traveling through this route can see the beautiful landscape with lush greenery from the high mountains. So, let's now know about some of the most attractive and explored place to visit in Sikkim
Mangan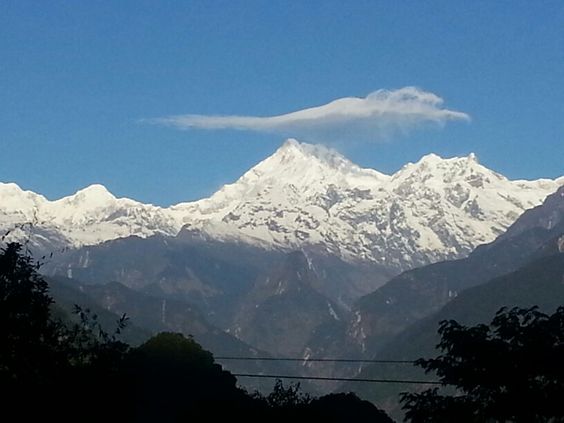 This major tourist destination of Sikkim is situated in the lap of the Eastern Himalayas, which is known for adventure activities with scenic views.
If you are looking for an interesting, charming, serene, and natural place to make your trip a delight, then this place is like a paradise for you.
Here you can enjoy your trip by visiting tourist places like Shingba Rhododendron Sanctuary, Singhik Village, Labrang Monastery, Sirijonga Yuma Manheim, etc.
Gangtok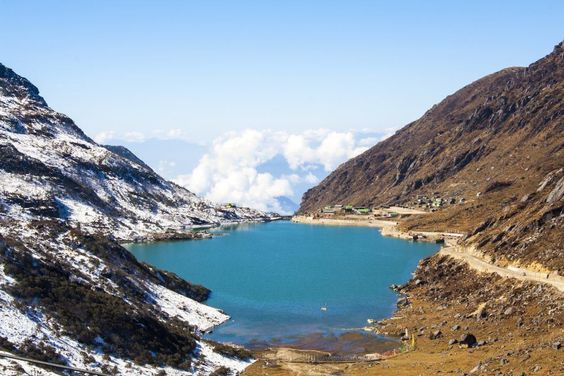 Gangtok, the capital of Sikkim, is the perfect place to visit if natural views attract you. From here you can also enjoy the high peaks of the Himalayas. Also, the ancient monasteries, temples, and palaces here will make you crazy.
Not only this, but here you can also enjoy places like Somgo Lake, Rumtek Monastery, Inhenchi Monastery, Tashiling, Poling, Suk-La-Khang, Ganesh Tok, and Deer Park.
Tsomgo Lake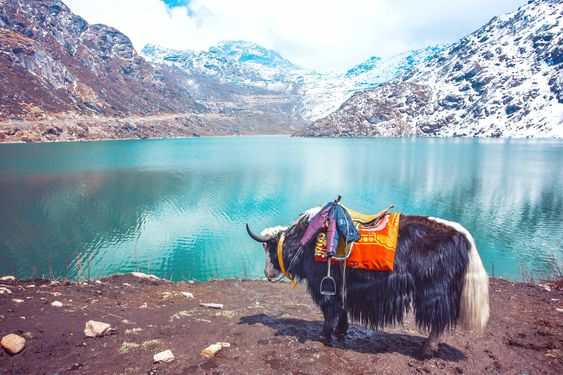 Tsomgo Lake, this lake is one kilometer long, the oval locals consider it very sacred. Between May and August, the lake area becomes very beautiful. Rare flowers can be seen in Tsomgo Lake.
These include spring roses, iris, and blue-yellow portals. The lake has many species of aquatic organisms and birds. This place is also known for the Red Panda. In winter the lake water freezes.
Gurudongmar Lake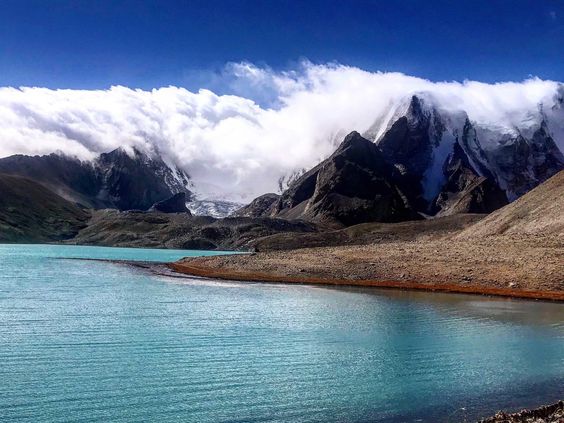 Although the natural beauty churches of Sikkim are famous everywhere, if you are going to visit Sikkim then your trip will be incomplete without seeing this lake.
This lake is at an altitude of 17,800 feet above sea level. Gurudongmar lake looks very beautiful with different spectacular views in both summer and winter. This lake is so clean and beautiful to see that tourists cannot live without including it in their travel list. The best time to visit Sikkim
Lachen Village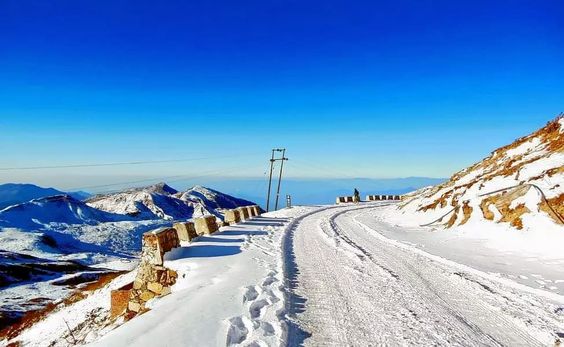 This village of Sikkim has always been known for its scenic beauty and spectacular views, but now tourists are also known as paragliding spots. Lachen paragliding travel is nothing less than a paradise for those who love the natural litigants. The best time to visit Sikkim
Apart from this, during paragliding, from take-off to landing, this place is very spectacular. Therefore, lovers of paragliding must go here at once. The best time to visit Sikkim
Yumthang Valley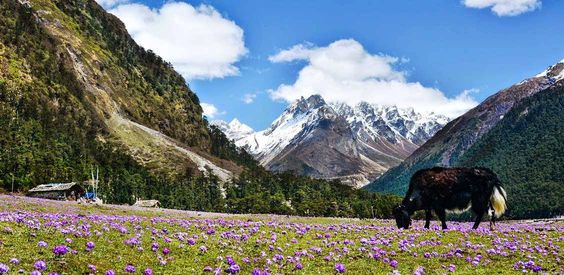 One of the main attractions of Sikkim, Yumthang Valley is also known as the Valley of Flowers. If you see the beauty of this valley then you will also agree that it is not at all wrong to give this name to it.
If you are fond of flowers, then you will like this place very much. By coming here, you can spend some moments of your life relaxed amidst various beautiful flowers. The best time to visit Sikkim
Pelling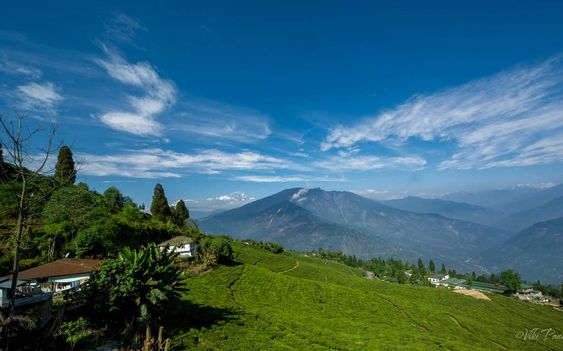 Pelling is fast becoming a popular tourist destination. Mount Kanchenjunga, the world's third-highest peak, can be seen from this place at an altitude of 6,800 feet. The place is beautiful, the other attractions of Pelling are Sanga Choiling Monastery, Pemayangtse Monastery, and Khechiopalri Lake. The best time to visit Sikkim
Unexplored Place To Visit In Sikkim
Sikkim is among the first choice of mountain-loving tourists. The thumb-shaped Sikkim in the northeast of India is nothing short of a city. Its popularity among tourists is also due to the fact that you can go here whenever you want. Despite being a hilly place, the weather remains pleasant throughout the year. So people like to visit here again and again. So, let's now know about the most unexplored places to visit in Sikkim
Seven Sisters Water Falls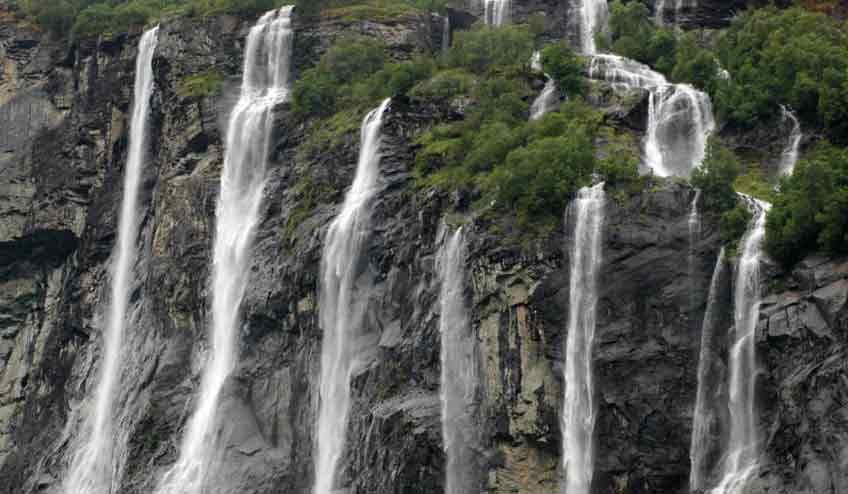 The Gangtok-Lachung highway in the sprawling state of Sikkim offers excellent gifts for tourists. Yes! It is a popular place among tourists, where special waterfall flows. It is said that this waterfall flows down the mountain in seven steps. Hence it is called 'Seven Sisters'. The best time to visit Sikkim
The story is that a king had seven daughters who loved nature very much. Those seven princesses merged in nature in the form of this waterfall. 32 km from Gangtok It takes 40 minutes to reach these tourist spots located far away.
Nathu La Pass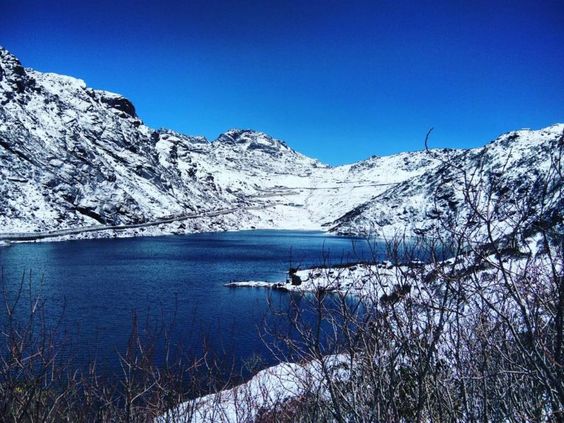 54 km from the capital Gangtok. Far Nathu La Pass is a military trading base. This outpost connected with China-India trade is very close to Tibet. It is usually difficult to go here due to snowfall in winter. It is open to Indian tourists on Wednesday, Thursday, Saturday, and Sunday if taken permission. The best time to visit Sikkim
If you go to Changu Lake, then it is about 18 km from there. But only Nathu La Pass is present. It is also called the Silk Route, where only Indian tourists are allowed to go. The best time to visit Sikkim
Although soldiers from China and India can come here. You can see the armies of both countries here. This place of international importance can give you some new experiences. The best time to visit Sikkim
Sikkim Research Institute of Tibetology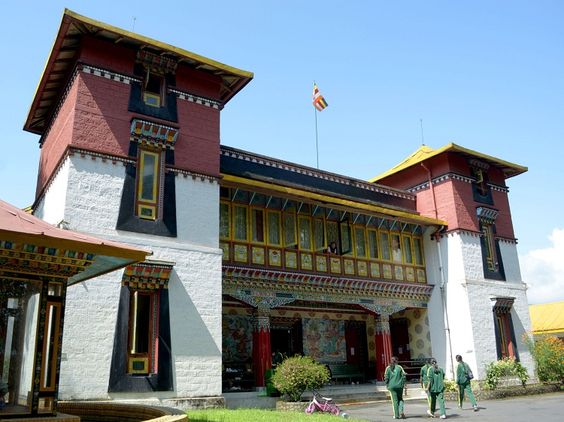 It is nationally known as the Center for Tibetan Studies and Research. The institution is famous for its extensive collection of rare manuscripts, books, and allusions to Buddhism. The best time to visit Sikkim
The building is a fine example of Tibetan architecture, surrounded by a small forest of oak and tsunabar. The institute has art related religious artifacts and wonderful paintings with silk embroidery. The best time to visit Sikkim
Rumtek Monastery Sikkim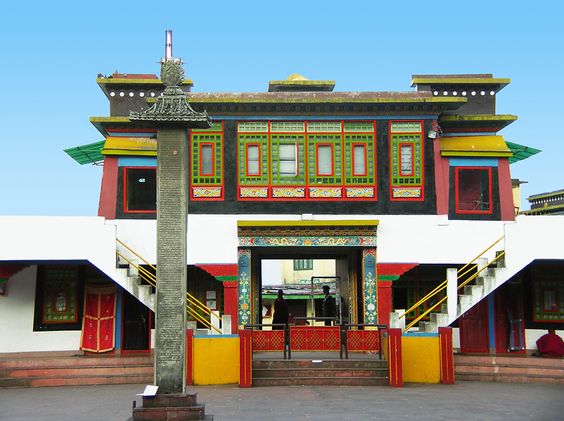 Tourists visiting Sikkim definitely see the monastery and this is a great opportunity. Although many monasteries are present here, Rumtek monastery is the most famous among them all. Rumtek Monastery is just 24 km from Gangtok. Is present at a distance of. You can go here to see and understand Buddhism closely.
Be aware that Rumtek Monastery is the main monastery of a Black Hat sect that is 300 years old. From here you can also go to the Golden Stupa which is made of gold, silver and expensive stones. The best time to visit Sikkim
Kheechopalri Lake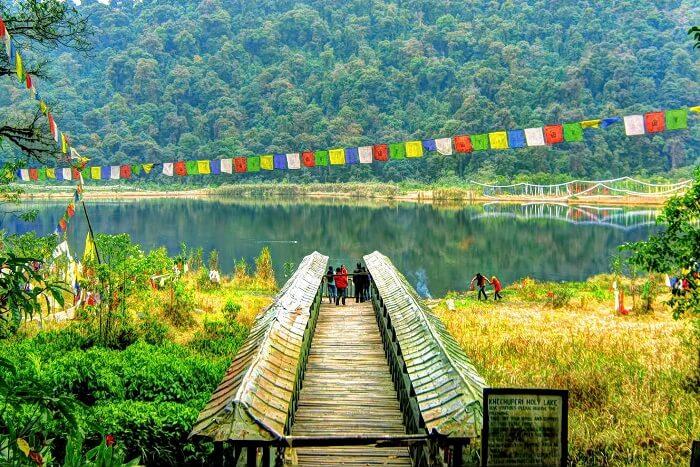 Surrounded by forests, this lake is considered very sacred for Buddhists and Lepcha people. It is said that this lake fulfills the wishes of the people. The best time to visit Sikkim
Hence it is also called Wishing Lake, this is also the meaning of Khechiopalri Lake in the local language. Despite being surrounded by forest, the water of the lake is very clear which will surprise you.
Just 2 km from here In the distance visit Khechiopalari Gompa and see the best view of Mount Pandim with your own eyes. Sikkim is beautiful step by step, you are often amazed by its scenery.
Must-Try Foods And Beverages In Sikkim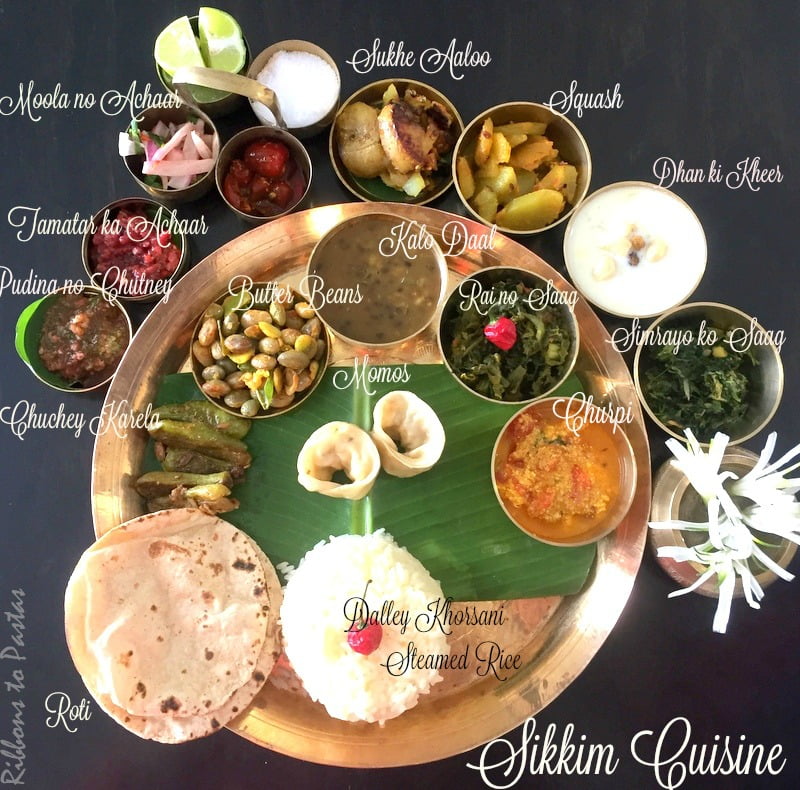 The most interesting thing is that a mixture of 3 cultures is found in the cuisine of Sikkim – Nepal, Tibet, and Sikkim and that is why the flavors here are liked by anyone. If you go to Sikkim, do not forget to test these things.
Chhurpi
Cheese is adored by practically all, excepting the lactose bigoted obviously. And keeping in mind that extravagant global cheeses from around the globe are normally discussed, there is little conversation about this delectable cheese in Sikkim. chhurpi is produced in both solidified and mollified forms. The best time to visit Sikkim
The harder cheese is produced using Yak's milk and is either earthy colored or white in shading. It is normally marginally sweet in taste. The milder one can be produced using the milk of yak, goat, or bovine. This sort is marginally tart in taste. The best time to visit Sikkim
Gundruk and Sinki
Another for the vegans, gundruk, and sinki are matured vegetable dishes. Green vegetables are stuffed into impermeable compartments to make gundruk. Different vegetables including turnip, radish, and mustard are sliced and matured to make the sinki. They can be eaten or even added to soups, pickles, and curries.
Momo (Dumplings)
Momos, who doesn't cherish momos? Sikkim and Momos are corresponding to each other. Accepted to be of Tibetan beginning and balanced by the Nepalese food the momos are the help of Sikkim. Momos are steamed buns with a filling. It normally comprises of two sections – the cover and the filling. The best time to visit Sikkim
The cover is made of a mixture of white flour and water. Now and again yeast or heating soft drink is likewise added to the mixture to improve the surface of the momos. The best time to visit Sikkim
Sha Phaley
This brilliant dish of Tibetan inception is in a real sense paradise on your taste buds. Everybody loves bread, everybody loves meat, everybody adores the broiled stuff, and Sha Phaley has each of the three.
Bread loaded down with ground hamburger and cabbage made into semi-circles and afterward broiled is all that you require to think about this acclaimed food of Sikkim. The best time to visit Sikkim
Firm outwardly and glorious within, this is the thing that you get when you bring the initial chomp into the brilliant semi-circle. The best time to visit Sikkim
Thukpa or Gya Thuk
Thukpa is a sort of noodle soup of Tibetan starting point that has discovered its approach to being quite possibly the most cherished food in Sikkim. Thukpa is something that is extremely solid and delectable simultaneously – an uncommon mix to discover, right? The best time to visit Sikkim
One can discover the two vegetables just as chicken Thukpa here and mind you both merit attempting. One can discover pretty much every sort of privately developed vegetable in this soup, however, the most well-known ones are carrots, chime peppers, spinach, cauliflower, and celery. The best time to visit Sikkim
Things To Do In Sikkim
Sikkim is famous for its natural lush green plants, forests, scenic valleys and ranges, and grand cultural heritage. Due to its peace-loving people, this region is like a safe haven for tourists. The best time to visit Sikkim
The state government is promoting eco-friendly tourism and pilgrimage tourism so that people visiting here can enjoy the lifestyle and natural tourism of Sikkim. Sikkim Government is setting up a 'Himalayan Center for Adventure Tourism' in Chamcheya village in South Sikkim. So, let's now see what are things you can do while in Sikkim
Visit the Baba Harbhajan Singh Temple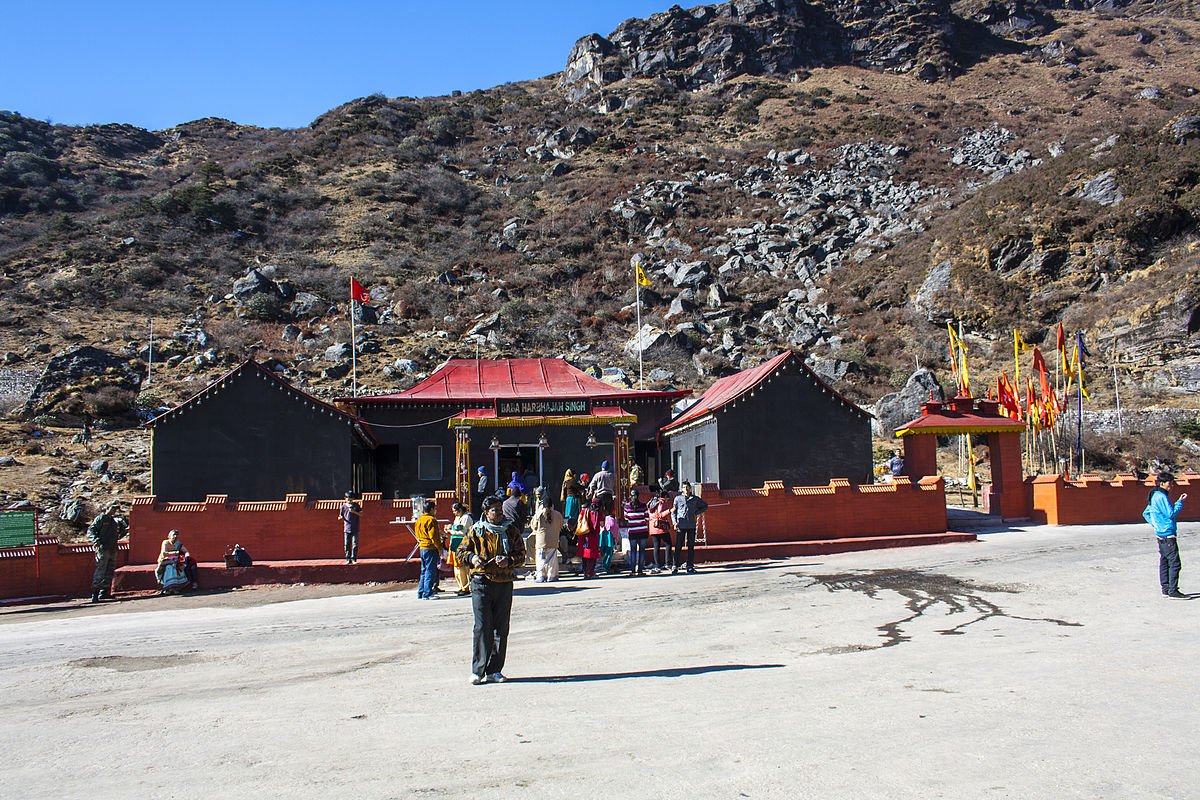 This place believes that an Indian soldier is protecting the border even 48 years after his death. To see this temple people from far and wide come here and offer prayers. Believe you will like it too after coming here.
Visit Mangan City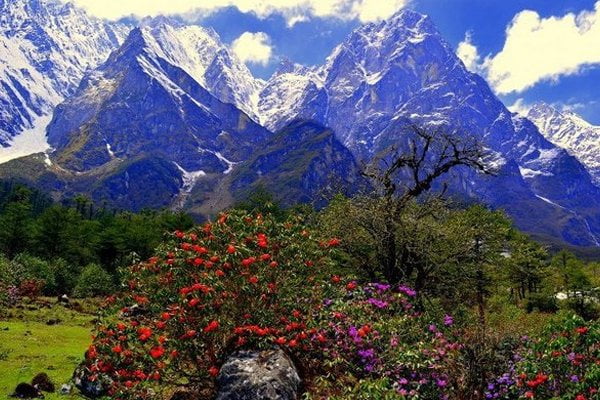 This place is a wonderful place adorned with lush greenery, beautiful mountains, and exotic views, which you can capture and cherish in your camera. The best time to visit Sikkim
Visit The Himalayan Zoological Park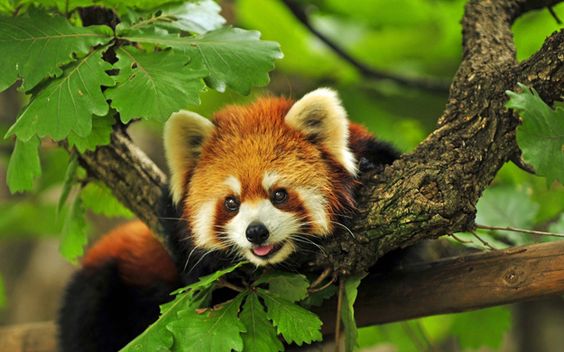 A large number of animal species will be seen in this park. The place is situated at an altitude of 1780 meters. This park is quite popular for its amazing view. The best time to visit Sikkim
Go Mountain Biking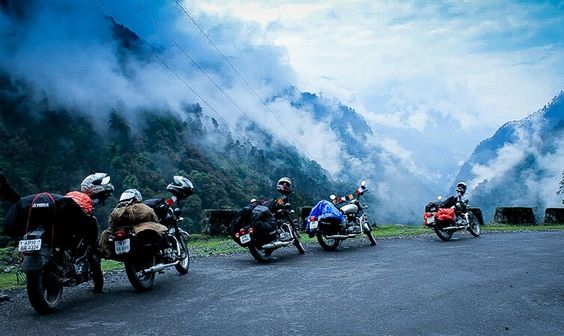 Probably the most ideal approach to investigate the unpleasant landscapes of Sikkim is by picking mountain trekking. On the off chance that you are venturing out to Sikkim with your companions, at that point this movement may be the most daring one to pick. The best time to visit Sikkim
Sikkim offers the absolute most delightful path to investigate. Envision yourself experiencing cardamom fields and seeing the smell that these fields offer to the bystanders. In addition, you will likewise experience the pine and deodar forests. The best time to visit Sikkim
Rock Climbing In Sikkim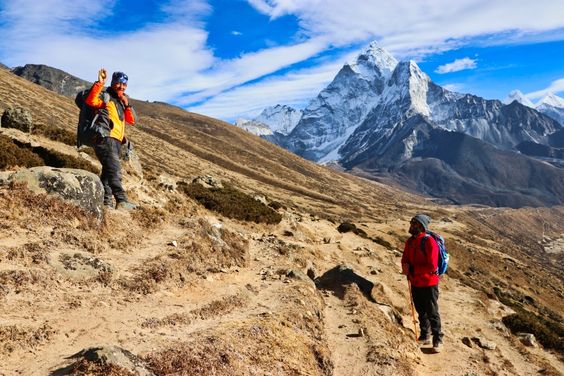 Another brave action to pick in Sikkim is rock climbing. On the off chance that you are looking for a difficult movement that can test your solidarity then there can't be a preferable choice over stone climbing.
Sikkim is home to a few rough spots close to the Himalayas where one can decide on this movement. A companion's outing to Sikkim certainly requires this movement as it is the most exciting and gutsy one.
Ropeway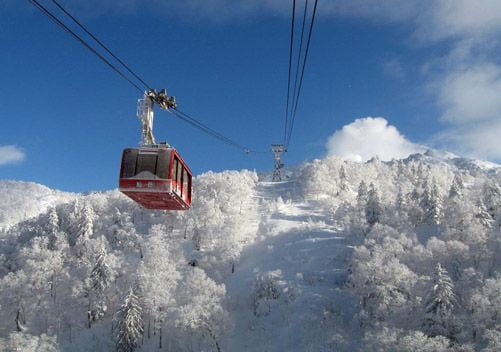 The ropeway is one of the must-attempts when in Sikkim. This is one exciting experience that each voyager can appreciate, independent of their ages. This action allows one to observe the whole city initially, moving wonderment with each view. The best time to visit Sikkim
The best thing is the point at which you get a spot close to a window. These perspectives on the profound valleys and lofty mountains underneath are genuinely an incredible sight. The ropeway is perhaps the best experience that one will get in Sikkim. The best time to visit Sikkim
Trekking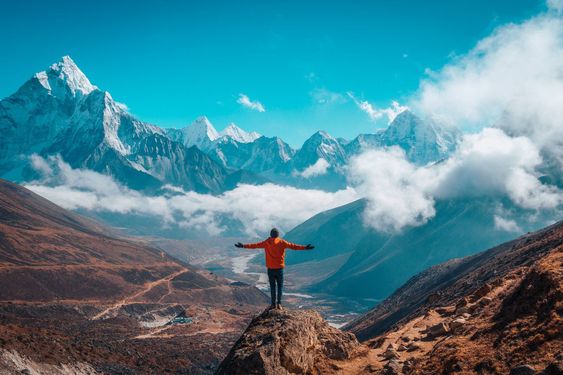 Another of the most energizing activities in Sikkim is vanquishing the lofty mountains. The snow-covered slopes structure a basic piece of the scene in Sikkim and go about as a magnet for all the experience addicts out there.
Sitting at high heights are Dzongri and Singalia that are ideal for travelers to do their undertakings. The totally open sky, transcending lavish greens shaping a covering over the path, and the shocking perspectives on the Himalayas make journeying in Sikkim very thrilling. The best time to visit Sikkim
Things To Avoid In Sikkim
Try not to play noisy music inside the forested zones.
Try not to go close to the cascades since there are opportunities to slip and damage yourself.
Don't purchase items made of jeopardized species or of some other creature.
Try not to camp more than 500 meters from the edge of lakes or waterways.
Smoking and drinking in holy destinations are limited. In this way, attempt to dodge them
Try not to write on trees, rocks, structures, and so forth
Try not to litter their streets or any spot. Sikkim is an extremely perfect spot and doesn't bargain with its tidiness.
Don't contend with neighborhood individuals.

The best time to visit Sikkim

Try not to request that drivers take you to territories where there is no grant.
Travelers Hack By TravelJunction
♥

 Travelers Hack For Couples
You can visit interesting and beautiful mountain villas settled in nature, numerous strange spots, journey alongside nature and woodland trails, and obviously visit numerous other vacation destinations, for example, cloisters, galleries, safe-havens, craftsmanship focuses, parks and gardens, zoo, and so on.
In spots like Gangtok, you can even appreciate exercises, for example, rides on the streetcar (ropeway), paragliding, and so forth, and enjoy extraordinary shopping and nightlife including bars, bars, and gambling clubs
♥

 Travelers Hack For Family
Because of the Covid-19 Pandemic, Sikkim has presented a progression of movement necessities for vacationers and guests, some of which are compulsory and others prudent. The best time to visit Sikkim
You should apply for and get a Sikkim Travel Card on the web for your family'. This card causes Sikkim specialists to track your own subtleties alongside the subtleties of your going with family/gathering, your visit plan including your inns and visit administrators, and furthermore the medical issue of your whole gathering.
Your visit status should be kept refreshed day by day during your stay in Sikkim so the specialists can monitor the advancement of your visit according to your arranged visit schedule.
♥

 Travelers Hack For Friends
When you are planning your trip to Sikkim with your friends then you may go to Gangtok. Otherwise called the 'Place that is known for Monasteries', Gangtok is the excellent capital of Sikkim. Hypnotizing perspectives on the taking off pinnacles of Mt. Kanchenjunga, new mountain air, picture-postcard excellence, and salubrious atmosphere; make it probably the best spot to spend unwinding and tranquil get-aways in the lap of Mother Nature.
Check Related Articles:-