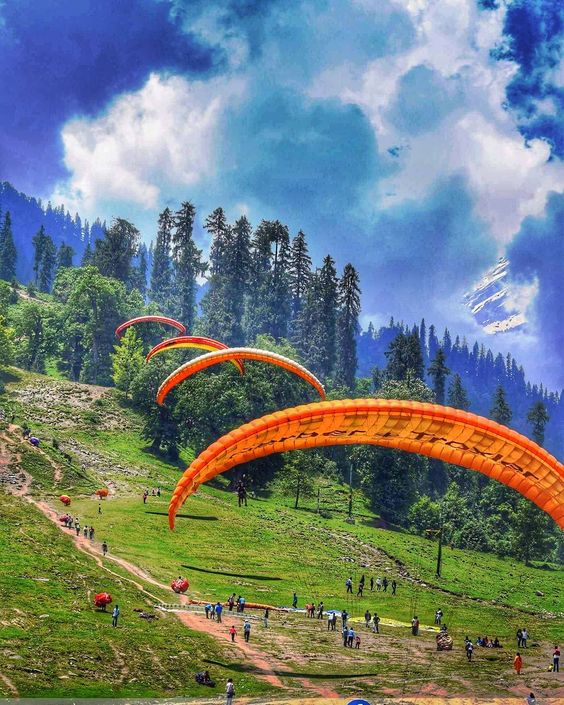 Himachal Pradesh is a very important state of India which is known for its infinite beauty, tourism, and its attractive places. Himachal is a special state for tourists in India. Nirmal lakes, high mountains, and ancient temples attract tourists very much. With its high valleys and hills, the natural beauty of Himachal gives peace to the people coming here. So, let's know about some famous hill stations in Himachal Pradesh.
Hill Stations In Himachal Pradesh:
Uttarakhand in the east of Himachal Pradesh, Jammu-Kashmir in the north, Punjab in the west, Uttar Pradesh to the south. In Himachal Pradesh, apple production is very high, due to which it is known as apple state. Himachal Pradesh's friendly atmosphere, scenic scenery, colorful culture, adventure sports, sightseeing and various types of festivals, festivals and celebrations are very special. Himachal Pradesh is also a favorite destination for tourists along with pilgrims. The hill stations in Himachal Pradesh attracts most tourist all over the world. So, let's know about the famous hill stations in Himachal Pradesh.
Shimla:
Shimla is the capital of Himachal Pradesh and it is also the most popular hill stations in Himachal Pradesh. Mall road, ridge, toy train and colonial architecture of Shimla are quite popular among tourists, honeymooners, and families coming here. Shimla, at an altitude of 2200 meters, is one of the most famous tourist destinations in the country. This is the most beautiful place in India among the beautiful hills and mysterious forests. In Shimla, there are many historic temples as well as colonial-style buildings. Shimla is called the predecessor summer capital of British India, and the city's charming natural beauty and atmosphere force any tourist to come here again.
Manali:
Manali is one of the most popular hill stations in Himachal Pradesh, situated between the snow-covered slopes of Pir Panjal and Dhauladhar ranges. This is situated at an altitude of 1950 meters above sea level, which is a part of the Kullu district of Himachal Pradesh. Manali is an extraordinary natural site with its lush green forests, grasslands with flowers, constant stream of blue streams and freshness. Manali is a kind of paradise for tourists and lovers who love nature. From this hill station to museums to the temples, from river adventures to trekking trails, from villages to rugged streets, tourists visit here. The sound of water flowing through the river Kullu and the voices of birds will attract you.
Dharamshala:
Dharamshala is a very special tourist spot in Himachal Pradesh, which is located 17 kilometers from Kangra. Dharamsala is considered as the entrance of the Kangra valley. The snow-covered Dhauladhar mountain range makes this place very special. Dharamsala is also known as the holy residence of the Dalai Lama. The city is divided into upper and lower divisions with varying altitude. In the lower part, Dharamsala city and upper division are known as MacLoadganj. Being a Tibetan Hub, Dharmashala is a very special place in Himachal Pradesh to learn and learn Buddhism and Tibetan culture. This is one of the famous hill stations in Himachal Pradesh.
Spiti Valley:
Located in Himachal Pradesh, the Spiti valley is surrounded by the Himalayas on every side, which is located at an altitude of 12,500 feet above sea level. The cold deserts of the Spiti valley, snow-covered mountains, curved roads, and picturesque canyons excite the tourists who come here. This is a place in Himachal Pradesh that receives about 250 days sunshine in the year, making it one of the coldest places in the country. Spiti, you can go from the motor vehicle only in the summer days and this place is covered with thick ice for about 6 months of the year.
Kasauli:
Kasauli is one of the most special tourist spots in Himachal Pradesh. This is a hill town situated on the way to Chandigarh from Shimla, which is an ideal peaceful place away from the crowd of cities. Kasauli is a small town in the south-western part of Himachal Pradesh which is situated on the lower edge of the Himalaya Mountains. Also known for the mysteries for the magnificent Victorian buildings created by Kasauli English, located between the beautiful forest of pine. In this area, many endangered species of animals are found in dense forests, the peaceful atmosphere of Kasauli and the charming peace make this place one of Himachal's most special tourist destinations.
Kinnaur:
Kinnaur is also known as "Land of God", which is located approximately 235 kilometers from Shimla. This is a place situated between Satluj, BSP and Spiti river, which is famous for its beautiful green and rocky mountains. It reflects the existence of a different culture in place of Hindu and Buddhist faith. Whatever the Hindu tourists visit this place, they go to see the famous Kinnaur Kailash. It is said that Kinnar Kailash is of Lord Shiva and Shivling and with this, it is also related to the stories of Pandavas. There are also old Buddhist monasteries and temples nearby in Kinnaur which are of a different significance in their own right and also worshiped by the Buddhists. This is one of the famous hill stations in Himachal Pradesh.
Kufri:
Kufri is one of the most special tourist spots in Himachal Pradesh, which is the most sought after place in the holiday resort places. This is about 10 km away from Shimla. If you are coming to Shimla, then go to visit this place. Because the Kufri is at a higher elevation, it is seen everywhere in the winter during winter. Although much more is not worth seeing in Kufri, the temples and panoramic views here make this place very special. Kufri Shimla is known as a support for tourists visiting, so there is a lot more crowded here. This is one of the famous hill stations in Himachal Pradesh.
Kullu:
Together with Kullu, Manali is a popular tourist destination in Himachal Pradesh, which is an open valley with its picturesque hillsides covered with palm trees and cedar trees. Kullu is located at a height of 1230 meters, which is similar to heaven for nature lovers. The greenery of Kullu, the ancient river and a wonderful climate makes it very special. Usually, tourists visiting Himachal roam together in both Kullu and Manali. Travelers coming to Kullu and Manali can take part in various adventure activities like river rafting, trekking, mountaineering, etc. The Raghunath Temple and Jagannathi Devi Temple in Kullu are very festive, if you go here, do not forget to take a trip to these temples. This is one of the famous hill stations in Himachal Pradesh.
Palampur:
Palampur is a very special tourist destination in Himachal Pradesh which is surrounded by pine forests and tea gardens. Several rivers flow in the city of Palampur, and this city is also known for its wonderful confluence of water and greenery. Palampur situated among the Majestic Dhauladhar ranges is famous for its tea gardens and good quality of tea around the world. Palampur was first seen by the British, after which it was converted into a trade and commerce center. Victorian-style mansion and palace located in this city are very beautiful. If you are going to Himachal Pradesh then do not forget to take a trip to Palampur.
To Know More About Hill Stations Check Those Links Below:-
Hill Station Near Chennai For A Quick Visit
# Hill Station In Tamilnadu | Best Hill Stations To Spend Holiday
Hill Stations Near Delhi To Spend Vacation
Hill Stations In Maharashtra To Enjoy The Natural Beauty
Most Beautiful Hill Stations In Himachal Pradesh
# Best Hill Stations In India | Tourist Attractions