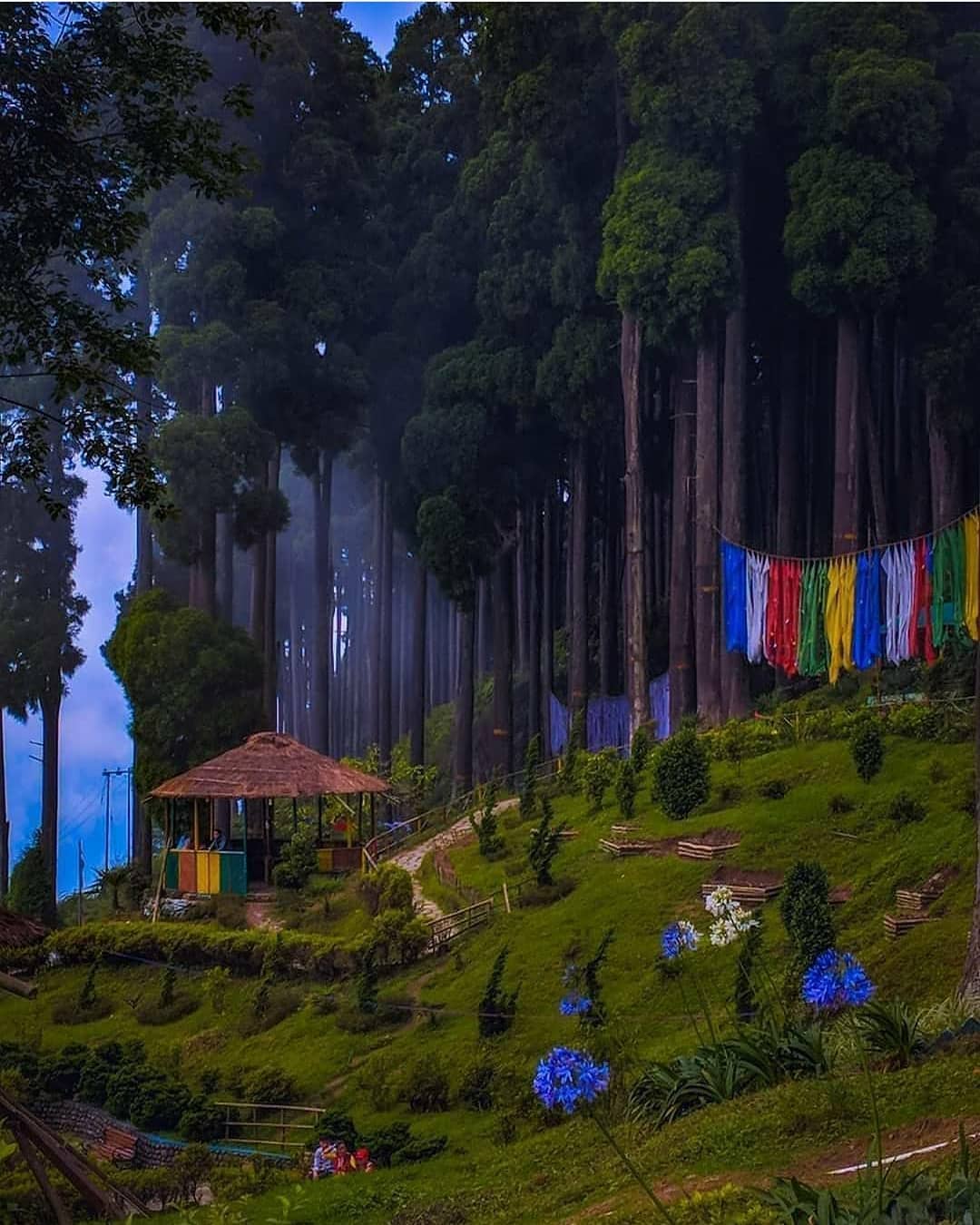 On hearing the name of a hill station, the mind starts to roam there. The hill station instruments, beautiful views, proximity to nature, and enchanting atmosphere thrill the body and mind. There are many hill stations in India but it is often seen that tourists are confused about where to go and where not. So, see here some most crowded hill stations in India.
Crowded Hill Station In India:
India is surrounded by natural wonders. The picturesque hills, valleys, forests, wildlife, and mountains here add to the beauty of this country. There are a number of hill stations in India, where you can go to get some peace and a pleasant environment away from the noise of the cities. Apart from going with friends, and family, hill stations of India have also been considered very romantic places for hanging out with a partner.
India has the largest, longest, most beautiful, and most wonderful ranges of hills. From Kashmir to Kanyakumari, there are many such mountains that have religious and tourist importance. The oldest and newest mountains of the world are present in India only. Seeing the antiquity and magnificence of these mountains, India is not only one or two mountain ranges, but there are seven mountain ranges here. Here you can stay comfortably and there is also a good arrangement for food here. This hill station full of nature scenes will not only give you a sense of peace from the urban rush, but you will also experience a clean environment by coming here. So, see below some crowded hill station in India.
1. Shimla: 
Shimla is one of the most popular hill stations in North India, as well as the capital of Himachal Pradesh. Shimla is very popular all over the country for its Mall Road, Ridge, Toy Train, and beautiful colonial architecture. As beautiful as Shimla is, equally beautiful are the other hill stations around it. Now you must be thinking which hill stations will be near Shimla, which we do not know, so let us give you complete information about other hill stations around it today.
Located at a short distance from Shimla, this beautiful town is very popular among honeymooners and travelers traveling to Himachal Pradesh. Surrounded by the Himalayan ranges, Kufri is one of the most beautiful vacation spots in Himachal Pradesh. The valleys here look lush green during the summer months, while the mountains here are covered with snow during the winter. The valley also has a variety of local flora and fauna, such as dense forests of pine and deodar, which add to the beauty of the place. The distance from Shimla to Kufri is 14 km and the best time to visit is between November to March.
Shimla is the capital of Himachal Pradesh. Be it cold weather or summer or another season, there is a huge crowd of tourists throughout the year. The newly married couple considers Shimla as their first choice for a honeymoon. The beautiful view of the valley and the peaks of the Himalayas around here is quite enchanting and thrilling. Although the weather here remains cold throughout the year if you come to visit during the cold days, the pleasure of walking doubles.
The coolness of nature and the enjoyment of icebergs with hot tea are very different. Here you can roam in places like Mall Road, Christ Church, Taradevi Temple, Summer Hill, and Shimla State Museum. Mall Road is the shopping complex of Shimla, you can shop here and there are many restaurants, clubs, banks, bars, post offices, and tourist offices, where you can get some information as well as enjoy. This is one of the most crowded hill stations in India.
2. Nainital: 
Nainital is a very good tourist destination. The lake to visit here, the temple of Mata Naina Devi, Naina Peak, Governor House, Tiffin Top, and Pandit G.B. Pant is a zoological park. All these are famous tourist places in India. Nainital is a very beautiful place in Uttarakhand and is also famous for its honeymoon spots among newcomers. If you come here, you will get a wonderful view of nature in addition to many places to visit. There is also a mall road where you can do the shopping for your choice while walking. This is one of the most crowded hill stations in India.
The main attraction of Nainital is "Naini Lake" located in Nainital. In Skanda Purana, it has also been called Tririshi Sarovar. One of the most popular tourist attractions in Nainital and its heart – Naini Lake reflects its beauty. This lake looks pear-shaped. Many tourists are attracted by seeing this lake. You can enjoy sailing, boating, or paddling boating in Naini Lake. This lake is surrounded by seven lush green hills and steals the hearts of many. You will also see many fishes in Naini Lake. There are many shops and sales centers on both the banks of the lake which are very crowded. There is the Naina Devi temple at the northern end of the river.
Pangot is a Small Village in Koshiakutoli Tehsil of Nainital District, Uttarakhand State. It is a tourist place at an altitude of about 6,300 feet above sea level. It is a very popular tourist destination. Pangot is a small picturesque place famous for its forests and birds, located just 15 km from Nainital. Walking in Pangot is like stepping into a remote Himalayan village. This is a zoo, tourists coming here feel like heaven. There are more than 250 species of birds around here.
Mussoorie is a popular hill station located just 35 km from the Dehradun district of Uttarakhand state. It is the most popular hill station in Uttarakhand. This place is also known as the "Queen of Hills". Mussoorie derives its name from the plant "musorjee" or "bush of Mansoor" which is available in large quantities in the region. Mussoorie is situated on a horseshoe ridge in the Garhwal Mountains at an average altitude of 1880 meters. Mussoorie – Provides commanding views of the Doon Valley and the majestic Himalayas. The highest point in this area is Lal Tibba which is in a place called Landour. Its height is 2,275 meters
3. Shillong:
The spontaneous movement that nature deems fit is the specialty of Shillong Hill Station. Taking a light walk or driving slowly along the road along the Khasi Hills offers many glimpses of the valley and gives a clear perception of the beauty painted by nature in the capital city of Meghalaya. The drizzling showers and cool breeze of Shillong bring with it an experience of incomparable bliss. The yearning of being able to see far and beyond from a street vantage point is only apparent. The more space is explored, the more the fickle ways of nature are revealed.
Situated at 1,966 m altitude, the place is often referred to as the 'Scotland of India', for its resemblance to the civilization established in the rolling hills of Scotland. Shillong holidays will only accentuate this comparison.
The Shillong Plateau on which the city is situated is surrounded by hills, the main ones being Lum Sohpetbineng, Lum Diengi, and Lum Shillong—an object of worship for the local people.
Shillong is the capital of Meghalaya. The waterfall is the specialty here. You will be surprised to know that Meghalaya has the world's highest waterfall which is visited by people from all over the world. Along with this, it is also home to the famous Blues Man of India, Lau Majou (singer and guitarist). Here you can visit places like Don Bosco Center, Mowlinnong Water Fall, All Saint Church, Cathedral Catholic Church, Elephant Fall, Shillong View Point, Mowflang Sacred Forest, Police Market, and Butterfly Museum, etc. This is one of the most crowded hill stations in India.
4. Darjeeling: 
Darjeeling is a very beautiful hill station. This hill station is situated in the lap of the Kangchenjunga mountain range. This hill station located in West Bengal is more beautiful than Nainital and Shimla. The meaning of word Darjeeling is made up of dorje (thunderbolt) and linga (place). Which literally means "place of thunder". The charming atmosphere and beauty of this place win the hearts of the tourists. The green hills and tea gardens of Darjeeling are very famous. A large number of tourists from the country and the world visit Darjeeling. This hill station was developed by the British.
This time you can visit this hill station with your family and friends. Tourists get mesmerized as soon as they see the Himalayan ranges visible from here. In this city, you can visit the big tea gardens and can see the far-spread meadows and the high peaks of the mountains. If you want to see the snow-capped peaks, then make a tour of Darjeeling. This beautiful hill station is also known as the queen of mountains. Here you can see the peaks of the snow-covered mountains. Here you can enjoy the ride on the Troy train. By sitting on this toy train, you can see the beauty of nature from close quarters.
Darjeeling is famous for its tea plantations. The scenic views are the scenic views amidst the tea estates. These tea gardens are on the other side of the snow-capped peaks of the Himalayas. Darjeeling is located in the northern region of West Bengal. Here you can enjoy the famous Himalayan Railway, Toy Train. This train shows you the beautiful view of the entire Darjeeling. In fact, the climate of Darjeeling becomes very attractive during the cold season. This is one of the most crowded hill stations in India.
5. Manali:
Manali is a very famous tourist destination. There are millions of tourists from all over the country and abroad. It is located in Himachal Pradesh. The mountains here are the specialty of Manali. Manali Adventurers is an excellent tourist destination for people with an exciting view of the mountains from all around. You can enjoy trekking, skiing, and rafting here. The adventurous valleys including glaciers and peaks make the journey quite exciting. Here you can roam around the Vyas River, Jogini waterfall, Hadimba Devi temple, Manikaran Gurudwara, Solang Valley, Vyas Kund, Rohtang Pass, and Himawari. This is one of the most popular hill stations in India.
Manali is the actual starting point of an ancient trade route, which crossed the Rohtang and Baralacha passes, and went through Lahaul and Ladakh to Kashmir. It is located at a distance of 45 kilometers from Kullu.
There is an interesting legend about Manali that says that Manu, the author of 'Manu Samhita' first set foot on the earth in a celestial boat at a place in this land after the great deluge. The particular place where he established his abode was the present Manali, which is believed to be a modified name of 'Manu-alaya', the abode of Manu. The temple dedicated to Manu still exists in Manali village.
6. Srinagar: 
Jammu and Kashmir, situated in the lap of the Himalayas, has maintained a special place in the whole world for its natural beauty. Generally, such a paradise-like place is also called 'Heaven on Earth'. Lakhs of tourists not only from the country but also from abroad come here to visit Kashmir. The white sheet of snow lying all around, the dense forests full of deodar and tall trees, really make the tourists coming here experience a new world. There are some such hill stations in Kashmir, which have added charm to this place. Let us tell you today about some of the best hill stations in Kashmir, which you must visit on your Kashmir tour.
This hill station is known for its natural beauty, as well as Gulmarg place has also been very popular for shooting Bollywood movies. Gulmarg is surrounded by snow-capped mountains, evergreen hills, and valleys. Due to the Dian Institute of Skiing and Mountaineering here, this hill station has also developed a lot as an adventure hub. One of the major attractions here is the cable car, which is said to be the second-longest cable car in the world. While staying here, do visit Gulmarg Gondola, Alpather Lake, and Khilanmarg. The distance from Kashmir to Gulmarg is 205 km.
Who would not know about Srinagar. This place is called the paradise of India. The houseboats, historic gardens, and valleys here are quite famous. Tourists here on the banks of Dal Lake and Jhelum River are very much enjoyed it. Although tourists keep coming here all through the year, if you come to visit here on cold days, then the real fun of the cold will be achieved. Located in the beautiful valleys of Srinagar, you can enjoy walking on Indira Gandhi Tulip Garden, Shankaracharya Hill, Sinthan Peak, Nagin Lake, Betab Valley, Sonamarg, etc. This is one of the most peaceful hill stations in India.
7. Munnar:
There are many interesting places around Munnar that you can visit. If you are a nature lover then you can visit special places like Echo Point, Eravikulam National Park, and Kundala Lake. Apart from this, there is also a lot to do for culture lovers. Marayoor, near Munnar, has The Dolmen and Rock Paintings, and the Tea Museum, one of the largest tea estates in the city, is the best place for historical and cultural information. If you want to visit here, then first know more about some of the beautiful places here, then make a plan to visit this weekend.
As the name suggests, it is the highest point in Munnar and also the highest railway station in the region. The top station is located on the border of Kerala and Tamil Nadu, about 32 km from Munnar. On reaching this hill station, you feel like holding the clouds in your hands and the lush green leaves make the view even more beautiful. This hill station is known as a transshipment point for the delivery of tea, the name given to this hill station because of its topmost position in the Kundla valley. The hills in and around it are covered with the Neelakurinji bush, and once every 12 years, these bushes bloom with blue flowers, painting the hills blue.
This place is in Kerala. Munnar is known as a beautiful hill station due to the huge tea estates and winding lanes. You can enjoy house boating here. Here you can roam in the tea garden, Wonderla Amusement Park, Kochi Fort, Ganpati Temple, etc. This is one of the most crowded hill stations in India.
8. Coonoor: 
Hill stations are called picturesque hilly areas. India has the largest, longest, most beautiful, and most wonderful ranges of hills. Where there are hills of Vidhyachal and Satpura, and on the other side there are hills of Aravalli. From Kashmir to Kanyakumari, India has magnificent mountains, ranges of mountains, and beautiful and picturesque valleys. It is very memorable and spectacular to visit here in the summer. If you are thinking of celebrating your honeymoon, then definitely go to one of the stations mentioned by us. Let us know this time interesting information about Ooty Hill Station, one of the top hill stations of India.
If you have reached Ooty then there is no harm in visiting Coonoor. It is located a short distance from Ooty. Small in area, Coonoor is a small town situated in the Nilgiri Mountains, surrounded by rolling hills, tea, and coffee plantations.
There is a toy train running from Coonoor to Ooty, which is convenient and entertaining for tourists. The train journey from Coonoor to Ooty offers scenic views along the cantonment area of Wellington.
Heritage trains, Sim Park, Wellington Golf Course, Dolphin Nose, Highfield Tea Factory, Lamb Rock, and Droog Fort in Coonoor are some of the beautiful spots to visit. Coonoor is located near Ooty which is situated on the Nilgiri Mountains. Coonoor is surrounded by rolling hills, tea, and coffee plantations. You can travel by train from Coonoor to Ooty. Here you will see very beautiful scenery in the cantonment area of ​​Wellington. This is one of the most crowded hill stations in India.
9. Ooty: 
Ooty, a city in the state of Tamil Nadu, is a mountainous hill station situated in the Nilgiri Hills. Once upon a time, its old name was Ootacamund and Udagamandalam. Situated on the border of Karnataka and Tamil Nadu, this city is a paradise for nature lovers. Although I have visited many places, I liked the valleys and atmosphere of Ooty very much. Here only greenery is visible all around. Because of these green trees and beautiful hills, the natural beauty of Ooty fascinates the mind.
Although the weather here remains pleasant throughout the year, the weather becomes extremely cold during the winter. It gets so foggy here in winter that even people standing nearby are not visible. Due to the Nilgiri hills near Ooty, its beauty increases more. The Nilgiri Hills are also known as the Blue Mountains. Blue flowers bloom on these hills, due to which the plains here become like blue mountains due to blue flowers, which look very beautiful. Ooty is also famous for its tea gardens. I went to Ooty for the first time because of the shooting of my Tamil film.
Ooty's specialty is beautiful cottages, fenced flower gardens, thatched-roof churches, and botanical gardens. It is also called Snooty-Ooty because it has snowfall. It is also said that the British built this place to live in the summer days. The beautiful natural views here will fascinate you. Here you can roam places like Upper Bhavani Lake, Nilgiri Mountain Railway, Century Avalanche, Emerald Lake, Botanical Garden, St. Stephen's Church, Picara Lake, Picara Waterfall, and Rose Garden, etc. This is one of the most famous hill stations in India.
10. Coorg:
Coorg Hills station or Kodagu tourist place is present in the Indian state of Karnataka, which is known for its beautiful tourist places and valleys. The famous Coorg is surely going to be liked by nature lovers. Coorg is situated at an altitude of 1525 meters above sea level and is also known for its tea, coffee, and dense forests. If you are looking for a cool place this summer, then let us give you information about the various tourist and sightseeing places here.
Tumbling down from a height of 70 feet, Abbey Falls is truly a sight to see. During British rule, the place was called Jesse Falls, after the first British priest of the area named the place in memory of his daughter. Like them, you too will be mesmerized by the waterfall amidst the lush green coffee and spice plantations. The best time to visit this place is in the winter months. The entry fee to go here is Rs 15 and the timings are between 9 am to 5 pm.
The beautiful view of Coorg attracts a lot of people. It is spread in the Western Ghats. There are trees of coffee, tea, and spices here. Coffee and spices are cultivated in Coorg. Here you can roam at places like Mandalapatti, Tibetan Math, Kaveri River, Irupu Fall, Iguathapa Temple, Omkareshwar Temple, Makara Down Golf Club, Brahmagiri Hill, and Nalkanad Mahal. This is one of the most visited hill stations in India.
Conclusion:
India is a country of diversity. It is a country completely endowed with nature. A priceless gift of nature lies in every corner of India. Mountains, seas, rivers, waterfalls, rain forests deserts, and green forests are also located here. This is the reason why India has always been attracting tourists towards itself. India has everything a tourist could want to offer to its tourists. From Kashmir in the north to Munnar in the south, from Shillong in the east to Khandala in the west, the thrilling hills are located here. Every part of this vast country has something unique to offer that has the power to win the hearts of every hill station lover. The ranges of the Himalayas, Vindhyas, and Aravalis running from north to east are spread over central and western India. Small mountain ranges like the Nilgiri Mountains here offer some of the best landscapes in the world. For those who go abroad in search of hill stations, India is no less than a paradise.
More Recommended Articles:-