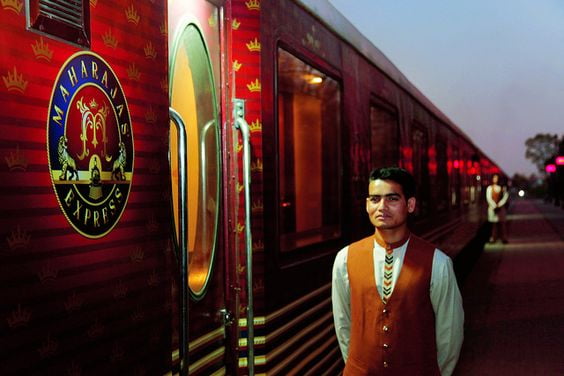 India is famous worldwide for its beauty. While on one hand there are historical monuments, their breathtaking beauty, and rich flora, on the other hand, better tourist places are also the center of attraction for domestic and foreign tourists. In order to reach the monuments and tourist destinations located in different states of India, the Government of India and IRCTC have jointly run some special trains for comfortable and pleasant travel to these destinations, the main objective of which is to provide Indian and foreign tourists towards Indian tourism. Not only to attract but also to promote tourism in India. But these are not common trains, rather these are the luxury trains of India, which give you a tour of different states of India, in their own way, travel these luxury trains from other trains. Very unique and interesting. But do you know what those luxury trains are, and from where to where they run? So, let's see the list of luxury trains in India…
1. Maharaja Express:
One of the most luxurious trains not only in India but also in the world is the 'Maharaja Express', which is considered to be the most luxurious train in India. Its name suggests what will be the specialty of this luxury train. As its name suggests, the Maharaja Express is astonishing and well equipped. Facilities such as vintage furniture, wall-to-wall carpets, amazing painting, soft silk mattress beds, free Wi-Fi, LCD TV sets, attendants and personal rooms increase the comfort level of this rail manifold. Apart from this, on this train, you are served all the dishes of Indian and the world in plates of silver and gold lines. Maharaja Express is being offered in North Eastern states of India, South Indian states, Central India and Western India states. This is one of the trains on the list of luxury trains in India.
2. Palace On Wheels:
The second most luxurious train in India is the Palace on Wheels, which travels the different cities of Rajasthan in royal style. After starting its journey from Delhi, its journey ends by coming back to Delhi via Sawai Madhopur, Chittorgarh, Udaipur, Jaisalmer, Jodhpur, Bharatpur, Agra in Rajasthan. The Palace on Wheel has taken care of every facility for tourists, the car has two restaurants named Da Maharaja and Da Maharani which serves Rajasthani cuisine. Tourists have access to Indian cuisine as well as European, Chinese, and Continental food. Apart from these, now modern facilities like a spa, parlor, and gym are also available on this train. This is one of the trains on the list of luxury trains in India.
3. Mahaparinirvan Express:
Mahaparinirvan Express is a special tourist train that takes passengers on a spiritual journey, which is directly related to Buddhism. Buddhism is more than 2,500 years old. The name of the train Mahaparinirvan Express is derived from a sutra, which is the final description of the teachings of the Buddha. Its travels included the most important Buddhist pilgrimage sites of Lumbini (where Buddha was born), Bodh Gaya (where he became enlightened), Varanasi (where he first preached), and Kushinagar (where he attained nirvana). The tour is conducted on this special train. The Mahaparinirvan Express offers dining carriage, hygienic kitchen and other modern facilities that do not let passengers feel outside the house even for a second. Overall, the Mahaparinirvan Express is an excellent and convenient means of travel to Buddhist destinations in India. This is one of the trains on the list of luxury trains in India.
4. Deccan Odyssey:
This Deccan Odyssey train is based on the model of the Palace on Wheels. To promote tourism on the Maharashtra route of Indian Railways, these special luxury trains have been run. It is a joint venture of the Government of Maharashtra, Ministry of Railways and Government of India whose main objective is to promote tourism. Through this train, an attempt has been made to touch various tourist places of the country, that too in a different way. The Deccan Odyssey provides tourists with many other facilities such as 5-star hotels, restaurants, bars, and gold trade centers on its wheels. Deccan Odyssey is equipped with modern facilities and its luxurious coaches are manufactured by Integral Coach Factory in Chennai. The journey of the Deccan Odyssey is from Delhi to Mumbai, which reaches Mumbai via the caves of Sawai Madhopur, Agra, Jaipur, Udaipur, Vadodara, Ajanta Ellora. The fare of one of its cabins is about Rs 4,27,000 / -, which includes 8 days and 7 nights' journey. This is one of the trains on the list of luxury trains in India.
5. Lifeline Express:
Lifeline Express also known as Jeevan Rekha Express, this train was started on 16 July 1991. Lifeline Express is specially designed for patients with special recovery room, double room service of the surgery room, board power generator, pantry car, and medical supplies as well as air conditioning facilities. This train is very helpful for people living in rural areas of India, who are reaching various states of the country and providing medical facilities to the needy. Apart from this, the train also has an eye test room, a dental department, a laboratory, an X-ray department and an auditorium with a large LCD display. The train also has a public address system and closed-circuit TV facilities. This is one of the trains on the list of luxury trains in India.
6. Royal Rajasthan on Wheels:
If you want to visit Rajasthan in royal style, then Royal Rajasthan on Wheels can be a better option for you. Royal Rajasthan On Wheels has more coaches and state-of-the-art facilities than the Palace on Wheels in luxury trains traveling to Rajasthan. All the coaches of this Royal Train are named after the famous monuments of the state of Rajasthan. This train is also known for its interiors and delicious cuisine. Named after the magnificent palaces of Rajasthan, the train also has 13 deluxe and 2 super-deluxe saloons, with a total of 14 passenger coaches. This train makes its guests experience royalty and royal lifestyle. This is one of the trains on the list of luxury trains in India.
7. Maitree Express:
The Maitree Express is a train running between both India and Bangladesh and is considered the seventh most luxurious train in India. Keeping in view the substantial number of Bengalis in both India and Bangladesh, the Maitree Express was started to help them get closer to their families. The word Maitri means friendship and this train plays an important role in maintaining good bonding between India and Bangladesh. This happens twice in Gede (India) and Darshan (Bangladesh) for passport checks. It was run for the first time on 14 April 2008 and after receiving a good response, it was operated 6 times a week. This is one of the trains on the list of luxury trains in India.
8. Golden Chariot:
The Golden Chariot is one of the luxurious luxury trains of India that takes you to the most famous tourist destinations of South India. It was launched in 2008, the Golden Chariot is known worldwide for its hospitality. The Golden Chariot passes through the states of Karnataka, Kerala, Tamil Nadu, and Goa. The train also has a variety of cuisines along with royal rooms, bars, restaurants, mini gyms, Ayurveda spas, and other 5-star facilities. If we talk about its root, then there are two routes through which it passes through many cities of South India. This is one of the trains on the list of luxury trains in India.
9. Royal Orient Train:
One of the luxury trains of India and providing a pleasant experience of traveling to famous tourist destinations are the Royal Orient Train which is one of the Royal trains of India. The palatial style train features comfortable cabins, well trained businessmen, water hole bars, spacious bathrooms, a library and almost all the amenities that come to mind when you imagine a 5 star hotel. Royal Orient starts its journey from Delhi Cantonment railway station and reaches Chittorgarh, Jaipur, Udaipur, Ahmedabad, Mehsana, Junagadh, Veraval, Sasan Gir, Mandvi, Palitana and Sarkhej, it takes about 7 to 8 days. This is one of the trains on the list of luxury trains in India.
10. Fairy Queen Express:
Delhi – Alwar – Sariska – Alwar – Delhi, India's tenth Royal Train Fairy Queen Express runs between these stations. Last but not least, the Fairy Queen Express is one of the oldest trains to offer luxury train travel in India. Powered by the oldest servicing steam locomotive built in around 1855, the Fairy Queen has its own charm, passing through Alwar in Rajasthan. As mentioned in the Guinness Book of World Records and awarded with the National Tourism Award, the Fairy Queen holds its place in the list of India's most luxurious trains. The duration of the journey in this train running from October to March on the second and fourth Saturday of the month is 1 night, 2 days. This is one of the trains on the list of luxury trains in India.
So you too, get ready and get out to travel with these luxury trains. Make sure that you also want to travel in these luxury trains of India, to know how real it is. After all, experience makes us familiar with reality. These luxury trains provide tourists with the best option for Bharat Bhraman, which offers five-star hotels and live experiences like Raja Maharajas.
More Recommended Articles :-