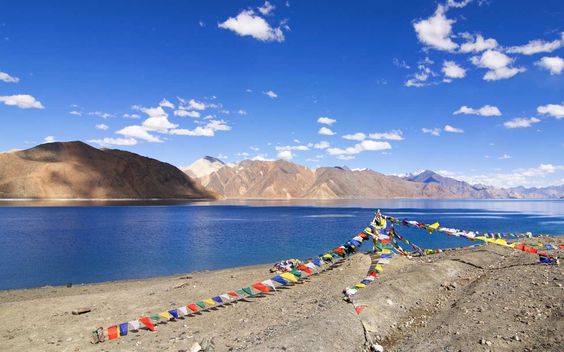 The hill station is called a picturesque hilly area. India has the largest, longest, beautiful, and amazing ranges of hills. On one side is the hills of Vidhyanchal, Satpura, and on the other side the hills of Aravali. From Kashmir to Kanyakumari, India has one of the finest mountains, ranges of mountains, and beautiful and captivating valleys. From Kashmir to Kanyakumari, there are many mountains that have religious and tourist importance. India has the oldest and newest mountains in the world. So, see here the top hill stations in India by flight.
Leh, Ladakh:

Top Hill Stations In India By Flight
Ladakh is a land of lamas and Hindu sadhu. There is an area in Ladakh called Leh. The most beautiful shade of nature can be seen here. Leh is the most beautiful place for people who love nature, besides those who are fond of trekking and adventurous travel. Those who believe in exciting trips and want to enjoy the beauty of nature do not travel directly to Leh by air from Srinagar, Chandigarh, or Delhi like most tourists. Going by road will be a thrilling experience.
The best way to reach Ladakh is by air. This is one of the top hill stations in India by flight. It is also easy and accessible. Direct flight services are available from major cities of the country to Leh. The timing of winter and summer flights can vary depending on the weather. Leh Kushok Bakula Rimpochee Airport is the main airport here. Leh Airport is a military airport, so security checks here are stricter than other airports.
Srinagar, Jammu, and Kashmir:

Top Hill Stations In India By Flight
On seeing the name of Srinagar in the Indian state of Jammu and Kashmir, the view of Dal Lake, beautiful tall trees and snow-clad mountains passes before our eyes. Truly seeing Srinagar is like seeing Jannat. However, the city is famous for houseboats, historic gardens and valleys. The valleys situated on the banks of Dal Lake and Jhelum River here are very beautiful and heaven-like. There is more to see here like Indira Gandhi Tulip Garden, Shankaracharya Hill, Sinthan Peak, Nagin Lake, Betab Valley and Sonamarg.
This is one of the top hill stations in India by flight. Direct flights are available from almost every major city of India to Srinagar. It takes about 1.25-1.15 hours to reach Srinagar from Delhi by airplane. Apart from this, the ship takes 4.30–5 hours to reach Srinagar from Mumbai and it takes the same time to reach Bengaluru. Direct flights to Srinagar are also available from Chandigarh and other cities of the country.
Nainital, Uttarakhand:

Top Hill Stations In India By Flight
Nainital is called because it has a temple and famous palace of Naina Devi. The word Naini means eyes and 'Tal' means lake. Surrounded by lakes amidst snow-clad mountains, Nainital is a famous honeymoon spot in the state of Uttarakhand. You will feel calm and near nature by coming here. Nainital Lake, Naina Devi Temple, Naina Peak, Governor House, Tiffin Top, and Pandit GB Pant Zoological Park are famous places here. For shopping, you can go to Market Mallard.
There is no airport in Nainital. Pantnagar Airport is the nearest city to Nainital which is about 70 km away. But here most of the chartered flights are operated only. Only direct flights from Delhi are available to Pantnagar.
Shillong, Meghalaya:

Top Hill Stations In India By Flight
Meghalaya means the house of clouds. Every worry of life is over by coming here. The capital of Meghalaya, Shillong is the most beautiful hill station in India. It is called Scotland of the East. Shillong has the highest waterfall in the whole world which is visited by people from all over the world. Nestled amidst the beautiful Khasi hills, this place is also home to the famous bluesman of India, Lau Majou (singer and guitarist).
This is one of the top hill stations in India by flight. Shillong city has no airport of its own but the nearest airport is Umroi Airport near Barapani, located at a distance of 25 km. This airport has limited connectivity with other cities. Guwahati Airport is the best option for good connectivity to all major cities of India (Flight to Shillong India). The distance from Guwahati to Shillong is about 100 kilometers.
Darjeeling, West Bengal:

Top Hill Stations In India By Flight
Darjeeling, known as 'Queen of Hills', has always been a great honeymoon destination. Once a part of Sikkim, the biggest feature of this hill station is its tea gardens. Green tea fields spread far and wide as if a green sheet is lying on the earth. Darjeeling was once famous for its spices but now it is known globally for tea. Each tea garden located here has its own history and its own specialty. Tea is exported all over the world from the beautiful and lush tea gardens here, but the beauty of this magnificent hill station in West Bengal is not just its tea gardens but its attractions are also very attractive. Beautiful mountains covered with snow, deodar forests, natural beauty, gurgling waterfalls captivate everyone. It is because of its beauty that it has been called the 'Queen of the mountains' and it is counted among the famous and beautiful hill stations around the world.
This is one of the top hill stations in India by flight. The nearest airport to reach Darjeeling is Bagdogra which is 67 km from here and you can reach Darjeeling from the airport in two and a half hours by road. Apart from this, the nearest railway station is New Jalpaiguri which is 70 km from here and Darjeeling can be reached from the railway station in two and a half three hours.
Munnar, Kerala:

Top Hill Stations In India By Flight
Munnar hill station in Kerala is like a paradise. Munnar is located at the meeting point of three mountain ranges – Muthirpuzha, Nallathanni, and Kundal. The identity of this hill station is tea cultivation, colonial bungalows, small rivers, waterfalls, and cold weather spread over a wide area. It is a great destination for trekking and mountain biking. You will be thrilled to see the huge tea gardens and winding lanes.
Apart from tea, it is also known for spice cultivation and fragrance. Houseboating is very popular among tourists here. Tea gardens, Wonderla Amusement Park, Kochi Fort, Ganpati Temple, and House Boat are the major adventures. Eravikulam National Park, just 15 km from Munnar, is known for the endangered creature – the Nilgiri Tar. Spread over 97 sq km, the park is home to many rare species of butterflies, animals, and birds.
When Neelakurinji flowers bloom, when the slope of the mountains is covered with blue sheets, then this garden becomes a summer tourist destination. This plant is the local plant of this part of the Western Ghats, on which the flower blooms once in twelve years.
This is one of the top hill stations in India by flight. For Munnar, you can use all three by air, rail or road. The nearest airports to Munnar are Kochi and Madurai, which are 142 kilometers away. The nearest railway stations are Kochiyo and Kottayam, from where trains to Munnar continue.
Ooty, Tamil Nadu:

Top Hill Stations In India By Flight
Ooty, the world-famous city of Tamil Nadu is the most suitable place for a honeymoon. It is called the queen of the mountains. The greenery, tea plantations, and various types of vegetation will enchant you. Ooty has a series of Nilgiri Mountains. These are worth seeing- Dodabetta Peak, Lambs Rock, Kodanadu View Point.
This is one of the top hill stations in India by flight. The nearest airport to Ooty is Coimbatore Airport which is 85 km from Ooty. Regular flights come to Coimbatore from major cities of the country including Delhi, Mumbai, Bangalore, Hyderabad, Ahmedabad. After getting out of the airport, you can reach Ooty by road, by taxi, cab, or bus in 3 hours.
Mount Abu, Rajasthan:

Top Hill Stations In India By Flight
Mount Abu is a unique site situated on the Aravalli Mountains in Rajasthan. There is another natural beauty here and spiritual peace on the other side. According to mythology, this is the same place where the great sage Vashistha used to live. It is considered to be the abode of sages and sages. Apart from the view of mountains and forests in Mount Abu, see the places like Guru Shikhar, Raghunath Temple, Gomukh Temple, Adhar Devi Temple, Dilwara Jain Temple, Sunset Point (Sunset Point), Brahma Kumari Shanti Park, Honeymoon Point, Trevor Tank with dense forests, etc.
This is one of the top hill stations in India by flight. The distance from Abu Road to Mount Abu is about 32 km. The nearest airport from here is Udaipur, which is about 176 km from Mount Abu. Other major airports are Ahmedabad-232 km and Jodhpur-267 km from Mount Abu. From where you can reach the train either by bus.
More Recommended Articles:-