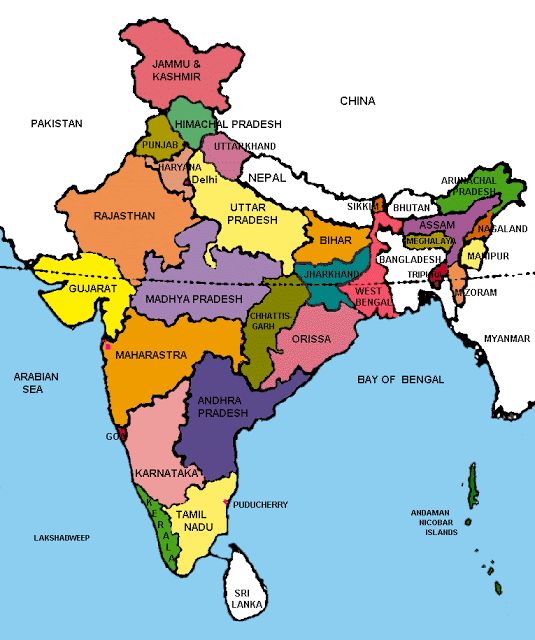 The total length of India's coastline is 7516.6 km. Out of this, the mainland coastline is 5422.6 kilometers, while the coastal line length of island territories is 2094 kilometers. So, today in this article, I am going to give account on the top 5 states that have the largest coastline in India. So, see the largest coastline below…
States With The Largest Coastline In India:
In the India States with coastal areas are Gujarat, Maharashtra, Goa, Daman and Diu, Karnataka, Kerala, Tamil Nadu, Puducherry, Andhra Pradesh, Odisha, and West Bengal. The coastal island states are Andaman and Nicobar Islands and Lakshadweep Islands. So, see the states that have the largest coastline in India. See this below…
Gujarat:
The state Gujarat has the largest coastline in India. Gujarat has a 1214.7 km long coastline, which is approximately 23% of the total landline of India,
According to the quantity of cargo, Kandla is India's largest harbor, which is in Gujarat. Apart from Kandla, there are other important ports – Navlakhi, Porbandar, Mundra, etc., these tall sea lines are upgraded to Gujarat from the other states of India.
Andhra Pradesh:
Andhra Pradesh is the second largest coastline in India. The state has a coastline with a total length of 974 kilometers. Its coastal area is spread from Srikakulam district to Nellore district. Despite having such a long coastline, there are only 12 ports in Andhra Pradesh, in fact, there is a lot of storm on the eastern coastline. Visakhapatnam is the main port of the Eastern Shore. Krishnapatnam is another major part of the state.
Tamil Nadu:
With a 906.9 km coastline, Tamil Nadu is the third largest coastal state. Although there are a total of 15 ports in the state, out of which three are major ports – Chennai, Ennore, Tuticorin.
Maharashtra:
There are a total of 652 km long coastline in Maharashtra, but there are more than 50 ports including two major ports – Mumbai Port and Jawaharlal Nehru Port (Nhava Sheva), its coastal districts, Sindhudurg, Ratnagiri, Palghar, Raigad, Mumbai, Thane. Mumbai harbor is a natural deepwater port, which the British and the Portuguese modernized. Nhava Sheva is the country's leading container handling port for about 55% of container traffic.
Andaman & Nicobar Islands:
If we talk about the coastline of the island area, the total coastline of the Andaman and Nicobar Islands is 1962 kilometers. But these are divided into many islands. There are a total of 247 islands here.
More Recommended Articles :-